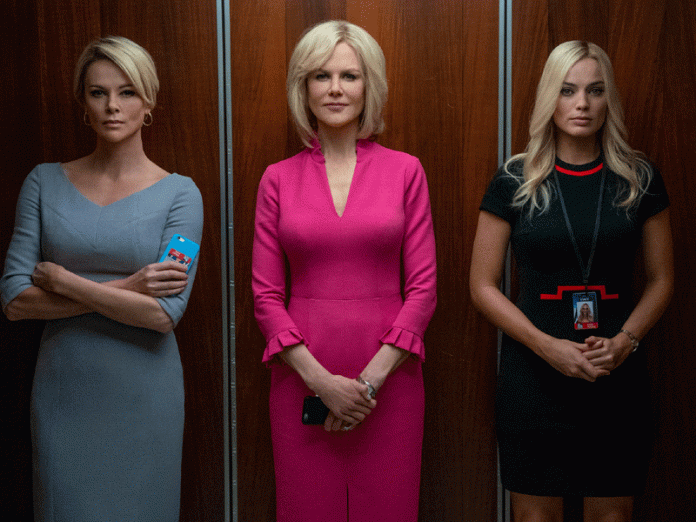 By Vanessa Obioha
'Booksmart', 'Destroyer' and 'Bombshell' are some of the top Hollywood blockbuster movies that fans can watch on the streaming platform Showmax this weekend. In a statement, the streamer listed the shows as part of their weekend binge for subscribers.
Out of the seven new international shows, six are led by female characters. The American South-African actress Charlize Theron leads the cast in 'Bombshell' and 'The Addams Family'. In the former, she is joined by Nicole Kidman and Margot Robbie as they played the women in a media company who exposed a top media executive for sexual harassment. The story is based on the accounts of women at Fox News who set out to expose the late CEO Roger Ailes for sexual abuse.
The animation, 'The Addams Family', sees Theron playing the matriarch of the outlandish family, Morticia. The Addams Family tells the story of a spooky family who was chased out from their settlement because people found them weird. They decided to move to a place where no one would be caught dead, only to find out years later that they are still unaccepted in their new abode.
Kidman leads the action in 'Destroyer', a heavy-weight, neo-noir crime drama. The Oscar winner plays a damaged ex-LAPD cop with a score to settle, some wrongs to right, and history to set straight.
In Olivia Wilde's directed 'Booksmart', Beanie Feldstein and Kaitlyn Dever are the two academic superstars who realise on the eve of their graduation that they have worked more and played less. Determined to catch up with their peers, the best friends try to cram four years of fun into one night.
Octavia Spencer brings the creepy horror in 'Ma', a story about a group of teens who lurk out when middle-aged single Sue Ann (aka Ma) — played by Spencer — offers them her basement to hang out and party in. But just as it seems things couldn't get sweeter, they begin to suspect there's something a little off about Ma.
'Five Feet Apart', led by Stella Grant, tells the romantic tale of two patients suffering from Cystic Fibrosis. Their ailment prevents them from having physical connection but as their attraction intensifies, they realise that the temptation to throw the rule out of the window is very strong.
In the only film starring a male lead character, 'Extremely Wicked, Shockingly Evil and Vile', Zac Efron reenacts the dangerous life of America's most notorious serial killers, Ted Bundy. The crime biopic is based on the memoir 'The Phantom Prince: My Life with Ted Bundy', penned by Bundy's former girlfriend Elizabeth Kendall.
All shows and more can be streamed any time on Showmax.