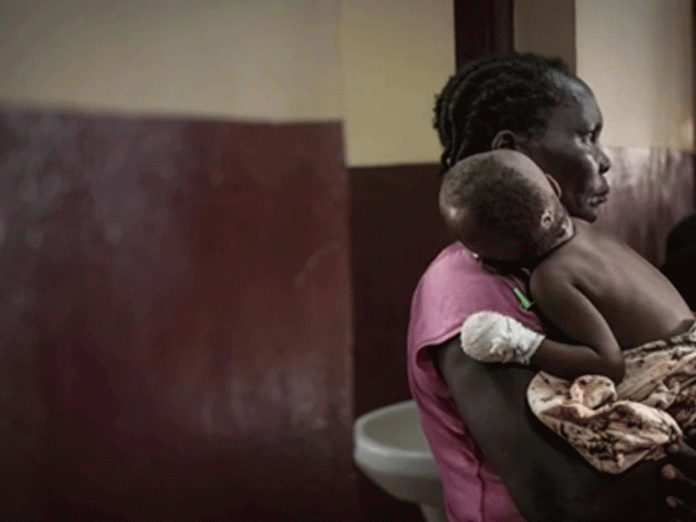 By Amby Uneze in Owerri
The United Nation's Children Fund (UNICEF) and National Orientation Agency (NOA) have kicked against the new trend of massaging adopted by people to achieve female genital mutilation (FGM) in parts of Imo State communities.
The two organs revealed that massaging was the worst form of FGM prevalent in the state as the various communities have shifted from performing the act with scissors, razors and knives to massaging the clitoris through the application of petroleum jelly popularly called "blue seal".
The revelation was made by UNICEF consultant on FGM Imo and Ebonyi states, Benjamin Mbakwem while making a presentation at the local government areas forum with community leaders to accelerate the abandonment of FGM in 14 communities in Owerri West and 18 communities in Ehime Mbano council areas respectively.
According to him, Doctors, Nurses, Midwives and mother in-laws serve as impediments to ending this form of FGM, which involves the usage of petroleum jelly, menthol ointments and hot water to render the clitoris numb and push same back to the body.
He cautioned mother in-laws and health professionals to desist from this obnoxious practice as anyone caught in the act risks jail term of 14 years imprisonment or fine of N250,000 or both in line with the Imo State FGM (Prohibition) Law 2017.
He submitted that women are divinely created as their beauty cannot be altered by anybody due to obnoxious cultural and religious belief is as created by God, adding "it is an abomination for any mortal to remove any part of the body of a girl child knowingly or unknowingly".
Mbakwem explained that UNICEF believes that changing of social norms is a core strategy, towards FGM eradication in the society.
He encouraged the various communities to flow with the dynamism of culture and not to hold rigidly to cultural norms that are not beneficial to the people.
His word, "UNICEF in collaboration with the National Orientation Agency (NOA) have been consistent in disseminating information in respect of the dangers inherent in the performance of FGM. The messages have gone global and almost everyone is aware of the war against this ugly trend".
The UNICEF consultant however said that ignorance of the law is not an excuse as anyone found culpable will be visited with the full weight of the law. He stressed that culture is created by man and should not be seen to be static and urged the various communities to flow with the dynamism of culture.
He enumerated the dangers inherent in FGM, as excessive bleeding which could lead to death, urinary incontinence, prolonged labour and delivery complications coupled with infection of the genital area, especially the development of fistulas.
In his remarks, the Director of NOA, Mr. Vitus Ekeocha charged the various community leaders to key into the UNICEF crusade of eliminating every form of FGM in the state as according to him, all over the world it is believed that this practice is harmful to the girl child and does not serve any useful purpose in the society.
He stressed that FGM should be abolished entirely in line with the position of UNICEF and advised community leaders to champion the total elimination of this ugly practice and pass on the message to the their various communities with the view of seeing the need for paradigm shift.
According to him, culture should be viewed with the aim of finding out if the continuous hold to such culture, is beneficial of harmful to the people. The NOA Director highlighted that the believe in certain quarters that any girl child and woman, not circumcised are likely to be promiscuous as false and said that there are no scientific proof to the effect.
Speaking, President General, Orogwe autonomous community in Owerri West council area, Pastor Jerry Atuzie described the programme as highly enlightened and informative, as the issue of massaging which is done by the women secretly, has been made public.
According to him, this methodology of pressing the infant clitoris is done in secret with some kind of deceit and advised fathers to be more vigilant and monitor their wives and mother in-laws and pay attention to the girl child at their infant stage. He advocated for total engagement with the perpetrators, so as to draw their attention to the negative effect of massaging the girl child clitoris.
In her contribution, Maria-Celine Okere, woman leader, Umuanunu community, stressed that she will pass the message in respect of the negative effect of FGM coupled with the fact that massaging and application of hot water are not good for the health of the girl child.
She stated that all the women in the community would be sensitized on the dangers of this harmful practice and called on the practitioners of FGM to desist as they risk 14 years jail term if caught in the act. She however made it known that a taskforce team will be set up in the villages to monitor and apprehend offenders for onward transmission to UNICEF and law enforcement agents.
Contributing, Barr. Magnus Agu, President General, Umuezealla Nsu autonomous community in Ehime Mano council area, expressed readiness to tackle the menace head on, so as to eradicate same completely. He indicated that all members of the community will be educated that there are no benefits derivable from FGM, rather there are serious health implications in the ugly practice.
He maintained that the community would use moral persuasion to enlighten the citizenry on the negative effects of this unwholesome practice and explained that any member of the community found wanting in this respect will be sanctioned and brought to the attention of the law enforcement agency.
Lending her voice, Dr. Mrs. Nkechi Amaechi, Woman Leader, Umuchioke autonomous community, Umunumo, condemned the ugly trend of FGM and advocated for the abolition of the system in the entire state as this practice endangers the lives of women.
She stressed that it had been observed that the various communities were still practicing the act secretly and submitted that prostitution among women folks still strives because of the financial gain derivable by them and has nothing to do with not being circumcised.
She charged parents to inculcate good moral upbringing to their children and wards and when they grew up they will not depart from such enviable moral training which has become part of them from cradle.
In a related development, Imo State communities have eulogized UNICEF on its campaign to stop FGM as well as violence against children, women
Community leaders in the Owerri West and Ehime Mbano council areas warned parents to discard the culture forthwith or face severe sanctions for their action.
As part of measures to enforce this, the community leaders comprising traditional rulers, presidents general, women and youth leaders said that they had established monitoring teams in their various localities to place a tab on parents, traditional birth attendants and other proponents of the culture which they noted had continued to ruin the girl child and the society at large.
Speaking at a-one day UNFPA – UNICEF joint programme on elimination of female genital mutilation – accelerating changes organized by the National Orientation Agency (NOA) Imo state with support from UNICEF held in these areas, Mr. Uzor Onyenagbaya, Youth Leader, Ugirike autonomous community, Ikeduru LGA, Mr. Austine Abaneme, president general of Umualumaku Umueze and Mrs Scholastica Iwuji – women Leader Owubibi community Ikeduru LGA disclosed that FGM had since been outlawed in their respective communities because of the horror and danger associated with it.
In his goodwill message, Chief of UNICEF Nigeria, Field Office Enugu, Dr. Ibrahim Conteh noted that FGM had continued to linger in most communities as a result of ignorance, primitivity and superstition among the people.
The UNICEF chief said that the percentage of the girl child that had died as a result of FGM had became quite alarming stating that pains, trauma, shock, infections such as HIV, hepatitis, psychological problems such as sexual dysfunction in marriage low self esteem, loss of blood leading to anemia, disability due to fracture, child and maternal mortality and keloid formation were among the problems associated with FGM.
Uzochukwu Azutalam president general of Ohii autonomous community who spoke in tandem with his Oforola counterpart Chief Robinson Nwankwo described the exercise as timely and a step in the right direction to spare the girl child from horrors usually associated with FGM even as the traditional ruler of the Okpala Umuekwunne community Eze Bara Ikegwu and the president general of Eziama Ngor-Okpala Oluchi Nwele equally unfolded measures already put in place to end the practice.
They vowed to enforce the Imo state House of Assembly law 2017 which spelt out 14 years imprisonment or N250,000 fine or both for individuals found guilty of the act.
Eze Joe Anika of the Attah in Ikeduru LGA commended Governor Hope Uzodinma for the official recognition accorded Presidents General of the various communities in the state stating that this had eased the burden of traditional rulers in grassroots development.
"There is a scientific proof that FGM is harmful and I have placed a penalty of N5,000 and other sanctions for anybody who indulges in it in my community while traditional birth attendants have been banned".
Director of NOA in the state, Mr. Vitus Ekeocha classified FGM into 4 groups and enumerated its inevitable consequences and implications on the girl child.
Ekeocha who described FGM as any procedure that involves total or partial removal of parts of the female reproductive organ not based on medical grounds said that it is a violation of the rights of the girl child.
He named Ohaji/Egbema, Oguta, Ngor Okpala, Owerri West Ehime Mbano, Ikeduru and Ideato North as counts with the highest prevalence of FGM in the state.
The NOA director therefore enjoined the stakeholders to disseminate information on the dangers inherent in FGM to the grassroots.