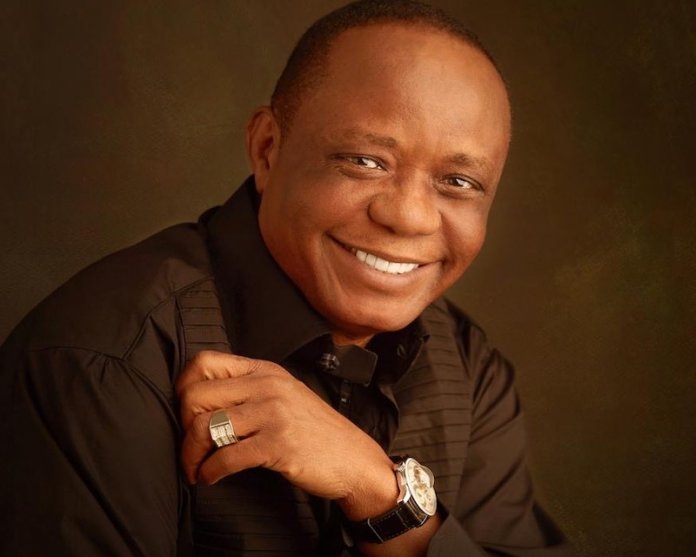 James Osareme
The axiom that a golden fish has no hiding place, was confirmed in the life of Captain Idahosa Wells Okunbo, CEO of Ocean Marine Security Limited recently as Forbes magazine announced his nomination as a recipient of the 2020 Forbes Best of Africa award.
Interestingly, the honour is coming on the heels of recent unwarranted attack on the business mogul and eminent son of Benin Kingdom who has proven as one worthy of emulation on the global stage.
However, the Forbes award in the face of the vehement attack on him which allegedly came from the governor of his home state, Edo, Mr. Godwin Obaseki and the Minister of Transportation, Mr Rotimi Amaechi, was a true reflection of the Biblical saying that a prophet is without honour in his home.
What an irony, while a globally recognised platform, Forbes Magazine, sees our own Okunbo as a prominent African business leader, some of our political leaders back home consider him as a threat to their wellbeing.
The Forbes Magazine while announcing Capt Okunbo as a recipient of the 2020 award described him as a Nigerian business magnate, philanthropist and investor.
The magazine acknowledged his humble beginnings tracing his career to the starting point as a professional commercial pilot before venturing into business in the oil and gas sector.
Profiling his exploits in business over the years and the spread, Forbes said, "today, the range of his business portfolio spans maritime solutions, real estate, hospitality, aviation, entertainment, power, telecoms and agriculture. He has provided jobs for thousands.
"Okunbo has made notable philanthropic contributions all over the world and is the recipient of numerous awards and accolades."
According to the magazine, the awards will be presented September 11 during a virtual event in conjunction with the Foreign Investment Network (FIN).
The event, an online roundtable discussion supported by the World Philanthropy Network, features a keynote address by former Nigerian President, Olusegun Obasanjo.
Okunbo is not alone in list of nominees but the unique thing is that he leads two other Nigerians, Mahmood Ahmadu, founder and executive chairman of Online Integrated Solutions Ltd; and Adesola Kazeem Adeduntan, Managing Director of First Bank Nigeria, as the anointed recipient for 2020 version of the respected award.
The news of Forbes' nomination of Capt. Okunbo may not have come as surprise to his followers, but rather a confirmation of another Biblical saying that there is time for everything under the sun. A time for hardwork and a time to receive dividend for such works.
Recall that earlier in this month, The National Agency for the Prohibition of Trafficking in Persons, NAPTIP, bestowed a similar honour on him for his role in helping to curb human trafficking. NAPTIP appointed him its anti-human trafficking hero on the occasion of the 2020 World Day Against Human Trafficking.
In a citation uploaded on the agency's website and social media handles, NAPTIP said Okunbo had remained a formidable individual in partnering with the agency by committing personal resources into the fight against the illicit business of human trafficking and illegal migration.
The Man Okunbo
Idahosa (Hosa) Wells Okunbo (born 7 January 1958) as acknowledged by Forbes is one Nigerian who has distinguished himself in the nation's business terrain in various capacities.
He sits on the board of numerous companes in Nigeria, spanning multiple business sectors such as the agro-allied, petroleum, telecommunications, power, real estate and banking industries.
His exploit in business is traceable to his background as he was born in Benin City to the family of Reverend Robert Amos Okunbo, a clergyman, teacher and community leader.
There is no doubt that Okunbo's exceptional performance in his chosen career is responsible for the continued flow of approbation and recognition into his kitty from within and outside the country in recent times. His values of industry, uncommon value-addition to service delivery, as well as contribution to peace and charity is earning him a place in the global space.
Indeed, both the admirers and traducers of Capt. Okunbo can now accept the fact that this phenomenal Benin icon made a mark in nation building even as he has comported himself, peacefully, and honestly with dignity in his innovativeness.
Hosa is a symbol of diligence and integrity. He is single-minded and unwavering in his pursuit of excellence. He derives his badges of honour from sticking to principles and good conducts. Far back in 2007, in recognition of his outstanding contributions to the promotion of peace and good governance as well as development of his community, he was honoured with the Justice of the Peace (JP).
If that succinctly underscores the profundity of the aphorism that places premium on charity beginning from home, then it is a good narrative which strengthens the foundation on which the substructure of so many other honours and recognitions have been built. And there are so many honours and awards that Capt. Hosa has been conferred with.
In 2012, the American Congress honoured him with the "Black Titan" Award for being a voice of the Niger Delta people through his movie: "Black November", which he, singlehanded, bankrolled. Such interest and passion for liberation and community development that put humongous pressure on personal funds are rare in our society. Without a history of public office, Capt. Hosa's propensity for philanthropy acts is breathtaking.
And, wait for this: in September last year, he was conferred with a peace award in Geneva on the United Nations' Day for global peace by the Order of Lafayette by H.E. Robert Blum with all the international diplomats in Geneva present at the President Wilson Hotel. It was a momentous occasion for the Benin leading light on a global pedestal.
The significance of the global recognition was succinctly captured by the Otaifoh of Uromi land, Chief Owen Chamberlain Obaseki, JP, whose tribute to Capt. Hosa on that occasion was stimulating.
His words: "The successes of Captain (Dr) Hosa Okunbo have gone beyond human reckoning. Only one thing can therefore be said about this icon with a superhuman charisma and propensities; if God be for us, who can be against us? The life of Capt. Hosa is nothing short of one with a divine touch.
"Capt. Hosa has, once again, been honoured with a Global Peace Award in Geneva by H.E. Robert Blum, in recognition of his efforts in global peace and business innovations; and, this is coming a few days after signing an $876 million Financing and Technical Service Agreement (FTSA) with NPDC on the development of OML 65 Oil and Gas NPDC asset, which held at the Grand Hyatt Hotel in Dubai."
Significantly, the part of the tributes in which the Otaifoh described Hosa as a man of few words but great deeds aptly mirrored and still mirrors him through the eternal words of the Bard of Avon, Williams Shakespeare, who once wrote: "men with few words are the best men." Hosa is a man with a few words; his actions and large-heartedness are more than his words.
His responses to situations and circumstances that put pressure on him or threaten his interests or assail his character either in the competitive or rivalrous business circles or in the public domain/media space are dealt with in measured cadences.
He does not rush his responses when it becomes necessary to issue any. He weighs his actions; he polishes his responses before releasing them for public consumption.
Three things are always of overriding considerations in his decision to respond: his children for whom he has built a good name (and wants to leave a good name); the youths to whom he is a role model; and, posterity, which is the ultimate judge of human actions and inactions after leaving the earthly stage.
Osareme, writes from Benin City