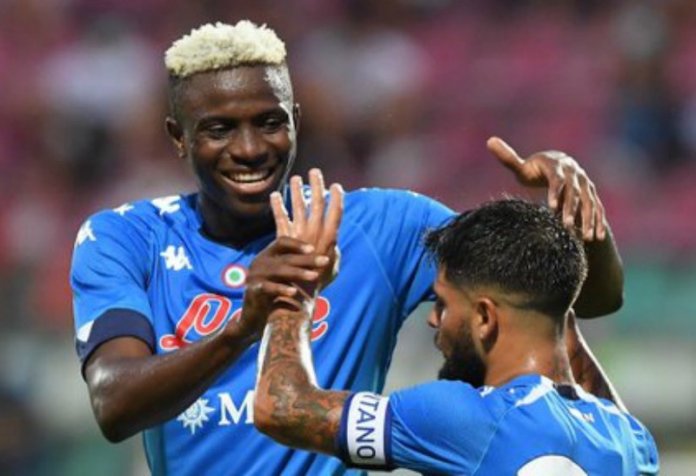 Femi Solaja with agency report
Super Eagles forward and Napoli new signee, Victor Osimhen will taste Italian Serie A action for the first time when the 2020-21 season begins on September 19, the Italian FA confirmed yesterday.
The 2019/20 Italian topflight season was disrupted by the Covid-19 pandemic just like all other leagues in Europe and around the world in early March. But the season was concluded without fans in the stands.
But Osimhen who dumped French Ligue 1 team Lille after posting a wonderful season teamed up with Gennaro Gattuso's men in Naples in the club's record transfer during the summer window.
Now, the Under-17 FIFA World Cup winner with Nigeria in 2015 is set to continue from where he stopped in France in the Italian Serie A this weekend.
Already, he has given Napoli fans a snippet of what to expect by firing a hat trick in a warm up game and enjoying the fresh air that the club has offered his fledgling career.
With both England and Spain starting their new domestic seasons on September 12, the Italians have insisted they want to fall in line with the start of the German Bundesliga.
Fixtures are to be released tomorrow, September 2 when Juventus' new boss Andrea Pirlo will see the path ahead as he looks to make it 10 straight league titles for the club.
The 2019-20 Serie A season was officially wrapped up on August 1 before Atalanta, Juventus, Inter and Napoli continued with Champions League and Europa League participation.
Only Inter Milan progressed, reaching the Europa League final where they were beaten by Sevilla in Germany on August 21.
Gazzetta dello Sport reported that Inter Milan are keen to see their opening match of the new league postponed so as to give them more recovery time following their late finish in comparison to rivals.
Despite Juventus' unrelenting dominance in Serie Aover the last nine seasons, there will be plenty of intrigues in the new campaign as Andrea Pirlo prepares for his first managerial role.
He had been expected to gain experience with the youth team but nine days after being unveiled in that position he was promoted to the first team following the sacking of Maurizio Sarri.
Pirlo has managed to get down to work on the training field with his players and there will be plenty of Juventus fans counting down the days until he takes charge of his first official league match.