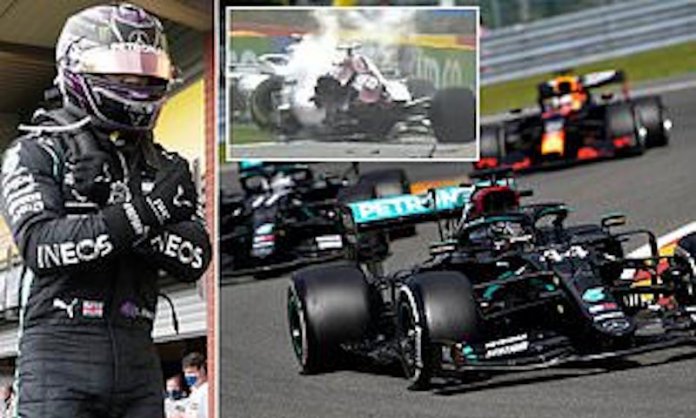 Lewis Hamilton won the 89th race of his career by dominating the Belgian Grand Prix from start to finish at the weekend.
The victory opens up his championship lead over Red Bull's Max Verstappen, who finished third, to 47 points, and reinforces the impression that he will waltz away to a record-equalling seven title.
The Briton is being helped in this pursuit by the relative sluggishness of his Mercedes team-mate Valtteri Bottas, who failed to apply any significant pressure on Hamilton at the start or the re-start following a yellow flag period for a potentially serious accident involving Williams' George Russell.
The biggest drama unfolded on the 10th lap when Alfa Romeo's Antonio Giovinazzi lost control at Fagnes chicane and spun into the tyre wall before being spat out across the track. His left rear tyre was untethered and barrelled into Russell's path.
The impact of the flying missile fell, thankfully, on his front wheel and sent him into the barriers.
Both men walked away unharmed, their races over.
It could have been much worse for Russell but for a few inches.
Elsewhere, Ferrari were fighting like rats in a bag. Having qualified 13th and 14th, it got worse for their disgruntled pair of Charles Leclerc and Sebastian Vettel. They both had strong words with their team – Vettel urging them to 'f******' consider pitting him again, and Leclerc asking why he was brought in for a second time. 'We'll tell you later,' he was told. Ferrari subsequently confirmed it was to top up his pneumatic pressure.
There was a sense of the disarray about everything and everyone red as Vettel's 13th-place finish and Leclerc's 14th underlined.
Hamilton deviated off track but it was a satisfactory, if far too predictable, outcome.