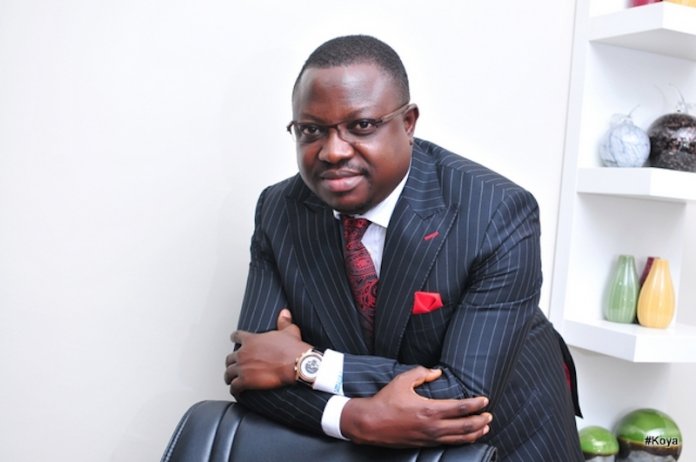 Deluxe Residences Limited has started a luxury tower, deliberately identified as 'Vantage Bourdillon', because it is designed to give investors clear advantage on Bourdillon Road, Ikoyi, Lagos, the Chief Executive Officer, Mr. Emmanuel Odemayowa tells Bennett Oghifo
Give us a little of your background
Emmanuel Odemayowa is the Managing Director of Deluxe Residences Limited, a member of the Cavalli Business and Investment Group. I had my first degree at Obafemi Awolowo University (OAU) where I studied Business Administration and I had my MBA in London School of Business and Finance (LSBF). Although I grew up in a real estate environment, I did not start out my career in real estate. I worked briefly at the presidency in Abuja and also with a private sector organisation in Abuja. My uncle who I was with in Abuja is an engineer and he was part of the people that built Abuja in 1985. From 1991, I started going to Abuja and when I graduated, I had my youth service there. I left Abuja after working briefly for about two to three years and moved to Lagos. In Lagos, I was living with my cousin who was also into real estate and construction. I worked with him for a while and eventually, I had to branch out. Prior to that time, right in Abuja, I was supervising some projects but not really on full time because as at that time, I had not made up my mind that I was going into real estate. When I am off work during the evenings, I try to play some golf at Ikoyi Club. I am a member of the Ikoyi Club. I also watch a lot of football and I am a Chelsea fan.
Tell us about your company and how it is serving the Nigerian market.
We are Deluxe Residences Limited and as the name connotes, we are into luxury projects. We major in high-rise apartments and we've also done some semi-detached and fully detached homes. We operate more in top locations in Lagos like Ikoyi, Victoria Island and Lekki axis. Actually, we do a lot of projects in Victoria Island. As I stated earlier, Deluxe Residences is a member of Cavalli Business & Investment Group and within the group, we try to address the whole spectrum of real estate. Within the group, we are not just limited to top locations; we do real estate from the lowest to the highest. We do projects as far as Lagos-Ibadan Expressway and Ibeju Lekki. Again, we are planning about two massive project launches which are coming up soon.
What major projects is Deluxe Residences currently involved in?
Our latest project at Deluxe Residences Limited is called the Vantage Bourdillon and it is a project right here on Bourdillon. It is a 10 suspended floor project that comes with a lot of recreational facilities. Vantage Bourdillon is a project at the core of our heart and that is why we gave it the name 'Vantage.'
Anyone that buys into this project will know they are occupying a vantage position in Bourdillon.
The project will have a rooftop gallery where people can relax. All these make it a top project in a top location. Apart from Vantage Bourdillon, we have another project called The Knight, which is on Ahmadu Bello Way, right beside Silverbird Galleria. It is a hotel apartment where there will be concierge, restaurants, swimming pools, game arcades, a lot of stuffs that people can use to relax. So you are living in your home like you are living in a hotel. We also have other projects at different phases of completion. We have Amlad Place which is on the way to Banana Island and The Empire Queens Apartments opposite Eko Hotel & Suites. We also have other projects that we have completed such as The Grand Orchard, The Vogue Oniru and Pacific Heights.
In 2019, Nigeria's housing deficit was reported to be around 17 million units. Can you brief us on how your company is trying to fill this gap?
I have been hearing about this 17 million housing deficit for 10 years now. Recently, I heard it was 22 million and it doesn't seem to be abating, rather it seems to be escalating. So, at Deluxe Residences, we have massive projects where we have several units and we try to help the market with our projects. We try to do projects where people pay in instalments up to like three years or more. We also try to make our projects affordable and we always come with the best prices. We believe that this will go a long way in closing the gap. We are also reaching out to the state government and also the Federal Ministry of Housing in Abuja for partnership and see how we can close this gap. Some weeks ago, the world celebrated World Day of Social Justice and I was one of the speakers at the event at Alausa where we spoke about social housing. We understand that it is always not so easy for private developers to do so much when it comes to social housing without government input and it should not stop at the process of giving land to the developers. We have the Federal Mortgage Bank of Nigeria and the Nigeria Mortgage Refinance Company; these organs of the government have to work in much better ways to encourage private developers like us. We are doing a lot already, but we need to do so much more because the housing deficit is growing and our population is growing as well.
According to the Federal Mortgage Bank of Nigeria (FMBN), homeownership is low at 25%. Do you think Family Home Funds (FHF) has the potential of increasing the rate of homeownership?
I believe that Family Home Funds should help to increase homeownership. It is a right initiative in the right direction but at the same time, when you also look at the target they are trying to achieve, for me, it's like a drop in the ocean. Their target is about 500,000 units, Lagos' population alone is about 25 million. FHF is serving the whole of Nigeria and they say by 2023, they want to provide accommodation through developers to about 500,000 Nigerians which sounds good. So the truth right now is that we need platforms; national, state or private sector driven, to look at how to massively address that issue of housing deficit and homeownership.
What do you think are the challenges working against the development of the housing sector in Nigeria?
Apart from the issue of access to land, especially from the government, getting titles like C of O, Governor's Consent for subsequent transactions and some other things, has really affected the housing sector in Nigeria. We have this bureaucratic bottleneck and it slows down the processes. The processes are good but they are not meant to frustrate people, are they? And then again, access to finance for both the developers and the end-users. For the developers, it is always there; at least every developer is always out there trying to look out for funds for projects. Then the end-users, there's National Housing Fund (NHF) but I will say they should be strengthened, they should be expanded. The population we have in Nigeria is tending towards 200 million right now, so when you have such organisations working to cater for housing for this number of people, then their capacity needs to be enlarged. There must be a bridging of gaps in getting finances to the end-users. So they can get loans and get mortgages with single-digit interest rate.
How would you rate the engagement of the private sector by the government in the Nigerian real estate sector?
There has been some level of partnerships but I think the major thing affecting these partnerships is the fact that, once the government provides you with land and helps you with approval, they leave you to yourself. Moreover, the government in terms of housing cannot do much by themselves and they need to involve the private sector more at different levels.
What's your outlook for the real estate sector in 2020?
We are very optimistic and we are very positive that 2020 will be a better year for the real estate sector. A lot of things are being put in place that makes the climate look much better than it has been in the last three years. For us as a business, we believe the sector is going to fare better in 2020 and even going forward.
Considering your vast experience, what advice will you give anyone who wants to venture into the real estate sector?
First, it is important to understand the sector. Secondly, have a passion for it. When you have passion for what you do, it will sustain you in the business. So, when you have the passion and you fully understand the industry, you will be able to do some projections and some analysis of the market. Another thing I will also say is, you need to bring in a lot of creativity. So anyone that wants to come into the industry must not just see the glamorous part of it but must also look at the other side of it that there are bound to be challenges and must be fully prepared to overcome such challenges.