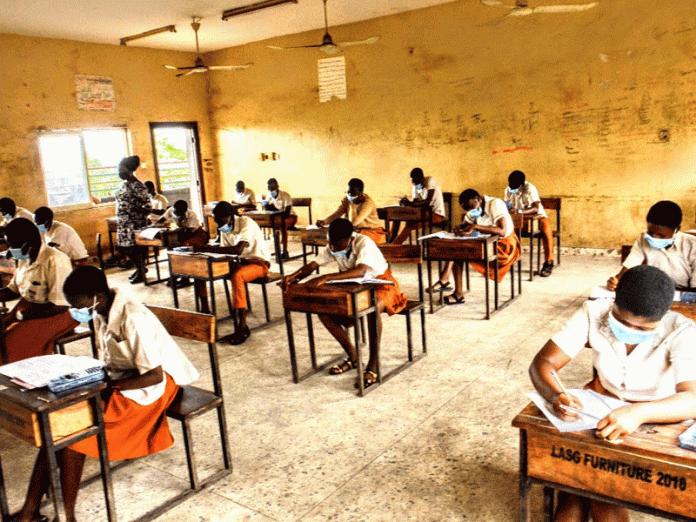 Ahead of the national examinations in the country which kicked-off with the West Africa Senior School Certificate Examination on August 17, school proprietors and principals explained to Funmi Ogundare the efforts they have made to ensure that exit students succeed at the exams, including intensive revision while considering the safety guidelines put in place by the government against COVID-19
Schools in Lagos State have rolled out a suite of actions and activities aimed at ensuring proper off-take and preparedness of their students for reopening and final examinations starting mid-August 2020.
The steps include the fumigation of school premises by recommended agencies of government, making available hand washing and sanitising stations at strategic locations, checking the temperature of students at the points of entry, and placing visual reminders of safety procedures including wearing of face masks.
School authorities in the six education districts of the state mapped out a timetable for online revision, especially for those in terminal classes.
Classes were also conducted online via Zoom/Google Meet and WhatsApp with regular assessments to discover their strengths and weaknesses. There were also one-on-one interventions arranged for students requiring additional assistance for them to succeed at the national examinations.
Evaluators from the Office of Education Quality Assurance visited schools across the six education districts to ensure compliance and prevention of infection and spread of COVID-19 among the students.
The Director General, Mrs. Abiola Seriki-Ayeni the agency had to issue guidelines on fumigation of all schools' environment, including classrooms, chairs and desks, provision of running water and hand washing soap, provision of hand sanitisers and wearing of face masks.
Other safety guidelines are avoiding close contact with anyone showing symptoms of respiratory challenges, maintaining social distancing and one-metre physical distancing in the sitting arrangement.
The Lagos State Commissioner for Education, Mrs. Folashade Adefisayo also inspected some public and private schools. She was satisfied with their level of preparedness, noting that students must not exceed 20 per class in compliance with the social distancing guidelines.
"The state government is very concerned about the safety of students and their teachers as their wellbeing is of utmost importance."
Mrs. Olufunke Amba is the Director, Vivian Fowler Memorial College for Girls, Oregun, Lagos. She said the school was purified to prepare exit students for the national exams. Vivian Fowler provided washing and sanitising stations at several locations in the school, and placed visual reminders of safety procedures such as wearing of face mask at strategic points.
"Entry into the premises has also been restricted to students and staff", as the director added that the school conducts temperature checks at the point of entry and deploys separate gates for entry and exit.
The school has also equipped its clinic to provide isolation for students or staff presenting COVID-19 symptoms.
"Students will be put in small clusters of five to six in a group to make contact tracing easy if necessary. Waiting areas will be assigned, keeping in mind the social distancing norms," she stressed.
Right from the onset of the lockdown in March 2020, Amba said the school set up Google classrooms for the final year students and a rigorous timetable for online revision classes. Online classes were conducted via video conferencing.
"Regular assessment were done to diagnose the strengths and weaknesses of students. They conducted numerous training sessions for the staff to ensure that they were able to use the available technology tools to teach online effectively," she said. The school also arranged one-on-one intervention for students who required additional assistance. They conducted a second series of mock examinations in June to assess the readiness of students.
Based on the outcomes of the mock examinations, Amba said the school devised a new revision timetable to ensure that every student could face the exams confidently and secure good results.
The Principal, Government Technical College, Agidingbi, Ikeja, Mrs. Adebisi Akanni is preparing her students in the exit classes for National Business and Technical Education Board (NABTEB) examination scheduled to commence on September 21, 2020.
She said despite COVID-19, students were eager to return to school, adding that the school has arranged the classes according to social distancing rules.
"We have just one stream, Tech 3 alone. We have about 400 of them for the final year, and about 80 teachers, so we have enough space to arrange them. The teachers are on ground and have been directing the students to their various classes. They asked them the section they are according to the skills they have come to acquire. Once they mention theit section, the teachers will direct them.
On how the college prepared students for success in the examination, she said: "Since March 23, we started online teaching in this school. We have 12 sections and each section has a WhatsApp learning platform, so we do online teaching every day. I have all on my phone monitoring them, and at the end of the week, they do a test on whatever they have done between Monday and Friday; and we take attendance.
"Now that we have resumed, we are going to start all over with a face-to-face revision. We are going to do intensive revision unlike the online before the NABTEB examination. We have our timetable of 45 minutes per class. We are closing at 2 pm, unlike the 3 pm before. We have ensured that there will be no mingling among them. We have also told the students to bring their food from home and eat in the classroom."
The school requires students to come with their face masks, while it provides masks at the gate for those who do not come with one. "We also take their temperature with an infrared thermometer, so we are good to go."
Elder Gabriel Olabode Fasanu is the Principal, Babcock Academy, Abeokuta, Ogun State. He said the school has prepared itself for the new order. The authorities fumigated the school area, classrooms, hostel and offices. They also provided running water/soap in the school.
He said they will now ensure that only two students stay per four-bedded room; as well as prevent parents/visitors from entering the school at the gate. The school practised some of these rules during the lockdown break.
"We have already finished the scheme of work and currently, we are going through final revision before the commencement of WASSCE," he said.
Mrs. Ibim Semenitari is the Director of Archdeacon Brown Education Centre, Port Harcourt, Rivers State. She said: "As a rule, our children in SS3 spend much of their second and third terms revising work and we ensured that we finished their syllabus way ahead of the exams, so we were not in a difficult place.
"However, naturally children have been out of the physical school for long and that could have psychological effect on them. In our case, our schools had online lessons throughout the period they were not in school. We were teaching across three platforms; in-person instruction via Zoom, assignments and lecture via Google Classroom and using software specially developed by one of our teachers, and recorded video lessons for topics where teachers wanted to lay further emphasis. The exam classes went through a horde of questions."
As the students returned to school, Semenitari said her school embarked on intensive revision classes in addition to one-on-one guidance counselling sessions to support those who may be dealing with some psychological disorientation based on a long time of physical absence from school.
On COVID-19 she said: "We have decontaminated the school, sensitised our personnel and the returning students, and set up an isolation centre. We have increased the number of our hand washing stations, purchased infrared thermometers and PPE for our school nurses, cleaners, security and other essential personnel. We also have a no-mask-no-entry on all our campuses."
This reporter visited Government Technical College, Agidingbi, Ikeja during the resumption week to monitor the level of compliance for the Tech 3 classes and preparation for its examination.
The school had an attendance register at the gate for students to sign in. Also, it used an infrared thermometer to check the temperature of the students. There were six bowls of water and soap at strategic places for washing of hands to avoid students clustering in one place.
However, the authorities turned a student back at the gate because his temperature was higher than the norm. THISDAY observed teachers directing the students to their various classes where lessons were ongoing.
Students who spoke to THISDAY were delighted about the measures in place to prevent the spread of the virus, as well as efforts by their teachers to engage them during the lockdown.
Miss Boluwatife Oladipupo is in Ladies Garment Making Section and is the Students' President in her school.
She said, "I am impressed with what I have seen in the school, though I was not thinking it was going to be like this. We had to take precautions and this shows that we can still be safe from the virus. In the last four months, we have been doing online classes and even did a test on WhatsApp to prepare us for our exams. I think technology is better now than before."
Master Stephen Okafor is in the Instrumentation Mechanics Section. He said, "already, the school has briefed us on the measures and precautions to take within the school and even in public places. I believe if the trend is allowed to continue, we will be able to avoid spreading the virus."