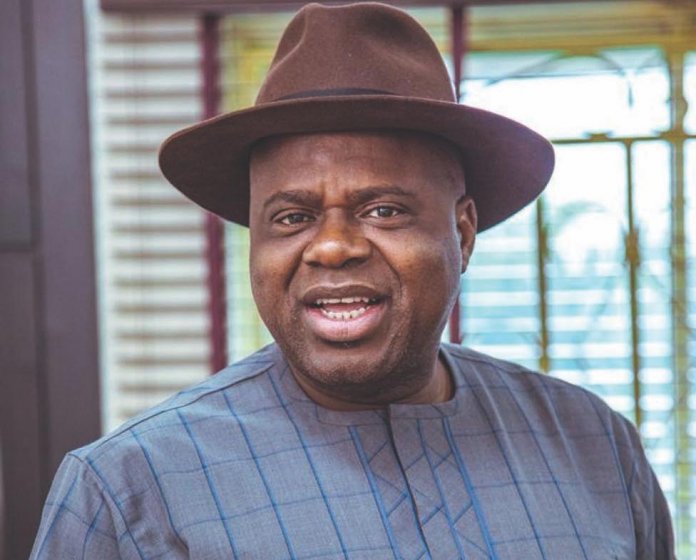 Onungwe Obe in Yenagoa
Bayelsa State Governor, Senator Douye Diri, yesterday sent the list of commissioner-nominees to the state House of Assembly, insisting that he is not demoralised by Monday's nullification of his election by the Bayelsa State Governorship election tribunal.
The urged the legislators to go ahead with the screening and approval of the list of Commissioner-nominees he sent to them.
Diri added that the solidarity visits and messages sent to him by the people of the state were moral booster that will inspire him to forge ahead with governance undeterred.
He said the tribunal judgment, which had a dissenting ruling by its chairman, Justice Ibrahim Sirajo, was not enough to slow down the wheel of governance, and thanked the legislators for their show of solidarity.
He said, "It actually encouraged me. It gave me the strength and hope that we have a brighter tomorrow, and that we have an assembly that cares. Let me use this opportunity to call on Bayelsans to be calm as nobody has removed the governor.
"This is the court of first instance and we respect the judiciary. The judiciary is there for the common man and we believe that justice would be done.
"Even this judgment is not unanimous. The chairman of the tribunal said the judment by the other two judges was not correct and he has read his own, saying what they did was wrong. He said as far as he was concerned, the governor remained validly elected."
While expressing confidence in God to complete what his administration had started, Diri noted that the trial would end in his favour.
"Go ahead and perform your legislative duties by screening them (commissioner-nominees) and I will swear them in as commissioners. The state is already in motion and we are not going back," he said.
The Speaker of the state House of Assembyly, Hon. Abraham Ngobere had earlier announced that the lawmakers received a letter from Diri requesting it to screen 24 commissioner-nominees.
The commissioner-nominees yesterday presented themselves for the screening, but the Assembly gave priority to all former lawmakers nominated for screening by asking them to "take a bow and go."
Other nominees were subsequently screened one after the other.