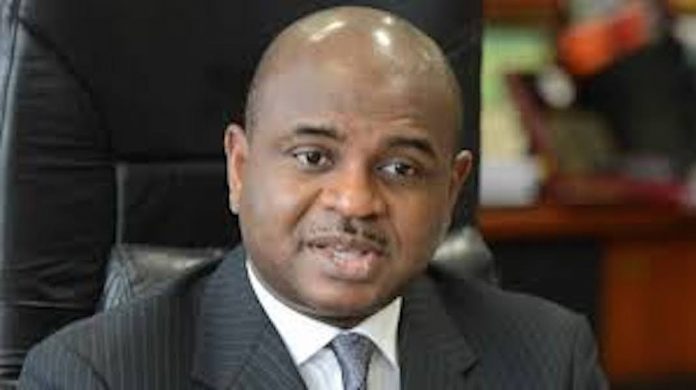 • Warns Nigeria is heading into sovereign debt crisis
Nume Ekeghe and Buchi Ubani
A former Deputy Governor of the Central Bank of Nigeria (CBN), Prof. Kingsley Moghalu, has warned that with the rise in the country's debt service to revenue ratio, Nigeria is heading towards a sovereign debt crisis.
Moghalu, the 2019 presidential candidate of Young Progressives Party (YPP), also said the recent controversy surrounding the Chinese loans and Nigeria handing over its sovereignty was sensational.
He gave this warning during a virtual conference organised by Elombah Television at the weekend, noting that the terms and conditions attached to the loans were not favourable to Nigeria.
He also said that the leadership of the Debts Management Office was misleading the Nigerian public as well as the federal government on issues related to external borrowing.
At the conference, the former presidential candidate canvassed public private partnership (PPP) as the best and sustainable way to fund strategic infrastructure projects.
He said: "The number one problem is not just Nigeria's loan to China, but it is the broader external indebtedness. Nigeria is essentially walking into a sovereign debt crisis.
When you consider that we now spend virtually all that we earn servicing foreign debt.
"In the first quarter 2020, the federal government's total revenue was about N950 billion, but we spent N943 billion servicing external debt, which was about 99 percent. Is a country on this path fiscally viable?
"We are taking more and more of these loans and we are told by the Debt Management Office (DMO) that our debt to GDP ratio is under control and is below 30 per cent, and that it does not matter.
"What matters to a country like Nigeria is the debt service to revenue ratio especially because our tax to GDP ratio is very low, "Moghalu explained.
He pointed out that 90 percent of Nigeria's revenue "is from crude oil. So, when those revenues are plunging, then that is a huge risk because your debt obligations are fixed.
"So, if there is such a serious mismatch between what you are earning and what you have to pay those you are owing, then you have a crisis. And that is the real problem for Nigeria today with its loan from China," he said.
Moghalu noted that the loans being obtained presently would be a burden for the future, saying there was no guarantee Nigeria as a sovereign would be able to pay.
He said: "If you are spending over 90 per cent of every revenue you are earning servicing foreign debt, you are essentially bankrupt. But you are postponing your bankruptcy to be handled by the future government and the citizens."
Speaking on Nigeria's indebtedness to China, he said such loans usually come with clauses that are not favourable in the long run.
He said: "Nigeria is owing China officially according to the DMO $3.1 billion and Nigeria's total debt is about $90 billion and foreign debt is $35 billion. So, this $3.1 billion is three per cent of Nigeria's total debt and about 10 percent of Nigeria's foreign debt.
"On the terms of these loans, on the face of it, they look very attractive because they are concessional loans at 2.5 per cent annual interest payable over 20 years and with a 7-year moratorium. So, looking at it on the surface looks good but when you go deeper, there are many problems."
Moghalu said further: "I am not condemning loans totally, there are times when a nation has to borrow, but the question is what you do with what you borrow and the terms on which you borrow.
"I don't think we should continue to borrow, I think Nigeria should cut its coat according to its cloth and it keeps borrowing because we don't want to take hard decisions and we want to continue to maintain a bloated governance and civil service so the government would be popular with the people.
"Are there not ways of financing construction of railroads in Nigeria through public private partnership (PPP) arrangement? I think the Nigerian government needs to move much more along the lines of PPP rather than borrowing to say they are constructing infrastructure. I think it is time for us to take a more sensible and longer-term approach to these things."
According to Moghalu, those at the helm of affairs at the DMO presently are misleading the Nigerian public as well as the federal government on issues related to external borrowing.
"I don't think the DMO has a voice or their voice is respected in terms of the decisions politicians make. It seems to me that the DMO as it is today exists only to rationalise political decisions.
"For example, they keep telling us about debt to GDP but they don't tell you the revenue to debt service ratio which is the real issue. The DMO doesn't seem to influence the discussion in a way that is actually to the best interest of Nigerians."