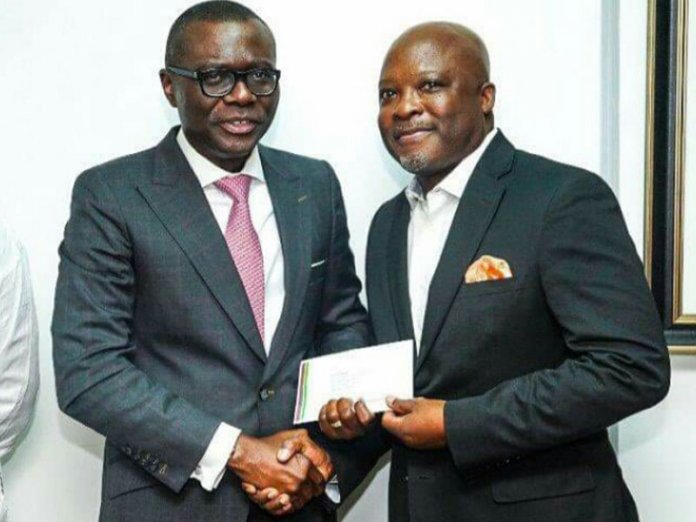 By Duro Ikhazuagbe
The Executive Chairman, Lagos State Sports Commission (LSSC), Sola Aiyepeku, has promised that sports would bounce back from the Covid-19 pandemic -enforced break and even attain new heights in Lagos.
Speaking on the effects of Covid-19 safety measures, Aiyepeku said athletes and businesses built around sports have had to face great difficulties but remained very proud of the level of compliance by stakeholders in the sector.
"One can argue that only a few sectors were hit as hard as sports when the government took the responsible step of halting activities that involved large gatherings and contact.
"Sports embody these things in many ways and as responsible citizens, we all have to comply. I have to say that I have been very impressed by the level of compliance by our athletes and other stakeholders in sports," stressed the LSSC Chairman.
He recalled that the pandemic did damage to the preparations the state's athletes had made ahead of their participation at the National Sports Festival scheduled to hold in Benin City last March.
"I particularly want to commend our athletes because it is easy to forget that the lockdown measures were put in place a few days to the commencement of the National Sports Festival in Edo.
"Our athletes had camped for weeks, they had trained really hard and all was set for us to go and compete. To see them adjust as well as they did was really impressive," observed Aiyepeku who thanked the athletes for appreciating measures put in place by the commission to ameliorate the hardship occasioned by the lockdown.
"We are grateful that they were very appreciative of our gesture to distribute palliatives such as foodstuffs and cash to help them cope."
On what the Lagos Sports Commission had been up to over the past months, Aiyepeku said he and his team had focused on developing a Lagos State sports policy and weekly virtual strategy sessions which had coalesced into clear plans that would be implemented once Governor Babajide Sanwo-Olu gives the go-ahead for sports to resume fully.
"We have already designed Covid-19 compliant events in sports that require minimal contact and requires few participants. We have the WHO guidelines on sporting activities which has enabled the major leagues and some events in Europe and America resume and we have staff and capacity to implement them.
"Our plan is to start with those and then scale up to full events as the government allows. Our main focus once sports resumes fully is actually school sports. We believe strongly that the future of sports in Lagos and Nigeria in the next 10 years depends on the steps we take now," he further observed.
Aiyepeku revealed that the LSSC had commenced discussions with the Ministry of Education to integrate sports and start a wave of interest and participation among students that will catalyse in the production of talented and well-trained athletes that will represent Lagos, Nigeria and themselves all over the world for years to come.
Aiyepeku insists he remains confident on implementing lasting changes as he enjoys the trust and support of Governor Sanwo-Olu and has a very solid team driving his policy and agenda.
"When you are appointed into government, your agenda is driven largely by your principal's vision and this is where I consider myself quite lucky. Mr. Governor's agenda for sports sync nicely with a lot of the ideas and thoughts I have always considered the way to drive sports in Lagos and Nigeria.
"That is, sports should be a vehicle to achieve many things including talent development, job creation, citizen engagement, and ultimately, a significant contributor to the economy and GDP through sports events, products, and activities.
"His support for us is demonstrated by some of the successes we have recorded between November and March before the Covid-19 lockdown.
We hosted the South-west Zonal qualifiers for the first time in over 40 years. "We played our role as Host City of the Lagos City Marathon, one of the biggest Marathons in Africa and we delivered a world-class event as attested to by local and foreign athletes as well as observers.
"We hosted the Beach Soccer Copa Lagos and other sports events in Lagos all within these four months.
"In fact, plans were afoot to bring other world-class events to Lagos before the pandemic hit and those discussions are still ongoing to find new dates. All these could not have been possible without Mr. Governor's unflinching support for sports."
Aiyepeku's dream is to start the work of laying the foundations of building a sports industry in Lagos that will sustainably deliver social and economic dividends to the state.
"By doing this, we will all benefit. Imagine a sports system where sports education and training begins in schools, there are decent and accessible facilities for professional, aspiring and recreational athletes to train, world-class facilities to host local, regional and global events, a vibrant sports equipment industry supplying the equipment and kits needed by millions of recreational athletes, regulated gyms and fitness centers and well-trained coaches, instructors, and trainers.
"It is an entire ecosystem and our vision is to stimulate that growth spurt the ecosystem needs to develop into a fully functional system as we have all over the world. Our vision for sports in Lagos is big and we have used the period of this enforced break to fine-tune our plans and strategies so that when the safety measures are lifted and normalcy is being restored, sports in Lagos will make an even bigger and better return," Aiyepeku concluded.