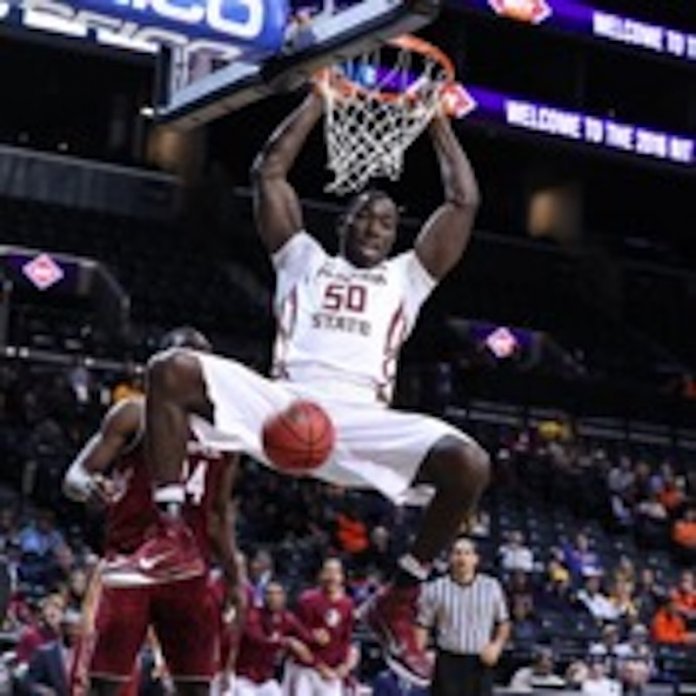 Though he failed to make the final cut of Team Nigeria to the 2011 FIBA Afrobasket, Michael Ojo's excitement to be given a chance to play for his fatherland was visible. For those who came across him, he was a jolly good fellow Former Florida State center and former D'Tigers invitee, Michael Ojo died yesterday after collapsing during training in Serbia, his former team, Red Star Belgrade said.
The 27 years old Nigerian-born basketballer was taken to a hospital in the Serbian capital, but doctors failed to resuscitate him, Belgrade media reported.
"The sudden and shocking death has deeply shaken everyone in the club," Red Star said in a statement.
Ojo was reported to have tested positive for the coronavirus, but had recovered. Local media reported that he died of a heart attack.
After going undrafted in 2017, Ojo moved to Europe where he started his professional basketball career with FMP Belgrade. In 2018, he signed with the regional Adriatic League champions, Red Star Belgrade, where he was hugely popular among the club's fans.
"Farewell good giant," said a post on a Red Star fan page.
Ojo averaged 6.3 points and 3.3 rebounds in the ABA league and 4.1 points and 3 rebounds in the EuroLeague with Red Star.
The Belgrade club released him at the end of this season and Ojo was believed to be looking for another team in Europe.
The towering 7-feet-1-inch center wore shoe size 21and Nike reportedly had to spend $15,000 on a machine to create a size to fit him while he played college basketball in Florida.
CBS affiliate WCTV reports Ojo graduated from FSU with his bachelor's degree in international affairs.
"My degree is something I owe my family," Ojo said in a profile with FSView.
"I promised my people, because they know American culture can change anybody to anything, so I promised them just that I would be the same person I am and get my degree. I won't let anything distract me from school, my degree is something I promised my people and I will get it."
Meanwhile, tributes have been flowing in from members of the Nigeria Basketball Federation after receiving the sad news of Ojo's sudden demise.
Leading the tribute is NBBF President, Musa Kida who bemoaned the sudden demise of the 27 year old.
"This is another flower that unexpectedly withered at such a time it was expected to start blossoming.
"After a sterling College career in the United States of America and after securing a professional deal in Belgrade, it is so sad that the basketball world has been robbed of this emerging talent who has been described as one of the tallest to play basketball in Serbia."
In his own reaction, the Federation's Vice President, Babs Ogunade said, "I met with him in February at the FIBA Women' Olympic qualifying tournament in Serbia. I watched his match against Partizan Basketball. He was such a calm and unassuming personality".
The North Central Representative on the board, Isah Umah described the late centre, who won the 2019 Serbian Professional League with Crvena as humble and hard working.
Umar who was D'Tigers Team Manager when the team was preparing for the 2011 FIBA Afrobasket when Ojo was invited to the national team revealed that he was a true Nigerian who bled green and white.
"He was excited to be part of team Nigeria and gave his best at such a young age. He did not make the final cut, but he was excited to have a chance to play for his fatherland".
During the 2019–20 season, Ojo appeared in 22 EuroLeague games with Crvena zvezda, averaging 4.1 points and three rebounds per game while appearing in about 108 games for his club before his untimely demise as teams were preparing for life after the covid-19 global lockdown.
The Federation prayed to God to comfort his family, friends, close associates and the entire basketball family as they come to terms with this heart-breaking news.