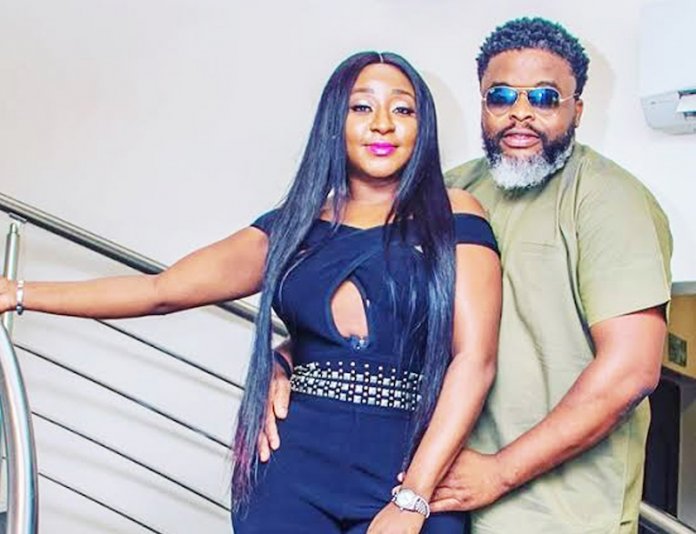 In a new series now showing on Nvivo television, delectable Nollywood actress Ini Edo stars alongside treasured music executive, Larry Gaaga who makes his Nollywood debut in the sizzling romantic film titled, 'Side Chick', writes Ferdinand Ekechukwu
Acclaimed Nollywood actress Ini Edo and top record label executive Larry Gaaga got their fans and followers talking after they were both seen in a trending loved up photo. Gaaga who is married and with kids, had posted the photo on his Instagram page accompanied with a caption in which he emphasized on the need to stop fighting the old and instead focus on building the new.
Alongside the picture which showed him grabbing Ini Edo's backside, were Gaaga's words: "The secret of change is to focus all your energy, not on fighting the old, but on building the new. My mandy?? @iniedo". As if that was not enough, Gaaga would then 'shuffle' his post with a love and bride emoticon while tagging the official IG handle of the movie star.
Ini Edo didn't help matters as well, as she further excitedly swelled the gist with a comment on the photo: "Zaddy Jay to the world". This led not a few social media users to hurriedly conclude that the music producer is Ini's new man. In fact, many who had been engaged by the beautiful post flooded the comment section with speculations that the two creative entrepreneurs may be on their way to tie the knot.
However, moments after the post had garnered several reactions, Ini who was formerly married, returned to set the record straight, debunked such speculations and noted that they were working on a project. She further revealed that the photo of her and Larry Gaga, whose real name is Larry Ndianefo was just snapshot from one of their scenes in a movie. "Guys, it's a movie duuuuuh", she wrote.
Well the movie is finally out and now showing on free streaming platform, nvivo television. The fahionista confirmed the release with a video clip of the movie shared on her Instagram page. "The wait is over…diary of a side chick @larrygaaga debut as an actor and boy did he kick ass??? @iniedo is Mandy Small girl with big god streaming this August on @nvivotvofficial," she informs.
The new movie titled "Side Chick" which is showing as Nvivo original series is suspense filled of passion, lust, betrayal and blackmail, featuring great Nollywood stars like Uche Jombo and Emem Inwang. Starring Ini Edo as Mandy, a small girl with a big god, the adventures of Mandy would make every other lady to want to meet this 'big god'.
Delectable Mandy is just a food blogger that has fallen in love with a married man (Larry Gaaga). Mandy ever the fighter is ready to keep him. She would gladly go as far as setting up her rivals to keep her big god all alone to herself. Mandy navigates the ups and downs of being a side chick on this sizzling romantic diary of a side chick from the stable of Uche Jombo Studios Production.
Highly respected music executive Larry Gaaga who makes his first Nollywood appearance plays the role of Jamal, the typical Nigerian big man who has found himself in quite an entanglement. For Uche jumbo, she brings to life the character Betty, Jamal's wife. Putting her family and business first, she's always there to clean up Jamal's mess.
Emem Inwang plays Mandy's cousin Uduak visiting from the United States. She supports her cousin through her woes. Bryan Okoye plays Simon and Magely Veltor as Sisis Hernandez. 'Side Chic' is produced and directed by yours truly, Ini Edo.