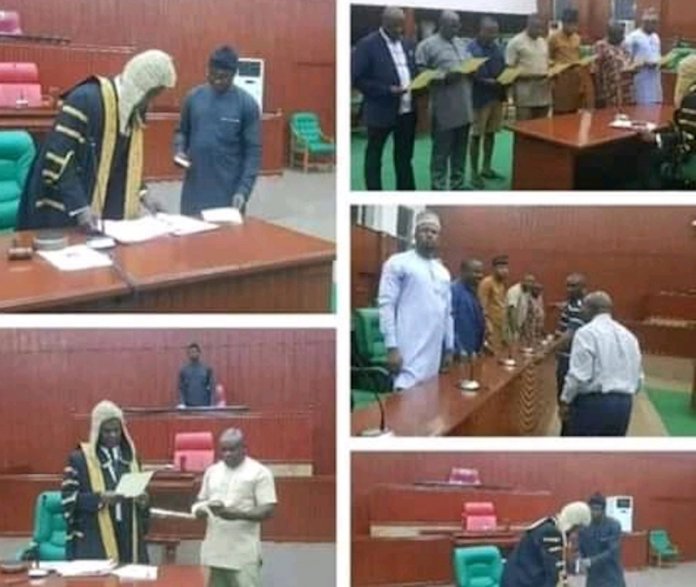 *It's a non-issue, says Okiye
By Adibe Emenyonu 
in what looked like a dangerous twist in the troubled Edo State House of Assembly, lawmakers opposed to Governor Godwin Obaseki Thursday 'impeached' Speaker of the State Assembly, Hon. Frank Okiye, and his Deputy, Roland Asoro.
When asked for his reaction, Speaker Okiye simply said what happened was a non-issue.
"I don't want to respond because it is a non-issue," Okiye told THISDAY.
Their impeachment followed the swearing in of all members-elect, who were not inaugurated last year, at an emergency plenary session which took place at the Conference Hall of the State assembly.
12 out of the 14 members-elect who were not sworn last year took their oaths, administered by the Deputy Clerk of the Assembly, Mr Tom Efezokhae.
After the swearing in of the 12 members-elect, Victor Edoror (Esan Central Constituency) was 'elected' as Speaker of the Assembly at the emergency plenary session attended by 17 members loyal to the former national chairman of the All Progressives Congress, Adams Oshiomhole.
Hon. Emmanuel Agbaje of Akoko Edo Constituency II was also elected the Deputy Speaker.
Mr Sunday Aghedo, (APC Ovia Southwest) had moved a motion signed by the 17 members calling for Okiye's ouster. He was seconded by Hon Ohio Ezomo (APC Owan West).
The motion nominating Edoror was moved by Washington Osifo (APC Uhunmwonde) and seconded by Hon Eric Okaka(APC , Owan East), and in the absence of further nominations he was elected.
Mr Chris Okaeben (APC, Oredo West) moved the motion for the nomination of Hon Emma Agbaje (APC, Akoko-Edo II), who acted as Speaker ex-tempore, as Deputy Speaker. .
In his address, Edoror said the 7th Assembly will focus on its legislative duties, and not pursue the impeachment of any member of the Executive.
He called for unity and togetherness, stating that there was no victor, no vanquished.
Edoror also directed the Edo Commissioner of Police, the Inspector General of Police and other security agencies to eject the thugs who invaded the Assembly Complex in Benin to allow for a rancor-free plenary on Friday, August 7.
17 members attended plenary at the end of which Hon Ohio moved for adjournment. The Speaker announced that plenary would resume on Friday
Details later…