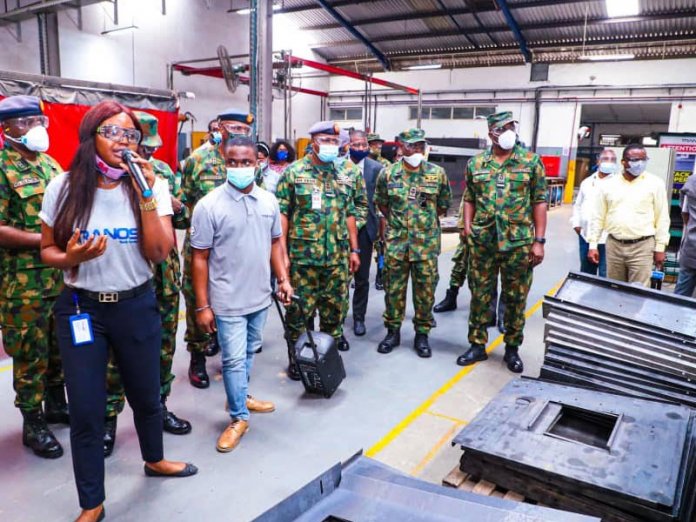 To ensure result oriented research and development, Chiemelie Ezeobi reports that the Nigerian Air Force is looking inwards for localised solutions
Undoubtedly, air power has continuously played decisive roles in bringing conflicts to speedy resolutions. In Nigeria for instance, the nation
faces several internal security challenges ranging from militancy in the South-south, pipeline vandalism in the South-west, cattle rustling in the North-west and Boko Haram Terrorist insurgency in the North-east.
To achieve all these, there is optimum need for a formidable fleet to ensure the Nigerian Air Force (NAF) platforms remain operational. This is where the timely delivery of parts at reasonable costs becomes premium.
Given that the NAF is ordinarily compelled to rely mostly on foreign original equipment manufacturers for the supply of the parts and usually at exorbitant prices, the service under the leadership of the Chief of Air Staff (CAS) Air Marshal Sadiq Abubakar, has been looking inwards. Also backed by the focus of the federal government in promoting local content, home grown technology and innovation as principal means of preserving the nation's foreign exchange earnings, it would be safe to categorically state that the NAF currently places much emphasis on research and development, as a way of building indigenous technological capacity.
NAF's Research and Development
At the core of the NAF is Research and Development (R&D). Under they present CAS, this department has further been strengthened to boost Nigeria's technological base as a veritable tool for national development.
Bearing in mind the need for the NAF to be self reliant technologically, the CAS has strengthened the R&D as a means of building indigenous technological capacity. To this end, NAF's strategy is in line with the focus of the FG which prioritises the promotion of local content, homegrown technology and innovation as principal means of improving the nation's foreign exchange earnings.
Given the current financial realities of the country, the need for self-reliance and prudent management of resources has become imperative. This is where looking inwards will totally pay off and curb capital flight.
Collaborative Efforts and Successes Recorded
A believer in collaborative efforts and exemplifying the need for cross-fertilisation of ideas and synergy, the CAS went in search of partners from the various universities and research institutions scattered around the country. This was led by NAF visitation panels who were tasked to go round institutions to have first hand information and see the facilities available that could be harnessed by the NAF in collaborative manner that would move the NAF, and indeed, the country towards technological breakthrough.
Based on the positive feedback, the NAF first entered into memorandum of understanding with 14 universities and research institutions across the nation towards collaborating in research, development and manufacture of various aircraft components. The number of such collaborations has since increased to 30.
The result of the collaboration included the modification of the Indian made rockets for Alpha jets. This feat enabled the utilisation of the huge stock of rockets, worth millions of dollars that would have hitherto had to be decommissioned and destroyed.
Others are the production of the hydraulic accumulator diaphragm for the auto pilot system of the Mi-35 Helicopter, the manufacture of portable battery cart for the Augusta Helicopter fleet and modification of the F-7Ni battery compartment for compatibility with batteries made in Pakistan as well as the repair and calibration of the missile tester for the F-7Ni fighter aircraft.
A further breakdown of the breakthroughs recorded include the production of 500 units of Alpha-Jet bomb release-cartridges, production and test firing of prototype stand alone Intervalometer, achievement of 100 per cent success in overhauling Alpha Jets Brakes assembly in collaboration with INNOSON Vehicle Manufacturing Company, in Nnewi, design of fuse for aircraft bombs, product of prototype 250kg bombs, re-militarisation of A-Jet aircraft acquired from the USA, repair of units of 68mm SNEB rockets and 7.62mm ammunition to enhance weapon availability and production of Power Converter Test Bench.
These modest achievements within such a record time may seem small but to the airmen whose machines have been grounded severally for lack of these 'small items' this was no mean feat.
In addition, the NAF's foremost Air Force Institute of Technology was given a boost with the injection of the unrelenting 'NAF egg heads' made up of an array of world-class engineers under the optimisation of local engineering scheme. These are initiatives were done to ensure result oriented research and development.
Exploring Partnerships with TRANOS
As the COVID-19 pandemic forced global manufacturers of non-essential commodities to scale down due to certain restrictions, NAF recently spread its tentacles by collaborating with Tranos, a local engineering company at Ogba, Lagos, for the production of spare parts needed to keep its fleet in top shape.
This partnership which was at the instance of Air Marshal Abubakar, was in furtherance to the service's commitment to boosting local content in line with Executive Order 5 of President Muhammadu Buhari.
After the inspection of facility and the products it has to offer, NAF Director of Public Relations and Information (DOPRI), Air Commodore Ibikunle Daramola, said the service was interested in developing local content especially in terms of procurement, development of science, technology and innovation, adding that the mission to the company was to seek ways of collaborating as the NAF did with Ibeto and Innoson.
He said: "Tranos is another logical step in that direction of developing indigenous solutions to our technological challenges as Nigerian Air Force. Some of the issues that are involved are the production of spears, necessary roadtables for our aircrafts because the NAF is a highly technologically driven force.
"Given the COVID-19 pandemic, there have also been a number of restrictions placed on air travel that have affected the logistics supply chain in terms of spears and that has driven us to look more inwards for solutions to these issues. Right now, there are problems. Even the factories, the original equipment manufacturers have scaled down in terms of production. So, that will be a problem.
"For Nigeria to be able to move forward and the Nigerian Airforce to make sure it is self sufficient; we need to look more inwards for solutions. That is why partnerships like these will come into place to be able to give us solutions that are cost effective and realistic; that will make self sufficiency be realised not just for the Nigerian Airforce but for the Nigerian nation."
On why the NAF chose that particular firm, Ibikunle said Tranos has inherent capabilities the service was interested in, adding that "like the Commandant, Air Force Institute of Technology (AFIT), Kaduna, mentioned, we have partnerships with over 30 training institutions, universities, agencies of government because of their specific capability.
"Tranos has specific capability in terms of engineering and manufacturing that have to do with metal, telecommunications and engineering, production of enclosures, very specific areas where the Nigerian Airforce has interest.
"We will continue to collaborate with them to come out with specific areas of needs they will work with us to get the solutions we require. The idea is that we will also be able to transfer technology so there will be a training component with bringing some of our personnel, technicians and engineers to come here and undergo training, to be able to replicate this ourselves in some of our own machine tools workshops.
"For instance, Ibeto is working on batteries for us and Innoson, we partner them for specific breakpad for the Alpha jet. Here, there are specific areas were the Director of Research and Development Centre needs specific parts that are critical for some of the ongoing efforts at the Airforce Institute of Technology. Those are areas we will ask them to design for us and produce those items".
Earlier, the Managing Director (MD) of Tranos, Jude Abalaka said he was impressed the NAF took the partnership seriously giving the calibre of officers in its delegation.
He said: "For us as a company, we like partnerships because that is how you grow and we think that this is a very good partnership to have and from what we have seen, we noticed that the Air Force really values technology. They have a technology institute.
"We are a technology company, we have engineering qualities and manufacturing capabilities. We will be looking at the challenges the Nigerian Air Force might be facing that we might be able to help with both mechanical and electrical."
Tranos offers services in Engineering Fabrication, Maintenance and Project management as well as products in Power Generation, Energy Distribution, Control and Automation as well as Enclosures.
NAF Delegation
The delegation was led by Commandant, Air Force Institute of Technology (AFIT), Kaduna, Air Vice Marshal Abdulganiyu Olabisi. Also in attendance was the Chief of Standards and Evaluation, HQ NAF, Air Vice Marshal Remigius Ekeh; and Chief of Aircraft Engineering, HQ NAF, Air Vice Marshal Musibau Olatunji
Others include the Director Research and Development, HQ NAF, Air Vice Marshal Paul Jemitola; Chief of Staff, Logistics Command Ikeja, Air Vice Marshal Cosmas Ozougwu; Director of Public Relations and Information, HQ NAF, Air Commodore Ibikunle Daramola; Principal Staff Officer Coordination, AFIT, Air Commodore Abdullahi Shinkafi; Commander 301 Heavy Airlift Group Ikeja, Air Commodore Mike Onyebashi; Senior Researcher, AFIT, Flight Lieutenant Nkemdillim Ofodile and Head of Department, Aerospace Engineering, AFIT, Dr Ameer Mohammed.
The various feats achieved by the Nigerian Air Force through indigenous Research and Development efforts in collaboration with various Nigerian organisations and tertiary institutions have no doubt impacted positively on aircraft availability for diverse air operations, particularly in the ongoing counterinsurgency operations.
Besides, the local innovations are assisting the service to overcome total dependence on foreign vendors thereby reducing cost of equipment acquisition and maintenance. Herein lie the benefits of innovating locally in partnership with relevant stakeholders.