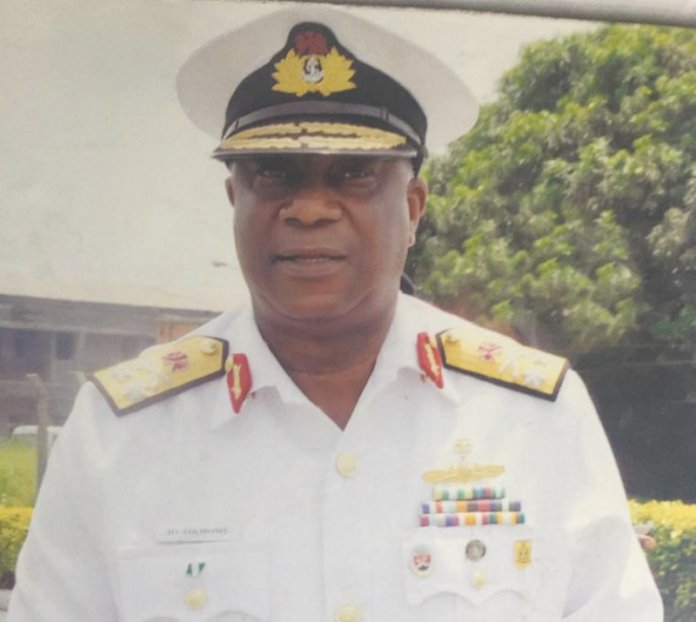 By Demola Ojo
While many citizens and households in Nigeria are celebrating the Eid-el-Kabir festival this weekend, Rear Admiral Joseph Omozuwa Aikhomu (rtd), is in an especially celebratory mood, but for different reasons.
The highly-accomplished naval officer with years of meritorious service to his fatherland, is thankful to be of good health and sound mind as he turns 65 today. While this in itself calls for celebration, he will also be honoured with a traditional title by the Okaijesan of Esanland and Ojirrua of Irrua, HRH Ahlaji W.O. Momodu JP.
In his special invitation to close friends AIkhomu said, "It has been a wonderful and exciting journey through life and I give thanks to the Almighty God for all he has done for me. He has granted more years to my life and life to my years. It is now a blissful time for reflection, gratitude and praise."
In consideration of current realities, the invitation states boldly that NCDC safety protocols regarding COVID-!9 "will be enforced strictly."
Festivities will kick-off with a thanksgiving at St Johns Catholic Church, Irrua, before the conferment of traditional title at the palace of the Ojirrua. A reception will then be held at Aikhomu's residence.
Today's celebration of Aikhomu is in recognition of his contribution to the development of Irrua, where he is without doubt, one of its most illustrious citizens. However, the high esteem in which he is held goes beyond Irrua, Esanland and his home state of Edo.
His exploits as a well-respected member of the Nigerian Navy, after years of service to his fatherland, are well-documented.
A serially-decorated Admiral well-versed in maritime operations and logistics, with special reference to the waters of the Gulf of Guinea, Aikhomu's wealth of experience traverses all facets of military and maritime services.
He is an expert in his chosen profession, after a career that has seen him serve as the Flag Officer Commanding the Eastern Naval Command, and as Chief of Administration at the Naval Headquarters, among many other responsibilities.
From coordinating naval ceremonies and parades to implementation of operations policies enacted by the Naval Headquarters, Aikhomu has not only seen it all, he has also discharged his responsibilities to the highest standards.
Very notable was his role in ensuring the conduct of patrols and operations in support of the peacetime and wartime roles of the Nigerian Navy, which led to a significant reduction in illegal bunkering, piracy and smuggling in the Gulf of Guinea.
The Edo-born Admiral successfully controlled the once crime-ridden Calabar waters which hitherto, were unsafe for trans-border trade between Nigeria and some Economic Community of Central African States (ECCAS), especially Cameroon.
With multiple professional training from the Command and Staff College, Jaji, Nigeria to leadership programmes at the Harvard Business School in Massachusetts, USA, Aikhomu has constantly sought for personal and professional improvement. He has been awarded numerous honours by the Nigerian Navy.
Beyond the shores of Nigeria, the stellar Admiral has distinguished himself as an achiever of note, from participating in the ECOMOG West Africa peacekeeping operation, to the United Nations Iraq–Kuwait Observation Mission.
Currently a consultant in maritime security and logistics support, Rear Admiral Aikhomu is passionate about community development and mentoring tomorrow's leaders. It would be accurate to say then, that he fully deserves the honour being bestowed on him today.