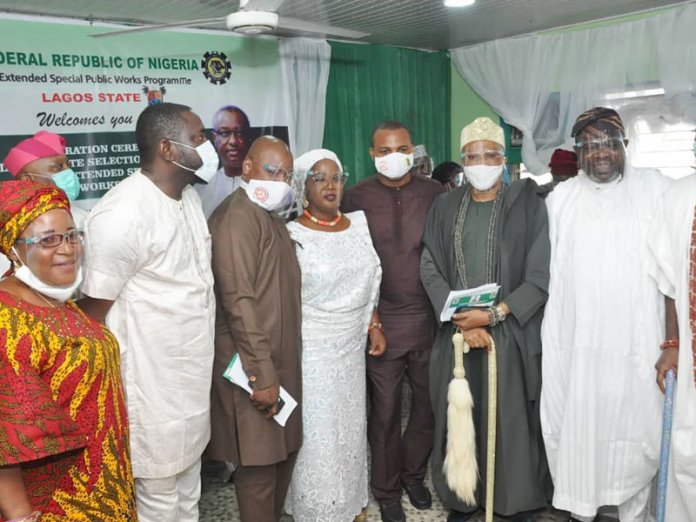 Mary Nnah
A 20-man selection committee has been inaugurated for the 20,000 person to be engaged by the federal government across the 20 local government areas of Lagos State for the extended Social Public Works (SPW) programme by the Ministry of Labour and Employment.
Speaking yesterday at the state office of the National Directorate of Employment (NDE), Lagos, Chairman of the committee Alhaji Mutiu Are, during the inauguration, , assured that the recruitment exercise would be transparent and all inclusive.
While speaking with THISDAY, Are said the selection committee members comprise of representatives from Lagos state government, religious bodies and all other sectors of the economy including youth organisation and respected traditional rulers.
He said: "Our primary assignment is to identify and select 20, 000 people from Lagos State, with 1000 per local government. The main goal is to alleviate the suffering of the people."
The vice chairman of the committee, barrister Eleshin Kassim, explained that the programme will be centred on mitigating the economics effect of COVID-91 pandemic because of the timing of the programme.
The inauguration which had in attendance some members of the committee including Barrister Eleshin, Kassim, Oba Owolabi Adeniyi, Oba Semiu Kasali, Chief Mrs. Folashade Tinubu Ojo, Apostle Alexander Bamgbola, Prof. T. Gbadamosi, Alhaji Akinsonya Musiliu, Eng. Bamgbose Martins, Mrs. Fadekemi Otitonaie, Hon. Omotayo, Hon. Cornelious Ojelabi, Akani Babatunde, among others who deliberated on modalities how the project will be executed across the local government Councils in Lagos.