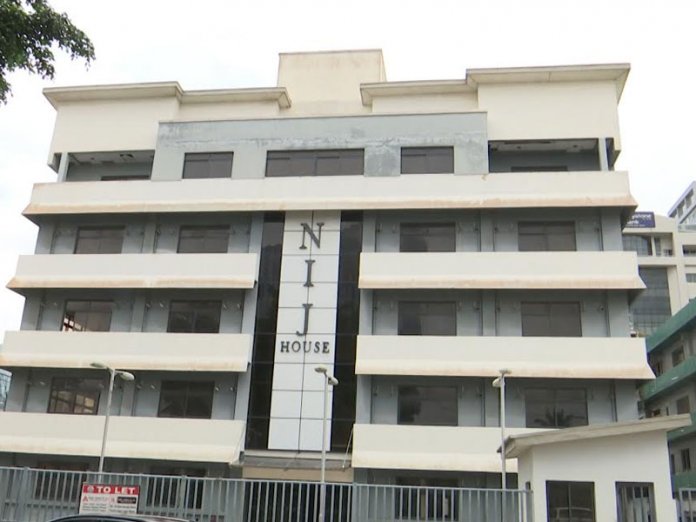 First Lady, Babangida, APC govs pay tribute
Adedayo Akinwale in Abuja
The Nigerian Press Organisation (NPO), comprising the Newspapers' Proprietors Association of Nigeria (NPAN), Nigerian Guild of Editors (NGE) and the Nigerian Union of Journalists (NUJ), yesterday renamed the newly-rebuilt Nigerian Institute of Journalism House, Lagos, ISMAILA ISA
HOUSE, to honour a former NPAN President, Malam Ismaila Isa Funtua, who died on Monday.
More tributes also poured in yesterday for Funtua, a Second Republic minister, with the First Lady, Mrs Aisha Buhari, lauding him for influencing board appointments for female politicians.
Former military President, General Ibrahim Babangida and All Progressives Congress (APC) governors also joined others to mourn the passage of Funtua, a close ally of President Muhammadu Buhari, whose remains were interred on Tuesday in Abuja.
A statement yesterday by the NPAN President who also doubles as NPO President, Prince Nduka Obaigbena, on behalf of the collective leadership of the Nigerian media, said the late Funtua was honoured for "his untiring contributions to the development of journalism and freedom of the press in Nigeria and around the world."
Obaigbena, who is also the Chairman/Editor-in-Chief of THISDAY Newspapers/Arise Group, said the media leaders considered it a privilege to honour the late Ismaila Isa Funtua, whose life of dedicated service to Nigeria spanned politics, business and media.
"His contributions to the development of journalism is innumerable: including, but not limited to his co-founding of Democrat Newspapers; presidency of the NPAN at a time of national crises, and later a life patron; services to the International Press Institute where he served on the global board; contributions to journalism education as Chairman of the Governing Council of the Nigerian Institute of Journalism.
"Ismaila Isa Funtua, 1942-2020, will be deeply missed but not forgotten," Obaigbena said.
In her tribute to the late Funtua, which she posted on her social media platforms yesterday, Mrs. Buhari said Funtua, who died at the age of 78, would be remembered for his support to female politicians.
"On behalf of my family, I extend our condolence to Mrs. Hauwa Isa Funtua and the entire family on the sudden death of Malam Ismaila Isa Funtua.
"We pray that Allah SWT will grant him aljannatul firdaus.
"Mallam Ismaila Isa Funtua will be remembered for his support to female politicians, especially his role to get them appointed into different boards in the last four years.
"May Allah grant his family the fortitude to bear the irreparable loss, amen," she added.
In his own condolence message, Babangida expressed shock over the death of the business and media mogul.
He said in a statement yesterday that it had taken him two days of shock to be able to muscle the strength to write this tribute and condolence to the family of his departed brother, friend, associate and confidant.
He said: "I am still left in awe to come to terms with the shocking news, but like every mortal, we must taste death when it is time. Irrespective of age, status and social standing, when we lose our dear ones, we are left in pains, emotional trauma, grief and nostalgia. Mallam Isa, was like an alter ego to me since our path crossed over fifty years ago.
"He became part of my family since then and we remained so closely knitted until his sudden death two days ago. Mallam Isa, as I fondly call him, was one Nigerian who never pretended about issues and situations. You would rightly know where he belongs. He was not given to frivolities and shenanigans. He was pointedly frank when he needed to make his position known on any matter. He carried with him an aura that defined his persona. He made friends across the length and breadth of Nigeria, from the North to the South, East to the West."
Babaginda described Funtua as a bridge builder, a peace maker and one who believed so much in the unity of Nigeria.
He said Funtua believed so much in constructively engaging issues, apply mediation to resolving issues than seeking alternative methods.
The former military ruler stated that Funtua carried himself with uncommon patriotism and was always ready to reach out to people, no matter their backgrounds and tribal inclinations.
Babangida described him as a pan-Nigeria statesman who was largely misunderstood by some and eternally appreciated by many who understood the dynamics of his engagements.
"His death, has once again, reminded us of the ephemerality of life and its fleeting nature. It is a call that should remind all of us to be God fearing, in our trajectories and engagements in life. I have no doubt in my mind that Isa lived a fulfilled life as a devout Muslim and lover of humanity," Babangida said.
APC governors also described the death of Funtua as a loss to the nation.
The Chairman of Progressive Governors and the Governor of Kebbi State, Mr. Atiku Bagudu, in a statement issued yesterday, expressed sadness over his death.
He said: "We received the death of Mallam Isa Funtua with heavy heart and gratitude to Allah (SWT) for a life well blessed. We, the Progressive Governors Forum (PGF), join the family, President Muhammadu Buhari, people and government of Katsina State and the nation to pray for the repose of the soul of our dear and beloved Malam Isa Funtua.
"His death is a loss to the nation, Nigerian business community and patriots. We pray to God Almighty to grant the family the fortitude to bear this heavy loss."