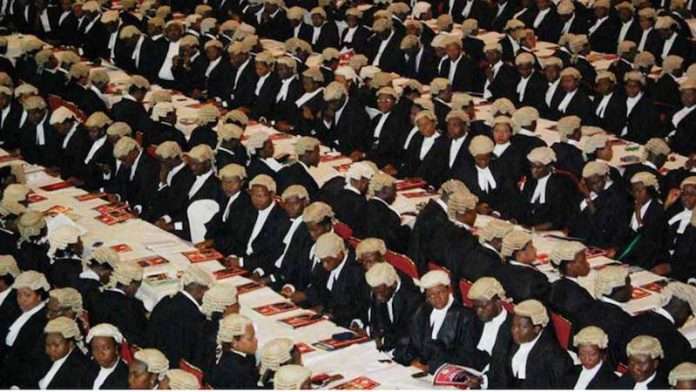 The 14th annual NBA-SBL e-Conference themed 'Business Unusual', began with an opening remark by the CPC Chairman – Ozofu 'Latunde Ogiemudia, and was declared opened by the Chief Justice of Nigeria, Hon. Justice Ibrahim Tanko Muhammad. Remarks were also made by Seni Adio, SAN, Chairman NBA-SBL; Paul Usoro, SAN President, NBA; goodwill messages by Governors Babajide Sanwo-Olu and Seyi Makinde. The keynote address was given by Senator William "Mo" Cowan, President, Global Government Affairs and Policy (GAP) and Developed Markets for GE.
Day one was characterised by two plenary sessions, three breakout sessions and a fireside chat. The first plenary session, 'Disrupting the Status Quo: Charting the Path for an Alliance', involved a thorough discussion between entrepreneurs and policy makers on forging a new alliance under which Nigerian businesses can flourish, considering the global economic crisis presented by the Covid-19 pandemic. This session featured the Hon. Minister of Mines and Steel Development. It was noted that Nigeria has seen significant attrition in both FPIs and FDIs since the pandemic began, and the Government is working on putting in place policies to avoid depression, although recession may be unavoidable. These policies include an extra N2.3trillion budget to revive the economy into priority sectors – agriculture, public housing and power sector; a strategy to employ 774,000 people – 1000 employees from the 774 LGs in the country; creation of a gold ecosystem – solar power and internet is being taken to the off-grids so that they won't be left behind; and a downstream policy to eliminate export of raw oil.
During the second session, themed, 'Business Unusual: Continuity in times of Crisis', the panelists recognised that uncertainty is more eminent, and may remain for a longtime. Despite this, businesses must explore creative ways to ensure continuity, and technology must be embraced to ensure ease of doing business at this crisis time. Businesses must stay communicative across their customer base and keep talent pools together, while accelerating a digital transformation process. To solve financial problems, businesses should offer solutions to larger businesses to get capital, as staying liquid is key, while it was recommended that small businesses should be encouraged with strong regulations to help them survive.
During the fireside chat themed, 'Changes on the Horizon: The Future of Company Law in Nigeria', reference was made to the Companies and Allied Matters Bill that was passed by the National Assembly. The Bill covers a wide range of measures which, once it receives Presidential Assent, would see significant operational and legislative changes to company law, impacting new and existing businesses. In this brief Fireside Chat, the Registrar-General of the Corporate Affairs Commission, discussed the forthcoming changes to Company Law in Nigeria, including the introduction of a mailing system and e-filing that enables documentation and signature, filing during change of directors, registration, change of name, and submission of financial statement to be done electronically. The CAC has in plan to start issuing e-certificates. This will come to fruition, before the end of the year. It was said that this will help the Commission's integrity, and will subsequently be published for clients to see.
This first breakout session, 'Banking through the Crisis', explored how the banking sector and fintech solutions can navigate through unprecedented times. It also assessed how banks manage to service their customers in the pandemic, as well as the outlook of things post Covid-19. Interswitch stated that whatever affects the banks, affects fintech organisation. There was a huge spike in the use of cards at the peak of the pandemic, but with fear of job loss people became conscious of their spending. It was envisaged that fraudsters would take advantage of the operation, with support from the CBN, things were kept in check. The fintech industry experienced a dip in May, and recovery in June – v-shaped, but as things have stabilised, the industry is taking a hopeful view.
In the second breakout session, 'Fossilised: End of the Oil and Gas Industry as we know it?', the plunging demand for oil brought about by the Coronavirus pandemic, combined with a savage price war, has presented the oil industry with the gravest challenge in its 100-year history. What will be the short- and longer-term impacts for the oil industry? Going forward, this season would affect the balance on the supply side, and prices might remain low for a while. It might trigger struggle for market share, and might damage the market the more, thus, affecting tax ad investment. Also, issues of social inclusiveness, such as sustainability must be emphasised.
In this session, themed, 'AFCFTA: Dead or Alive?', as countries look to localise supply chains and protect their national interests, the question of the status and possible implementation of the Africa Continental Free Trade Agreement remain. On July 8, 2019, Nigeria signed the Africa Continental Free Trade Agreement (AfCFTA), which aims to increase trade between African countries. Though the country aimed to ratify in July, the pandemic has affected the process. Many countries have closed their borders for exports; 42 borders have been closed, either partially or fully. To ensure free trade agreement establishment across countries in Africa, nations must ensure the use of standard business and market negotiation, instituting neutral bodies to address standards, and to ensure border barriers are removed.