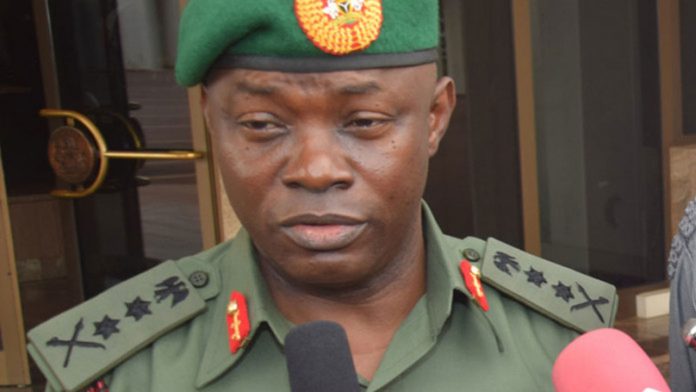 By Francis Sardauna
The Chief of Defence Staff (CDS), Gen. Abayomi Olonisakin, on Monday said the ongoing military operation codenamed Operation Sahel Sanity will successfully eliminate banditry in Katsina, Zamfara, Kaduna, Kebbi, Sokoto and Niger States.
He said the operation, which is aimed at tackling banditry and other heinous activities bedevilling the states, has started yielding positive results.
Olonisakin, who disclosed this while addressing troops at Special Army Super Camp IV in Faskari Local Government Area of Katsina State, said banditry would soon end in the affected states.
The CDS, who was in Katsina on an operational visit to the Special Army Super Camp IV, Faskari, said: "Operation Sahel Sanity, which is a real term exercise will transit into operation aimed at tackling banditry in Katsina, Zamfara, Kaduna, Kebbi, Sokoto and Niger States.
"With the briefing received here today, banditry would soon be a thing of the past, and all law abiding citizens will be able to resume their normal lives.
"Exercise Sahel Sanity is already achieving the most desired results put together by the Nigerian Army.
"To this end, I want to assure the Chief of Army Staff of the support of the Defence Headquarters in whatever capacity may be required towards achieving the objectives of the exercise."
He said the Nigeria Arm Forces has, in the last five years of war against insurgency and banditry, strategically developed modern techniques to end the challenges.
He affirmed that the Defence Headquarters would continue to strengthen the existing synergy with services and other security and intelligence agencies to prevent any gap that could be exploited by the criminals.
Earlier, the Chief of Army Staff (CAS), Lt. General Tukur Buratai, said troops in theatre of operations have apprehended numerous informants and logistics suppliers of bandits in North-west states.
He explained that the troops had also arrested many bandits' collaborators and rescued persons abducted by the hoodlums in communities across the North-west region.
He said the ongoing Operation Sahel Sanity had drastically flushed out bandits and recovered undisclosed number of rustled cattle from the miscreants in the affected states.
Buratai said: "Within these few days that exercise Sahel Sanity commenced, tremendous successes have been achieved in the areas of clearing the bandits, recovery of rustled cattle, rescue of kidnapped victims and host of other criminal activities that we stopped.
"We have also arrested quite a number of informants, logistic suppliers of these bandits and their collaborators in cities and villages here in the North-west.
"So, we are just beginning and we want to assure Nigerians that this ongoing operation will bring about reasonable state of security in the North-west."