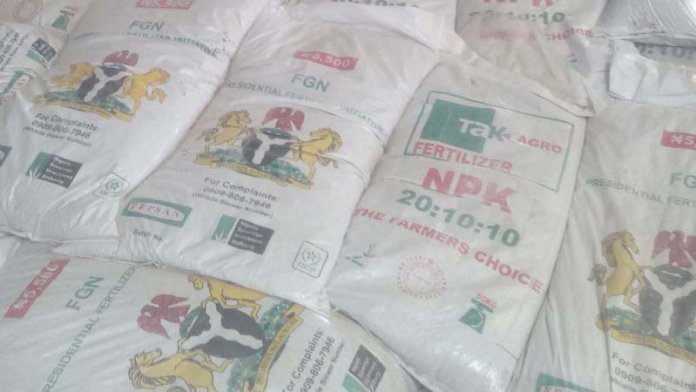 Igbawase Ukumba in Lafia
The federal government yesterday commended a Moroccan firm, OCP Africa Fertilizers, on its initiative to guarantee food security for the populace in the face of COVID-19 pandemic by subsidising over 100,000 bags of fertilizers to 50,000 smallholder farmers in the country.
The Minister of State for Agriculture and Rural Development, Mustapha Baba Shehuri, commended OCP Africa Fertilizers during the official flag-off of the OCP Africa post-COVID-19 intervention package for farmers across the country held at Karshi Market in Abuja.
He said it was critical to have measures in place, where food scarcity, as predicted by some to be the fallout of the pandemic won't surface in the country, which was why he supports the fertilizer company backing the government to provide food for the citizenry through the palliatives.
According to the minister, "OCP, one of the leading companies in the global production and exportation of phosphate-based fertilizers, is working within the Presidential Fertilizer Initiative (PFI) of the Federal Government of Nigeria, and with blending plants under the Fertilizer Producers and Suppliers of Nigeria (FEPSAN) to contribute to the PFI objectives of providing access to locally produced NPK 20:10:10 fertilizer for smallholder farmers."
Shehuri also said the PTI has revived over 31 moribund fertilizer blending plants across the country, adding that his ministry has embarked on expansion of various sub-sector value chain activities in crops, livestock and fisheries.
He said: "Other expansions were provision of quality agricultural inputs, particularly fertilizers, seeds, tractors, equipment and implements, agro-chemicals among other things."
Speaking at the event, the Managing Director of OCP Africa-Nigeria, Mohammed Hettiti, said the palliative intervention was aimed at supporting smallholder farmers across several states of Nigeria in order to mitigate the adverse impact of the COVID-19 pandemic on the current farming season.
He concluded that mitigation of the pandemic by the organisation was through ensuring the distribution and access to subsidised fertilizers and other farm inputs to farmers.