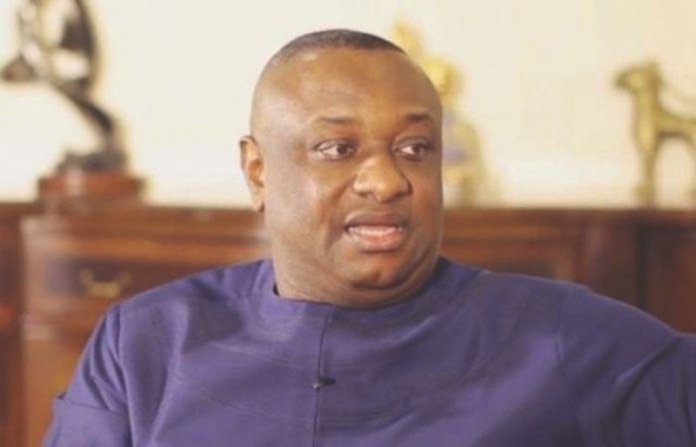 The minister for state of labour and productivity, Festus Keyamo, had a brawl with National Assembly on the ongoing plan to recruit 774,000 unemployed people across the 774 local governments under the public social workers program. The minister was invited by the joint senate committee on labour and productivity to explain the modalities for the recruitment. However, the chairman senate committee on labour and productivity, Godiya Akwashi, accused Keyamo of lopsided appointment of states committee. While the minister was trying to defend or clear the air on the allegation, Akwashi insisted on close door session which Keyamo turned down. The joint senate committee directed the minister to apologise for his rudeness. The altercation angered the senate and postponed the meeting.
Keyamo, while answering questions from journalists, accused the leadership of the senate of trying to hijack the recruitment exercise.
Keyamo's accusation came at a time when the leadership of the senate was under attack on the alleged allocation of 50,000 N-power slots from the federal ministry of humanitarian affairs, disaster management and social development.
There is no gainsaying that the exchange between Keyamo and NASS has opened the Pandora box on job racketeering that continues to rock the National Assembly. Since the return of democracy, NASS has been accused of cornering the jobs meant for the common man. Recently, the recruitment in FIRS, NTA and other agencies have left so much to be desired. The recruitments which were secretly carried out without advertisement were also hijacked by the senate. Amidst the rising cases of unemployment in the country, the struggling and frustrated graduates are left to their fate. One would have expected that given the ad-hoc nature of the government social investment programs, senators and other top politicians will overlook them and allow the children of the poor to benefit. Alas, indications have continued to prove otherwise. Sad!
Our universities have continued to churn out millions of graduates with the hope that both the formal and informal sector of the economy will absorb them. These hopes are dashed. Now, the scarce jobs are being chased between the poor jobs seeker and the senate. In view of this emerging trend, there is the need for government to draw up a clear boundary between National Assembly as an institution for making laws and as recruitment body.
Ibrahim Mustapha, Pambegua, Kaduna State