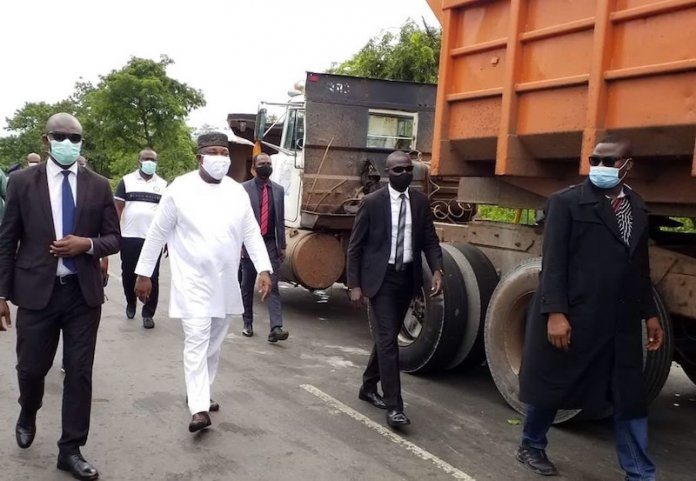 Samson Ezea
Undoubtedly and glaringly, Enugu State Governor, Rt. Hon. Ifeanyi Ugwuanyi has continued to set the pace with his administration's proactiveness, commitment and outstanding initiatives in tackling the spread of the COVID-19 in the state since it's global outbreak.
It would be recalled that immediately Nigeria recorded the index case of COVID-19 virus, Ugwuanyi's government quickly moved into diverse actions to ensure that Enugu is kept free of COVID-19 virus case or spread.
To achieve this, Ugwuanyi immediately released the sum of N350m to Enugu State COVID-19 Multi-Sectoral Rapid Response Team, set up by his government and made up of renowned health professionals and government functionaries. The state government built and equipped Treatment and Isolation centres at (GRA) Nsukka and ESUT Teaching Hospital Parklane Enugu. The ultra-modern Enugu State Medical Diagnostic Centre was equipped and designated as Treatment and Isolation centre. The agelong dilapidated and abandoned Colliery Hospital Enugu, which has been undergoing construction and reconstruction, courtesy of Ugwuanyi's administration is nearing completion and will also serve as Treatment and Isolation centre after completion.
To ensure that the medical and health personnel at the frontline put in their best in the fight against the pandemic, Ugwuanyi improved their welfare package and approved Life Assurance for them, which was the first of its kind in the country when the pandemic broke out.
Ugwuanyi's government also fumigated and decontaminated all the markets and public places in the state. Even before the presidential directive on ban on inter-state movement and curfew of May 4, Gov. Ugwuanyi has on March 31 by 6pm closed all state boundaries, markets, churches, directed and mobilised all political appointees, House of Assembly members, Council Chairmen, councillors, traditional rulers, President-Generals of town unions, religious leaders and other stakeholders in the state to embark on massive mobilisation and sensitisation campaign on preventive and precautionary measures against the spread of COVID-19 in the state.
The exercise which is still on now, was massive, aggregate, inclusive, momentous, sustained and successful. It yielded positive results with the state recording low rate of COVID-19 cases, even after the index case of a couple that returned from overseas. Not resting on his oars and never carried away by the success achieved or recorded in the containment of the spread, Ugwuanyi's administration moved further to provide over one million free locally produced face masks for the people of the state, which was distributed to them through the local government areas.
With the presidential directive on ban on inter-state movement, curfew, lockdown and other preventive measures, which inflicted undue hardship on people, Ugwuanyi's administration embarked on massive provision of palliatives to the people to cushion the effect of the pandemic palaver. The State government's palliative team led by the Deputy Governor, Hon. Mrs Cecilia Ezeilo, took the palliatives which included food items such as state-produced bags of rice called coal city rice, bags of beans, cartoons of noodles, spagetti, bags of millet, cartoons of milks, cash and others to virtually every calibre of person or groups in the state. They include the less privileged, the vulnerable, Keke riders, Okada riders, traders, religious faithful, journalists, workers and others. It is one palliative too many, considering that many people were beneficiaries of it and it is still ongoing.
Along the line, it was discovered that despite the ban on inter-state movement, closure of state borders and other preventive measures, some desperate and unscrupulous elements were breaching it nocturnally and diurnally in collaboration with some security agents and indigenes of border communities for selfish reasons. There were cases, where corpses of persons whose causes of death were not known were aided and smuggled in from other states into Enugu state against the State government's directive.
Suddenly, Enugu State started witnessing gradual rise in COVID-19 cases, mainly because of people who were illegally sneaking into the state unhindered from COVID-19 high risk areas and states. At this point, Ugwuanyi intensified his unscheduled visits to the state boundaries to monitor and ensure total compliance on borders' closure and ban on inter-state movement. But to the Governor's surprise and shock, many motorists and commuters, who were desperate to come into the state, were caught and turned back by him on several occasions at the borders.
Worried by this ugly trend which brought about the gradual increase in COVID-19 cases in the state, Ugwuanyi addressed a press conference, where he raised the alarm and warned those who sneaking into the state and their collaborators to desist from such act in the overall interest of Enugu people. His government further directed and provided iron gates to all the local government areas in the state to be mounted on strategic locations and roads in their areas to ensure total compliance on inter-state movement ban within the state.
Disappointedly, while all these spirited efforts were being made by Ugwuanyi's administration, some cynics and sceptics in their anti-establishment postures, mischief and crass display of ignorance, even with their education and exposure were busy peddling falsehoods and propaganda among the people, especially the illiterates and the less privileged in the rural communities, misinforming them that COVID-19 virus is not real and is a scam that government uses to siphon public fund.
Trust some gullible Nigerians, this was one narrative they did not hesitate to buy into completely. Expectedly, some people in Enugu, especially in rural areas, who bought into this cheap propaganda, started to spread it and began to breach all the established protocols, preventive and precautionary measures against the spread of the virus. Some of them were even attacking governments and its functionaries, accusing them of imposing lockdown in the face of ravaging hunger, stressing that hunger is more dangerous than COVID-19 virus. This false narrative also gained momentum on social media platforms and public discussions. Then people began to mount pressure on governments at all levels to lift lockdown, reopen markets, churches and allow people to go about their normal businesses unperturbed.
In view of these and being a listening government, Ugwuanyi's administration after due consultations and putting in place measures to curb the spread of the virus, partially reopened the markets in the state with specific directive on strict adherence to all COVID-19 preventive and precautionary measures.
Gauging the pulse of the people and seeing that these developments might trigger community transmission of the virus, Ugwuanyi's administration quickly took another proactive steps by awarding contracts for the immediate and massive construction of 7 units of type 3 Primary Health Care Centre in seven local government areas, upgrade and rehabilitation of the Ogrute, Enugu Ezike and Nsukka District Hospitals, and reconstruction and re-equipping of 34 health centres across the 17 local government areas in the state within 90 days to enable them complement the existing ones in the handling of COVID-19 related cases and other health issues in rural communities.
Also awarded by Enugu State government alongside these was contract for the immediate purchase of 200 unit of ultra-modern automated handwashing machine and hand sanitiser from Institute of Management and Technology (IMT) Enugu for onward distribution to 17 council areas, markets, schools and designated public places to encourage proper hygiene in line with the health protocol of Nigerian Centre for Disease Control (NCDC).
With the recent establishment of the COVID-19 virology laboratory at the University of Nigeria Teaching Hospital (UNTH) Ituku Ozalla Enugu, coupled with the sudden and worrisome spike in the number of COVID-19 cases in Enugu and the increasing number of COVID-19 related deaths across the country, which has proven the doubting Thomases and cynics wrong, Ugwuanyi approved the immediate constitution of an Ad Hoc Expert Medical Advisory Committee on urgent and effective measures for de-escalation of the pandemic in the state as recommended by Enugu State chapter of Nigerian Medical Association (NMA).
According to a statement by the Secretary to the State Government (SSG) Prof. Simon Uchenna Ortuanya, the committee will engage leaders of various religious groups, market associations, professional associations, labour unions, National Union of Road Transport Workers, Enugu Chapter, National Association of Tricycle Operators Enugu State Chapter, Civil Society Groups, Organised Private sector and other relevant stakeholders and recommend urgent and effective measures for de-escalation of the transmission of the COVID-19 virus in Enugu State, with due regard to all extant Nigeria Centre for Disease Control protocols for containment of the spread of the virus.
The ad hoc committee, which has a consultant cardiologist and Professor of Medicine, Prof. Emma Ejim as chairman, will also take any other reasonable steps that may be incidental to the attainment of the above objective. The committee which has two weeks to submit its report has other renowned health experts and medical professional as members.
Despite the fact that Ugwuanyi's government waived tax payment for owners of small and medium scale businesses and petty traders in the state since coming into office in 2015, the governor has again in furtherance of his administration's efforts in cushioning the effect of the Coronavirus Disease (COVID-19) pandemic on residents granted tax relief and incentives to taxpayers in the state.
The governor's decision was contained in a statement by the Chairman of the Enugu State Internal Revenue Service, Prince Emeka Odo.
Odo noted that "The Enugu State Government has since the inception of the current administration, in May 2015, waived the payment of Personal Income Tax as well as Market Tax, for all traders in the major markets of the state".
The Chairman added that the waivers "which are part of the administration's pro-poor policies" are still in force and will be sustained till the end of the tenure.
Other COVID-19 tax relief and incentives approved by Gov. Ugwuanyi, according to Odo, are as follows: "The deadline for the submission of Form A for employees and Annual Returns in accordance with Section 41 (3) and 81 (1-3) of the Personal Income Tax Act (PITA) 2011 as amended for companies and institutions operating in Enugu State has been extended to 30th July, 2020.
"A waiver of penalty and interest charged for late remittance of Pay As You Earn (PAYE) deductions is hereby granted from January to December 2020 for all sectors. A 50% discount on all assessed Capital Gains Tax (CGT) from now till December 2020. A 50% discount on all Personal Income Tax Assessment issued to owners of schools and hotels for Year 2020.
"A 50% discount on all assessed Land Use Charge payment for Year 2020. This discount will expire on 31st of December 2020. A waiver of penalty and interest on Land Use Charge for Years 2018 and 2019 once payment is made before December 2020".
The Chairman stated that "all our esteemed taxpayers are encouraged to obtain their Enugu State Social Benefit Number (ESBN) as it remains the unique identity prerequisite for obtaining electronic Tax Clearance Certificate (e-TCC)", stressing that "ESBN is free".
He pointed out that "our liaison offices at Abuja and Lagos are open on a daily basis except weekends and public holidays for easier access to taxpayers" and went further to ask all taxpayers to "make their payments into any Commercial Bank with ENSG IGR Paydirect Platform", warning: "You must not pay by cash to anyone".
It is relieving and heartwarming that this kind gesture came from Ugwuanyi's administration at this trying time that people are struggling to make both ends meet due to hardship occasioned by COVID 19 pandemic.
It is also surprising that Ugwuanyi's government granted such relief at a time many governments are struggling to meet up with their financial obligations, due to the dwindling revenue triggered by the COVID-19 health challenges that crippled global economy.
So commendable and cheering is the fact that since the outbreak of the pandemic and its concomitant challenges, Ugwuanyi's administration has been paying workers, political appointees and others' salaries and entitlements as at when due.
Road construction and other government projects across the state are rapidly and consistently ongoing. Unlike in some other states since the outbreak of the pandemic, salaries and entitlements of workers, political appointees and others have not been owed or slashed by Ugwuanyi's government.
Many within and outside the state are confused, baffled and worried about the magic Gov. Ugwuanyi is doing that made it possible for his government to be financially solvent to meet its financial obligations at this trying times. This is despite the fact that Enugu State is not oil producing state, but a civil service state.
But by all findings and indices, there is no magic Gov. Ugwuanyi is doing now, except the financial prudence, fiscal discipline and transparency, which his government instilled, promoted, inculcated and has abided by since coming into office in 2015, amidst several daunting challenges.
This is paying off now. That is what Ndi Enugu is witnessing and enjoying today, because they have a prudent and transparent manager of material and human resources as their governor. Lucky them.
Ezea, wrote from Independence Layout, Enugu.