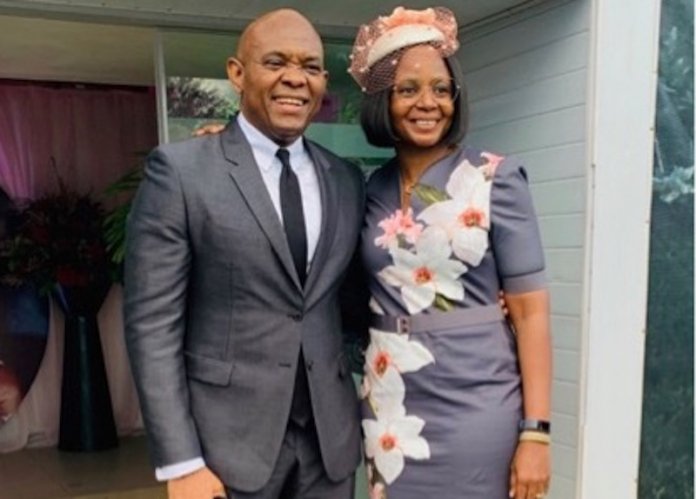 No doubt, Tony Elumelu, Chairman, United Bank for Africa, UBA, is one of the most successful bankers in the country. This boardroom guru and compulsive humanitarian behind Heirs Holding, unknown to many, has so many sides to him. One of these usually unreported sides of him is the fact that he is as romantic as they come. If you are in doubt, you will sure have a rethink when you read about how he celebrated his loving wife, Awele, when she turned 50 last Tuesday.
With a deep sense of appreciation and love, the Forbes listed billionaire was quoted to have described his wife as a queen. Our source revealed that, but for the COVID-19 pandemic, an elaborate shindig would have been organised. Nevertheless, he took to his Twitter handle to celebrate his wife, whom he is fond of describing as a strong pillar of support to him. It was gathered that the woman, a medical doctor, has maintained a low profile since she got married to the respected banker in 1993.
However, those who have encountered her at social events attest to the fact that she is not a snub.
Besides, it is said that this amicable woman, who cherishes her privacy greatly, usually makes lasting statements with her dress sense whenever she steps out with her husband.
In other words, she catches the attention of celebrity reporters as well paparazzi with her fashion sense.
Well educated and brainy, she is the Chief Executive Officer of Avon Medical Services Limited and oversees the healthcare investments of the Group.
She holds a Bachelor of Medicine and Bachelor of Surgery degree from the University of Benin. She had worked at Grantham and District Hospital, Grantham, United Kingdom and at the Lagos University Teaching Hospital, Ikeja, Lagos.