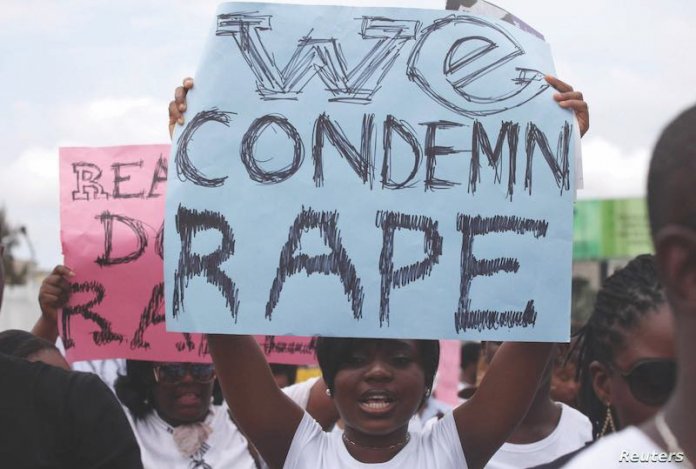 By Olawale Ajimotokan
Several human rights groups on Friday marched on Abuja streets, demanding an end to rape and other violence against women.The demonstrators comprising mainly women and numbering more than 200 marched to the Nigeria Police Headquarters on Shehu Shagari Road, where they submitted a petition to the Inspector General of Police.
The organisers said the protest was to draw attention to the widespread sexual violence in the country. They referenced the recent violence on three women who were defiled and killed by their assaulters.
There has been outrage across the country over the rising wave of sexual violence against women.
Some of the victims were 22-year old Vera Uwaila Omosuwa, a student of University of Benin; 18- year-old Miss Barakak Bello and an 18-year-old lady identified as Jennifer, who was allegedly attacked and raped by a gang of five men in Kaduna, a city in northern Nigeria in April.
Omosuwa's case attracted global attention after she died two days after she was reportedly raped in a church in the southern city of Benin on May 27, while Bello was murdered in Ibadan, the largest city in West Africa following her assault few days later.
The demonstrators held many banners and demanded that those responsible for the attack and murder of the victims should be prosecuted and brought to justice in line with the laws of the country.
Some of the banners they carried read: "Justice for all Nigerian girls and women" "No means no", "Rapists and Rapist Apologists are Cancelled" and "To be a Woman is not a Crime".
The rights activists asked the Police and security agencies to curb the rising incidents of sexual assaults in the country.
In a statement, which they issued after the demonstration, they demanded for the domestication of the violence against persons prohibition (VAPP) Act and Child Rights Act in all states of the federation in addition to the establishment of Sexual Assault Referral Centres (SARC) in all states
.
"Criminalisation and prompt state-led prosecution of SGBV cases within, regardless of requests or interference by the victim's family or interested parties; Implementation of functional family support units and force gender units at the state level that are well equipped to address SGBV cases and the imposition of public disciplinary measures against officials of the Nigeria Police Force (NPF) and state prosecutors that mishandle cases of SGBV," the statement read.
Some of the human rights campaigners who organised the protest included Yiaga Africa, Connected Development, EiE Nigeria, Stand To End Rape, SilverChip Fox, Girl Child Africa and TechHerNG.
One of the protesters, Dorothy Njemanze, said she and other campaigners were "watching every step of everything they (politicians) say and do on sexual based violence".