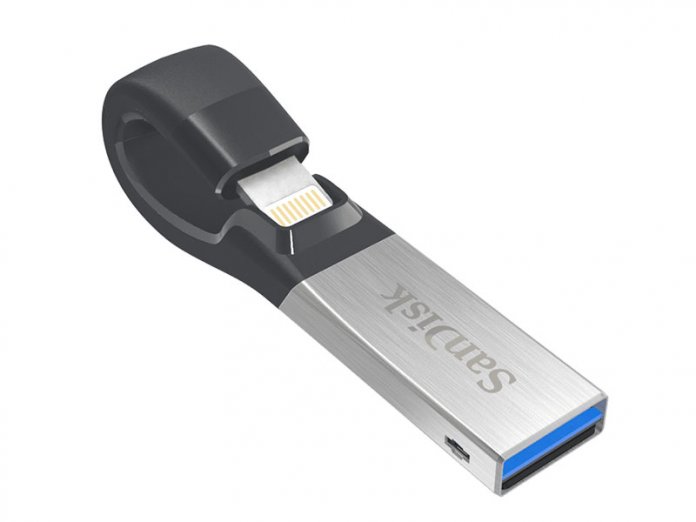 In this report, Ugochukwu Aliogo writes about a new information storage device for iPhone, iPad users
Most iPhone and iPad users, experience shortage of space more times. They are not able to install new apps, take photos, sync media files, install operating system updates, or do other thing that requires space until they create some. The next move is to remove apps, media files, and other data to free up some space.
However, iPhone and iPad users do not realize they can back up their files, offload extra content, and expand storage with the use of the Sandisk iXpand Flash Drive. The iXpand drive, suitable for iOS devices features a unique design that has both a USB 3.0 connector and a lightning connector so you can transfer files between your PC and your iPhone or iPad and it also acts as expandable storage and a backup drive for your iOS devices.
I am currently working with the 128GB and with a rather unique design, its front half resembles a USB drive and the back half curls over on itself which make room for flexibility when connecting the lighting cable.
A unique feature of the iXpand drive is its unique iOS compatibility that makes the SanDisk iXpand an obvious choice for people who want to backup or add some external storage to their Apple devices. To make use of the iXpand drive on any of your devices, it will require an app that is very helpful and easy-to-use to access files and transfer files between your device and the drive.
Its support for social media backup from Twitter and Facebook and support for calendar backup and restore, the drive is highly recommended for iOS devices.
Also, once a photo library has been backed up the first time, new photos added to the library (or new contacts) will be automatically backed up each time the iXpand is connected to the iPhone and the iXpand Drive app is opened up.
Other exciting features of the SanDisk iXpand drive includes;
Speed: The drive supports USB 3.0 speeds.
No power required: The SanDisk iXpand Flash Drive can be plugged into the Apple Lightning port to access your files, no need to power up.
Direct memory: It allows for photos and videos to be saved directly on the iXpand drive.
Security: The iXpand drive supports password-protected directory with SanDisk Secure Access Vault.
The drive which is a must-have accessory for iPhone and iPad is available in 16GB, 32GB, 64GB, 128GB, and 256GB. It saves the stress of deleting photos and videos when a user runs out of space.