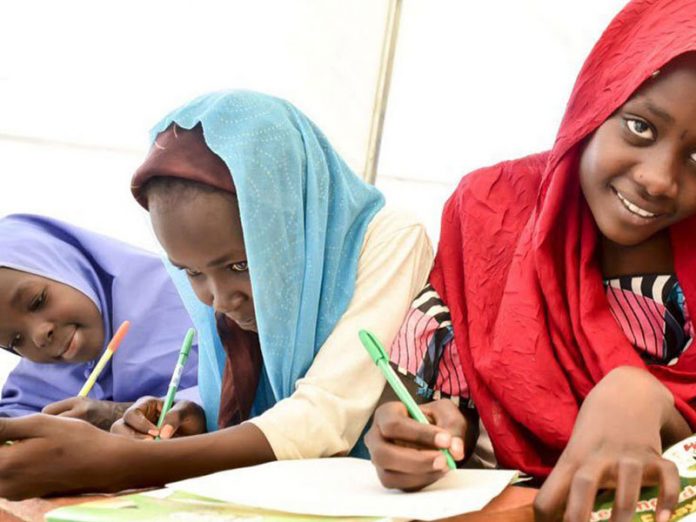 By Funmi Ogundare
The Lagos State Commissioner for Education, Mrs. Folashade Adsfisayo, has said the state was preparing modalities for reopening of schools, noting that it was still considering the safety of the children.
Adefisayo who spoke to journalists at the inauguration of the school feeding programme, in Lagos, said the state was already making efforts to achieve this, adding that once the federal government gives directives, it will obey it.
According to her, "Nobody is happy about schools closure, we want the schools to open as soon as possible. It's just that we have to watch the pandemic and put the safety of the children first. The Presidential Task Force (PTF) has denied that they gave a timeline for schools resumption, but as it were, we can't sit down and be looking, we must prepare the protocols for re-opening of schools. We have started and we are almost done with it."
She disclosed that the state was planning to distribute transistor radios to public school pupils who were unable to access internet to enhance their learning on its radio/TV programme, adding that the distribution would commence May 25.
"We have already purchased the radios and people have donated towards it for us. It's is a private donation, which is not from the state coffers, even our staff also donated," the commissioner said, adding that it was also working on giving private teachers palliatives.
"The problem is that there is diffusion because they are so many. If we give it to the school owners, we must have a method of ensuring that it gets to the teachers. If you give a school, it is not for the proprietors alone, it is for the teachers and staff, we are working on it."
Earlier in her remarks, she emphasised on the modified school feeding programme saying it was a continuation of the existing programme of the state government.
She said the importance of food in the development of a child could not be overemphasised, adding, "When a child is growing, , it is quite imperative that a child should have a good quality, balanced diet to ensure that the brain grows appropriately, because a hungry child cannot learn properly."
The Executive Chairman of State Universal Basic Education Board (SUBEB), Hon. Wahab Alawiye-King, said the fully funded programme of the federal government, was designed with the support of the Lagos State government, adding that a lot of effort was put into ensuring that the distribution of the Take Home Rations (THR) was transparent.
"Before now, the Lagos Home Grown School Feeding programme has been in operation in our public primary schools, providing one meal a day to our pupils to enhance their physical and mental wellbeing. This will in turn aid enrolment, retention and completion in our primary schools.
" Starting from yesterday (Friday), we are targeting seven Local Government Area Authority (LGEA); Apapa, Lagos Mainland, Kosofe, Ikeja, Somolu, Oshodi-Isolo, Lagos Island and in a few days, all the targeted households would have received their vouchers which will enable them collect their food rations."
The Minister of Humanitarian Affairs, Disaster Management, Hajia Sadiya Umar Farouk who was represented at the programme by the Director, National Commission for Refugees, Migrants and IDPs, Mrs. Margaret Ukegbu said about 37, 589 beneficiaries consisting of parents, guardians and caregivers of primary school children in participating schools, will be impacted benefit from the modified school feeding programme in Lagos.