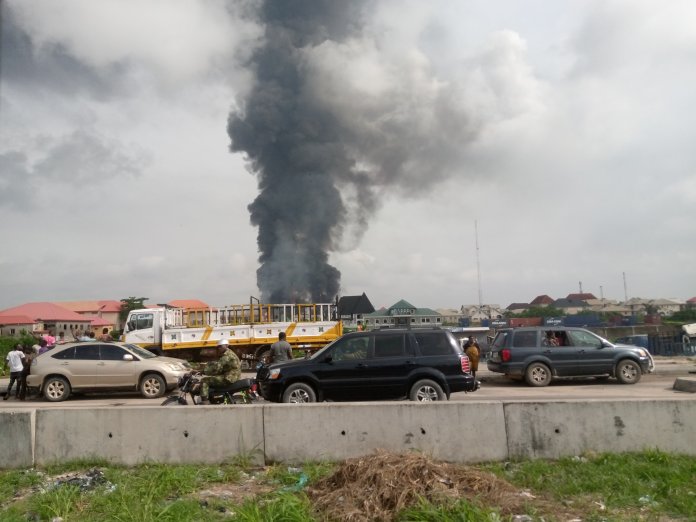 By Chiemelie Ezeobi and Sunday Ehigiator
An explosion on Sunday left residents of Abule Ado Area of Lagos State scampering for safety.
The cause of the explosion which occured at about 9:10am on Sunday is yet to be ascertained as of the time of filing this report.
While casualty figure is still unknown, first responders are said to be on their way to the site of the explosion.
Earlier reports had claimed that the explosion was caused by pipeline vandals, but emergency responders have since come out to allay fears.
Reacting to the incident, the Lagos State Fire Service said: "We are assuring the general public that the explosion is not connected with pipeline but buildings on fire in Ado Soba, Abule Ado, Amuwo Odofin & the situation is under control."
Speaking with THISDAY, however, Chairman, Amuro Adofin Local Government, Valentine Buraimoh, said the explosion was not caused by activities of vandals, but by some technical faults within the pipeline.
According to him, "When it first exploded, we thought it was a bomb blast, because it shook everywhere. It was later I got informed that it was a pipeline explosion. The explosion must have been as a result of some technical faults along the pipeline. It couldn't have been caused by activities of vandals because there are soldiers manning the pipeline every now and then."
On casualty figure, the chairman confirmed that boarders in an only girls school at Festac Area, of Lagos State, among others, were affected adding that those injured have been rushed to hospital.
While total casualty figure is still unknown, there are reports that the impact of the explosion was felt in other areas of the state.
A family who resides in Satellite area of Lagos State, had the roof of their building blown off causing injury in the process. Members of the family are currently receiving treatment at the hospital.
Although Buraimoh said he had contacted the Lagos State Emergency Team and that they were on their way, as of the time of filing in this report, they were yet to arrive.