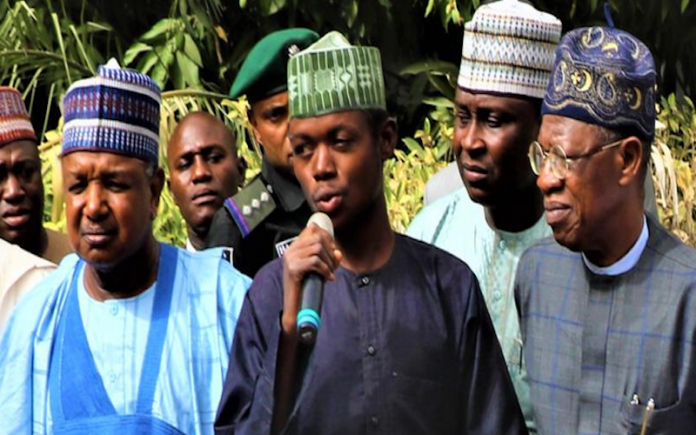 Olawale Ajimotokan in Abuja
Mohammed Jamilu Gunddare said sheer emotional instincts and pure love for President Muhammadu Buhari informed why he breached protocols and security to attempt meeting the President in Argungun, Kebbi State on Thursday.
The 30-year-old made the confession yesterday when he was presented to the media in Birnin Kebbi.
Gunddare caused a panic and was arrested at the Argungu Fishing Festival for lounging at the President, while the latter was posing for a photo session with other dignitaries.
His motive, before he was physically restrained and arrested by security was reported as an attempt to attack or harm the president.
However, he said what happened arose out of emotional love, which blurted his sense of reasoning. He also apologised for the disturbances that trailed his action, saying he was simply overwhelmed seeing Buhari, whom he considered a symbol of integrity, consistency, honesty, righteousness and incorruptibility.
He said he was impressed by the President's public service record, while from 2015 till date, no one has accused him of graft and for squandering the national resources for personal benefits.
"I am very sorry and I apologise to the federal government and Governor Bagudu for the disturbance caused by my action. It was out of emotional love for the person I consider honest and incorruptible. No one in Nigeria has ever questioned or accused him of looting any money either as a former Military Governor, Minister, the Head of State, and even now that he is the President. These instincts and values informed my action. I want to let you know that even If I was killed yesterday, I had made and achieved my ambition which is to one day meet my president in person," Gunddare said.
Speaking also was the Minister of Information, Alhaji Lai Mohammed. He said it was obvious Gunddare was passionate about the President and had ardently followed his political career for a long.
"But all the story that he was trying to attack Mr. President is false, including the story that he has been shot by the operatives of the Department of State Services (DSS). The young man's ambition was to see Mr. President and commend him for all he is doing. The only mistake he made was that he refused to follow protocol," Mohammed said.
In his response, Bagudu made a presentation of book written on Buhari by Prof John Paden to Gunddare, whom he described as an ardent Buharist.
Bagudu said Gunddare's exuberant attempt to greet Buhari was mistaken by protocol and created the wrong impression.
He assured Gunddare that he and Mohammed will inform the President and request him to grant Gunddare an audience for a visit and hand shake.