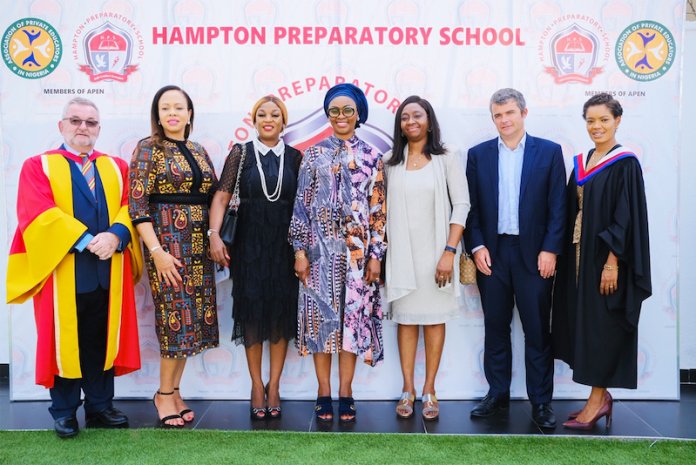 By Tosin Clegg
Hampton Preparatory School, recently officially opened a new location for its Upper School. Situated in Lekki Phase 1 Lagos, Hampton Preparatory School is a British Preparatory School, offering the British curriculum from the early years foundation stage through to year eight and catering for the needs of children between the ages of three months – 13 years.
Hampton Preparatory School is aimed at valuing and recognising the uniqueness and achievement of every student, with a sole mission to create a happy, secure and stimulating learning environment, where all students can grow in confidence and develop their full potential.
When asked about the mission of Hampton Preparatory School, the Directors, Mrs. Kemi Balogun, Mrs. Linda Adeyemi-Hastrup and Mrs. Iyefe Oludoyi expressed their strong belief in this statement: "The progress of every child is very important to us, we aim to nurture and support all abilities, helping every child to achieve his/her potential in all areas of learning – intellectual, emotional, physical, social, moral, spiritual and cultural."
Since inception in September 2017, the school has been able to achieve a remarkable level of success allowing it to further expand with the recent unveiling of their new Upper School location.
In order to commemorate this milestone, an official opening ceremony was organised. Present at the event were Her Excellency, First Lady, Ogun State, Mrs. Bamidele Abiodun, a representative from the British Deputy High Commission, Peter Thomas Esq, Dr. Konyin Ajayi, Board of Governors – Mrs. Bolanle Austen-Peters and Mrs. Folakemi Fatogbe, the School's Directors – Mrs. Kemi Balogun, Mrs. Linda Adeyemi-Haastrup and Mrs. Iyefe Oludoyi as well as parents, guests, and well-wishers.
The ceremony began with an opening prayer led by Dr. Konyin Agayi, followed by the Nigerian and UK national anthems respectively.
In her opening address, member of the Board of Governors, Mrs Bolanle Austen-Peters stated, 'Education is about touching the hearts and souls of each student, letting them explore their God-given talent. 21st-century education should not be centered only on the basics – Mathematics, English, Science, etc, It should also give young people the ability to think outside the box and the opportunity to explore their passion.'
In his official address, Head of Upper School, Dr. Roy K. Lillyman, who has served in various leadership capacities in the Nigerian educational sector for over 16 years shared, "Hampton Preparatory School has shown its world class capabilities regardless of its short record. It gives students, staff, and parents something to value, something worth respecting and a world class experience."
Following this was the unveiling of the commemorative plaque by Her Excellency, First Lady, Ogun State, Mrs Bamidele Abiodun, and Peter Thomas Esq. The event was rounded up with the closing remarks, vote of thanks and closing prayer, given by the Directors.