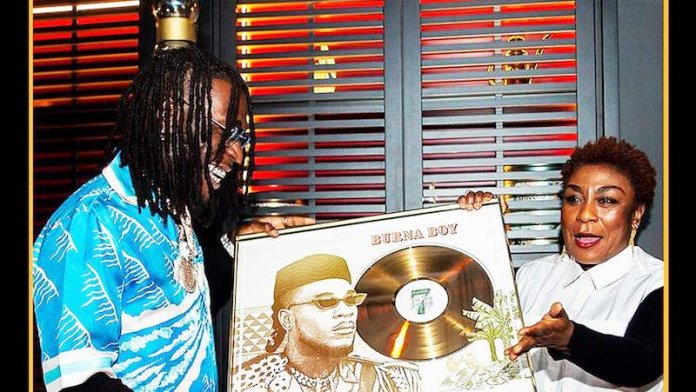 By Ferdinand Ekechukwu
Grammy Award-nominated artiste, Burna Boy, recently received a gold plaque for his 2018 single, On the Low which went gold in France. During a dinner organised at Guise Trattoria Restaurant, Paris, France, to celebrate this tremendous feat, the gold plaque was presented to the singer for the hit single which has garnered over 15 million streams as of February 2020 in France, which is equivalent to 100,000 pure sales.
As they normally would, the plaque was prepared by his label, Atlantic Records. "On the Low" was released on November 16, 2018, as the second single off Burna Boy's widely acclaimed fourth studio album, African Giant. The track was produced by Kel P and has since amassed over 103 million views on YouTube. The Afro-fusion singer was accompanied by his mother and manager, Bose Ogulu aka Mama Burna, and his elder sister, Ronami Ogulu.
Also present at the Gold plaque presentation was the CEO Goldmine Talent, Christina Milian, Matt Pokora and friends, and family. The Nigerian superstar recently posted a photo of the gold plaque and his mother on social media. He also thanked his fans for supporting the song which reportedly received no promotions or radio push in the European country. "On the Low" is a smooth and slower-paced love song that sees Burna Boy singing about his affection for the special girl in his life.
In the accompanying video directed by Meji Alabi, Burna serves a number of fashionable looks (as always) while he serenades his love interest against a backdrop of diffused warm tones. In an Instagram post to celebrate the win, Burna Boy wrote, "On the low went Gold in France without any radio push or promo. Love every single one of you that streamed it over 15 million times; it's still #FOOTONNECK2020."
Recall that the singer was presented a plaque after his collaboration with UK rapper, Stormzy, and Ed Sheeran went platinum.
Last month, he announced that he'd be hitting the road again for his Twice As Tall World Tour, set to kick-off in Atlanta in May. The tour will see him performing across the US, Canada, Norway, France, Portugal, UK, Netherlands, Sweden, Belgium, Germany, Switzerland and several other locations. More recently, Burna Boy appeared in GQ Style magazine and talked about a variety of topics ranging from Fela comparisons to the comments he made during South Africa's spate of xenophobic violence last year. The article was written by Nigerian-American entertainment journalist Lola Ogunnaike, and sheds new light on the often reserved artiste.
On the matter of comparisons between him and the iconic Nigerian musician Fela Kuti – a topic that sparked a debate last month when the self-acclaimed Africa Giant referred to himself as "the best since Fela Kuti" in a tweet which he later deleted – the artiste remarked that such talk actually makes him uncomfortable. "Fela is my inspiration and my childhood hero, so if you think comparing me to Fela is honorable, it's actually not. It actually makes me feel weird. Fela was Fela, and if it wasn't for Fela, there probably wouldn't be any me, so I don't understand the comparison," he tells the magazine.
The piece also illuminates Burna's vision of using his music as a tool to unite the continent. "The reason for everything I do and how I do it is for one goal and one goal only, and that's the eventual unity of Africa. One day, we'll have one passport, one African currency, one Africa. Then and only then will my mission be complete," says Burna.
GQ noted that by all measures, Burna Boy is on a remarkable run. With the release last summer of his latest effort, African Giant, he cemented his standing as the reigning king of African music. He followed the globally recognised record with a single Money Play in December 2019. Money Play is off his fifth studio album which is ready.
The singer recently released a new single titled Odogwu off the forthcoming album. In less than a year, the singer released 10 music videos, performed in 200 cities around the globe, and had his songs streamed some 600 million times.