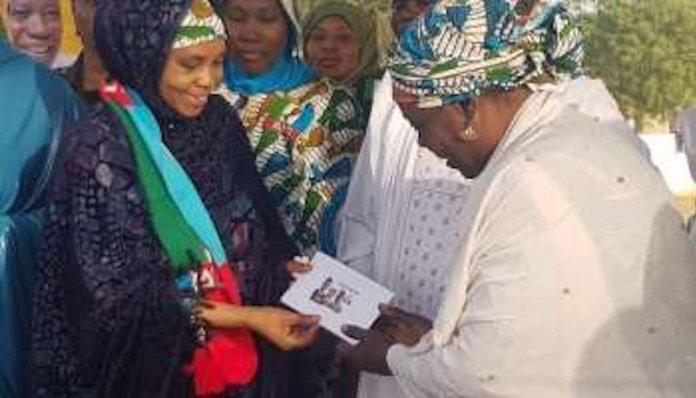 Ibrahim Shuaibu in Kano
Kano State Government has unveiled its plan to institute more measures aimed at improving the participation of women on societal development across the state.
This was disclosed yesterday by the Wife of the Governor of Kano State, Prof. Hafsat Abdullahi Umar Ganduje, during the international Women's Day Celebration held at Coronation Hall, Government House.
The governor's wife, represented by the Wife of the State Deputy Governor, Hajiya Hafsat Nasiru Yusuf Gawuna, said the Ganduje administration has been making great strides towards ensuring that women become valuable asset to the society.
She announced that the present administration succeeded in rehabilitation and re-activation of skills acquisition centres across the state and ensured maximum utilisation of such centres for various women empowerment programmes.
"We successfully trained over 8,000 women in areas of trades or occupation and supported them with capital both in cash and materials to establish small businesses for self-reliance, and trained 200 female youth in auto-mechanic repairs at PAN Kaduna," she said.
Before the arrival of this day, according to her, Kano State Executive Council had given the approval and released the funds for the successful conduct of the celebration, adding that empowerment packages would be distributed to 1,500 women across the 484 wards of the state.
She disclosed that recenty, the state government collaborated with ITF and trained over 300 females on tomato preservation, Video and Photography, event management, plumbing and essential items among others, adding women were also supported through the distribution of mini trucks for refuse collection from the households.
The governor's wife added the Ganduje administration would provide more funding to the Ministry of Women Affairs and Social Development for its innovative projects around agricultural value chain for women and other empowerment programmes.
While celebrating the International Women's Day with other women in the state, the governor's wife explained that "the rise of women in a society is not the fall of men in that society but a means of ensuring that the society benefits from the strength and weaknesses of each other."
On her part, the state Commissioner for Women Affairs and Social Development, Hajiya Zahra'u Muhammad Umar, said the day is a global day for celebration the social, economic, cultural and political achievements of women all over the world.
Zahra'u explained that "the International Women's Day celebration is observed on every 8th of March as was proposed by German revolutionary, Clara Zetkin in 1910 as international socialists women's conference."
She added that the ceremony was organised to sensitise women and society to join hands in supporting women.
"Kano State Ministry for Women Affairs and Social Development is working round the clock to empower women in various agricultural value chain, technology as well as many small scale businesses," Umar said.