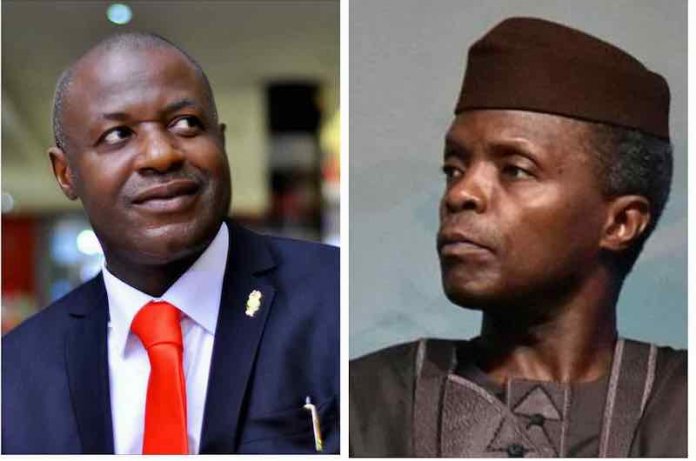 Today, Vice President Yemi Osinbajo (GCON), (SAN) and a former Senate Leader, Victor Ndoma-Egba (OFR), (CON) will be 63 and 64 years old respectively.
In a tribute to them, youths across the federation issued a congratulatory message in which they brought out the similarities they both shared.
Titled, "A Tale of Two Birthday", the tribute stated that between Osinbajo and Ndoma-Egba, their birth on the 8th day of March was more than mere cosmic coincidence.
According to the youths, while the vice president was born in 1957, the latter was given birth to in 1956.
The tribute read in part: "But apart from that difference in their years of birth, every pattern in the trajectories of both men bear striking similarities.
"The two chose a career in law profession. Both read law from the same law faculty at the University of Lagos. While Osinbajo graduated in 1978 and was called to the Bar in 1979, Ndoma-Egba graduated in 1977 and called to the Bar in 1978.
"Respectively, they must have graduated at age 21 and called to the Bar at the age of 22. For that generation of university graduates, it is a well known fact that graduating at such early age is an unusual happenstance. It must mean that both Yemi Osinbajo and Victor Ndoma-Egba as youngsters are academic whiz kids.
"After graduation, Osinbajo went into academics and Ndoma-Egba went into private legal practice. Both made remarkable successes at their career paths as lawyers.
"Vice President Osinbajo became a law professor and both earned the ultimate jewel of the legal profession as Senior Advocates of Nigeria – one in 2002 and the other in 2004.
"Ndoma-Egba's debut in public service was serving as Commissioner for Works and Housing in old Cross River State (now Cross River and Akwa Ibom state). That was in 1985 when Major-General Muhammadu Buhari was military Head of State and Commander in Chief.
"As providence would have it, Osinbajo is currently Vice-President to President Muhammadu Buhari as Nigeria's sixth democratically elected leader. Like Ndoma-Egba, Osinbajo too had served as Attorney-General and Commissioner for Justice in Lagos in 1999, while Ndoma-Egba had similarly served in the same capacity on a brief note in old Cross River State during the days on military rule in the country.
"But if all these similarities in the pathways of the duo was due to the predictable outcome of their devotion to the law profession and public service, what about their corporeality?
"Both are of the lithe athletic physique, with sartorial and genteel disposition of men of character, imbued with religion and devotion to God. Professor Osinbajo is a renowned Pentecostal preacher and Ndoma-Egba has a flare of passion to his Roman Catholic faith, narrowly missing his way into the priesthood.
"Osinbajo was raised as a child by a father who was a preacher – himself growing to become one, ditto for Ndoma-Egba, raised by a father who was a trustee of the Presbyterian Church of Nigeria, a celebrated lawyer and Appeal Court judge, himself also towing the line to become a colourful lawyer.
"In other words, both were raised by clergymen and took after their fathers' profession and became famously successful at it. Again, both men are known for their oratory, sense of humor, simplicity and humility in their interactions with other people.
"If, indeed, Stars are born on the 8 day of March, both Osinbajo and Ndoma-Egba are true expression of the luck in that date of birth. Or, even if it is true that the Light of God gives birth to all stars, it must be that such divine Light has shone distinctively on both Vice President Osinbajo and Senator Ndoma-Egba."