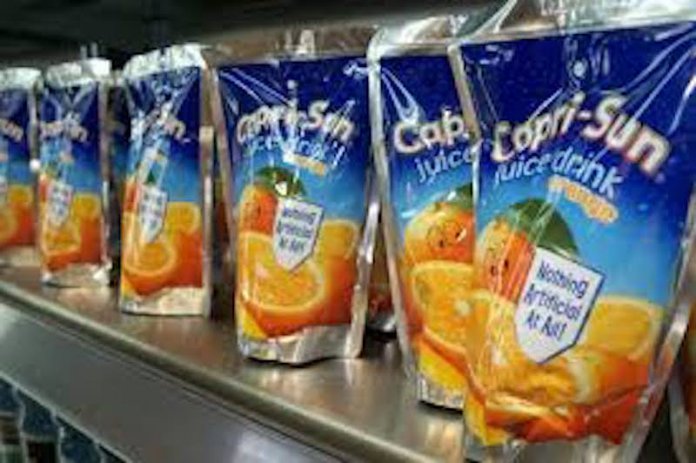 Food constitutes one of the most important factors for achieving and maintaining general well-being, a report has stated.
It, therefore, noted that the choices one makes determine the quality of his physical, mental and emotional health.
According to the report, while there are several brands in the fruit drink category targeted at children and currently competing for leadership through various offerings, one brand that has stood out for having a 'Clean Recipe' was Capri-Sun.
It noted that while many brands are a mixture of artificial colours, artificial flavours, artificial sweeteners and preservatives, Capri-Sun maintains leadership in this category because it contains natural ingredients that can contribute to the growth and development of children.
"It is important for individuals to be conscious of the foods and beverages they consume. Specifically, in the case of children, because they are not able to make informed decisions, it is the role of parents to ensure that their children are consuming foods and beverages that are safe for consumption and of high quality – this refers to foods and beverages that have a 'Clean Recipe.'
"A Clean Recipe essentially means foods or beverages made from natural ingredients with no artificial colours, no artificial sweeteners, no artificial flavors and no added preservatives. For some time now, the introduction of several unwholesome fruit drinks made for children have been generating conversations around the benefits these drinks offer.
"It is important for parents to know that when their kids consume these unwholesome fruit drinks, they not only miss out on all the benefits of taking fruit drinks made from premium natural ingredients, but they also leave their children's health vulnerable to the long term implications from the ingredients within these products," it added.
Furthermore, it pointed out that concerns have been raised on the possible link between food additives and neurological development deficiencies, including Attention Deficit Hyperactivity Disorder (ADHD) in children.
A number of recent studies have been performed worldwide to explore the possible relationship between food colourings and ADHD in children. A 2012 analysis of studies co-authored by Joel Nigg, professor of psychiatry, pediatrics and behavioral neuroscience at Oregon Health & Science University showed that studies support the link between additives and hyperactivity.
The study also stated that food additives may also be a source of allergic reactions, including anaphylaxis and asthma. Noting that hypersensitivity reactions to certain foods are appearing more often than ever, particularly in children, it called for further exploration of the possible links between allergic reactions and food colourings and flavourings.
"The 'Clean Recipe' of Capri-Sun follows in the tradition of Chi Limited, one of the most admired companies in the food & beverage industry in Nigeria. Its unique production processes ensure the use of only premium natural ingredients and quality packaging that guarantees optimal retention of fruit contents.
"Capri-Sun can be consumed by young children any day, anytime, and anywhere, on its own or with meals. It is perfect for lunchboxes, picnics, after school activities, family days out, on-the-go, etc," it added.