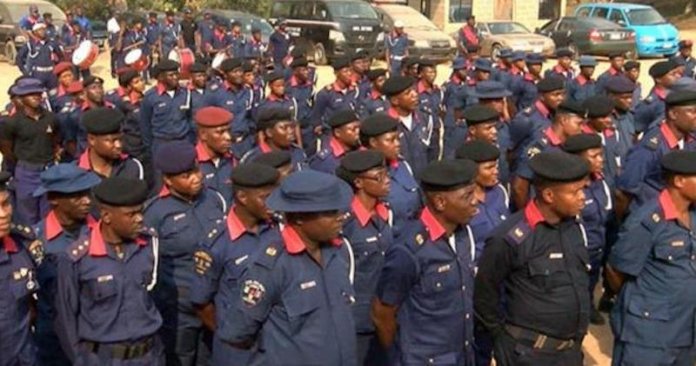 Kemi Olaitan in Ibadan
Aggrieved staff of the Nigeria Security and Civil Defence Corps (NSCDC) who are holders of Higher National Diploma (HND) have asked President Muhammadu Buhari and the Minister of Interior, Ogbeni Rauf Aregbesola, to probe the alleged promotional disparity rocking the corps.
THISDAY learnt that tongues have been wagging within the corps on the alleged roles NSCDC Board was playing in the promotion disparity as it affected the HND holders employed into the corps in 2012.
It was gathered that despite the pronouncement by the Head of Civil Service of the Federation that those that were employed with HND in year 2012 should be elevated to be at par with their counterpart having B.Sc. i.e from Grade Level 07 to Grade lLvel 08, the situation was reportedly different at the NSCDC going by the alleged action of the NSCDC Board.
Sources revealed that those that were employed in 2012 with both (HND and B.Sc.) "wrote Confirmation and Promotion Examination (COMPRO) together as Senior Officers in 2014" and that on September 26, 2018 the much expected list of elevated officers from Grade Level 07 to 08 (HND) was released with those already on Grade Level 08 also promoted to Grade Level 09 and their promotion back dated to 2015, while that of the HND's was dated 2016."
The sources said: "We wrote the same COMPRO exam on the same day, time and even got our result the same day. Why then on earth should their promotion letters be dated back to 2015 and those with HND (that were elevated to meet up with their colleagues) to 2016.
"If you were able to lay hold on the employment letters of those with B.Sc. (Grade Level 08), you will notice it was dated 01-11-2011 while those on GL 07 (HND) were dated 16-04-2012. The question then is: why will they still be promoted ahead of their HND counterparts?"
It was further gathered that those that were employed in 2016 had their letters of employment back dated to 2015 and had been given automatic promotion ahead of those in the Inspectorate Cadre (HND 2012), adding that they are now on GL 09 while we still remain on GL 08.
"The elevation process was meant for those with HND to be at par with their counterparts with B.Sc., but with what has been done now: do you think the disparity is no longer existed? They are still placed ahead with a grade level which is still not adhering to the instruction of placing those with HND to be at par with their B.Sc counterpart. If they are on GL. 09 then those with HND are also meant to be on GL. 09 and not below. By the virtue of these elevation and promotion in conjunction with the dates of present appointment on the letters, those who were promoted from GL 08 to 09 will write promotion exam ahead of those elevated from GL 07 to 08 (HND)," the sources added.
It was learnt that on February 22, those with B.Sc. wrote another promotion exams (2019 exams) to be advanced to GL 10 hopefully, while those with HND were asked to wait till 2020 promotion exam at a date not yet fixed.
But when contacted on phone, NSCDC Public Relations Officer, DCC Emmanuel Okeh, said there was nothing like disparity between the HND and B.Sc holders in NSCDC.
He said all the HND holders in the NSCDC have been elevated to level 8 as directed by the federal government, stating that the 2019 promotion examination was that of NSCDC Board and not that of the corps.