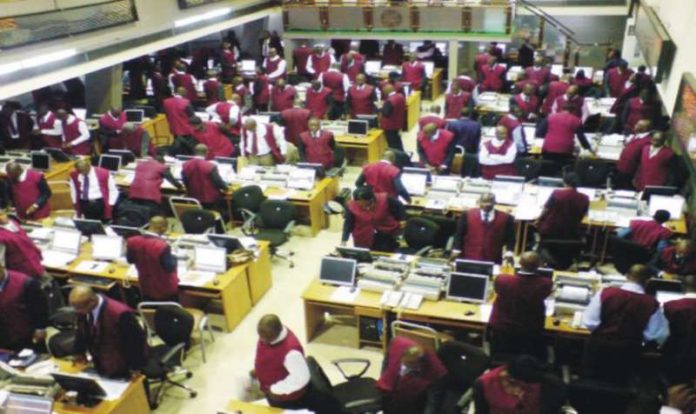 By Goddy Egene
The year-to-date growth of the Nigerian stock market measured by the Nigerian Stock Exchange (NSE) All-Share Index (ASI) moderated to two per cent last week as the bears maintained their tight grip on the market. The down trend in the market persisted with the market depreciating four out of the five trading days.
By the close of trading last week, the NSE ASI had shed 1.3 per cent to close at 27,388.62, while market capitalisation ended at N14.268 trillion.
However, the volume and value of trading rose as investors traded 1.499 billion shares worth N17.907 billion in 18,515 deals, up from the 912.175 million shares valued at N12.126 billion that exchanged hands the previous week.
Also, trading across sectors was bearish as four out of the sectors tracked declined led by the NSE Consumer Goods Index led the laggards, shedding 6.8 per cent on the back of sustained sell pressures in Champion Breweries Plc, International Breweries Plc and Nestle Nigeria Plc.
The NSE Banking Index shed 2.6 per cent due to losses suffered by Ecobank Transnational Incorporated and GTBank.
In the same vein, the NSE Insurance Index went down by 2.1 per cent, just as the NSE Oil & Gas Index declined by 1.3 per cent. On the positive side, the NSE Industrial Goods Index closed as the lone gainer, chalking up 1.0 per cent.
According to analysts at Afrinvest (West Africa), following four weeks of consecutive losses, they expect to see some bargain hunting in early trades this week.
"However, we maintain a bearish outlook in the near term as overall investor sentiment remains weak," they stated.
Also, analysts at Cordros Capital said: "Amidst continued weak market sentiments, we advise investors to trade cautiously, taking positions in fundamentally justified stocks."
Just like Nigerian market, Kenya's NSE 20 closed bearishly, as it shed 2.3 per cent. Egypt's EGX 30 and Mauritius' SEMDEX Indices treaded south, losing 1.0 per cent and 0.8 per cent respectively.
In the same vein, Ghana's GSE Composite index lost 0.01 per cent, while the Morocco's Cassablanca MASI index was the lone gainer, that appreciated 1.4 per cent as investors reacted positively to a potential UK-Morocco trade deal.
Across the BRICS, performance was also bearish as only one out of the five indices tracked appreciated. China's Shanghai Composite Index was up 4.2 per cent, following efforts by the Chinese government to curb the incidence of the Corona virus. But Brazil's Ibovespa went down by 1.3 per cent, just as South Africa's FTSE/JSE All-Share Index went down by 1.1 per cent. Similarly, Russia's RTS and India's BSE Sens indices dipped 0.9 per cent and 0.2 per cent in that order.
However, performance in the Asian and Middle East markets ended mostly on the green side as three of five indicators tracked appreciated. Turkey's BIST 100 index posted the best gain, advancing 2.8 per cent following a $100 billion bilateral trade agreement with the US.
Similarly, Thailand's SET and UAE's ADX General Indices chalked up 2.1 per cent and 0.1 per cent respectively. Conversely, Saudi Arabia's Tadawul and Qatar's DSM 20 indices lost 1.7 per cent and 0.9 per cent respectively.
In the developed markets, the bears ruled as the seven of the tracked markets posted losses. The Hong Kong Hang Seng led the losers with 1.8 per cent fall. Japan's Nikkei 225 Indices shed 1.3 per cent as investors reacted to the spread of "Coronavirus".
Similarly, Germany's XETRA DAX, US' NASDAQ and S&P 500 fell 1.1 per cent apiece. The France's CAC 40 shed 0.7 per cent, while UK's FTSE All-Share Index lost 0.05 per cent.
Market turnover
Meanwhile, the Financial Services Industry remained the most traded leading the activity chart with 1.226 billion shares valued at N12.974 billion traded in 11,741 deals. Hence, it contributed 81.79 per cent and 72.45 per cent to the total equity turnover volume and value respectively. The Consumer Goods followed with 83.882 million shares worth N3.090 billion in 1,937 deals. The third place was Conglomerates industry, with a turnover of 49.719 million shares worth N104.199 million in 517 deals.
Trading in the top three equities namely, Zenith Bank Plc, Sovereign Trust Insurance Plc, and Guaranty Trust Bank Plc accounted for 636.624 million shares worth N10.123 billion in 4,539 deals, contributing 42.47 per cent and 56.53 per cent to the total equity turnover volume and value in that order.
In the exchange traded products sector, a total of 1,040 units valued at N3.606 million were traded last week in 12 deals, compared with a total of 1,540 units valued at N137,421.20 transacted the previous week in five deals.
A total of 40,469 units of Federal Government Bonds valued at N47.681 million were traded last week in 25 deals as against a total of 23,923 units valued at N28.986 million transacted two weeks in 22 deals.
Top price gainers and losers
A total of 24 equities appreciated in price during the week, higher than 19 equities in the previous week, while 28 equities depreciated in price, lower than 35 equities in the previous week.
C & I Leasing Plc led the price gainers with 26.8 per cent, trailed by AIICO Insurance Plc with 26.2 per cent. United Capital Plc chalked up 17.3 per cent, just as NPF Microfinance Bank Plc gained 11.7 per cent. African Prudential Plc garnered 11.1 per cent, while UACN Property Development Company Plc and Ikeja Hotel Plc appreciated by 10 per cent apiece.
Royal Exchange Plc garnered 8.7 per cent while Jaiz Bank Plc and Union Bank of Nigeria Plc gained 7.8 per cent apiece.
Conversely, Law Union and Rock Insurance Plc led the price losers with 36.5 per cent, trailed by AXA Mansard Insurance Plc with 10 per cent. Ardova Plc and May & Baker Plc shed 9.9 per cent each. NCR (Nigeria) Plc lost 9.4 per cent, just Champion Breweries Plc declined by 9.2 per cent.
International Breweries Plc shed 9.03 per cent, while Nestle Nigeria Plc and Skyway Aviation Handling Company Plc depreciated by 9.0 per cent and 8.7 per cent in that order.