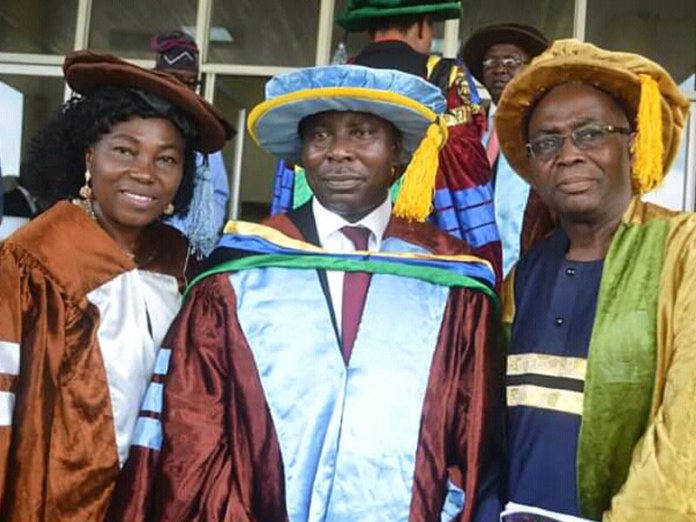 A security expert and public analyst, Dr. Felix Nnachi, has called on the Federal Government to improve on the performance of the nation's security sector that is fast deteriorating contrary to the expectation of Nigerians.
Nnachi, made this comment while speaking with journalist on the occasion of his honorary conferment of Doctor of Security Management by the Triune Biblical University (TBU) Global Extension,USA, Lagos Campus, which held its 13th Convocation.
The security expert explained that the sorry state of the sector is not a true reflection of the huge amount allocated to it in the national budget. He said that the government must be proactive in matters that has to do with national security rather than been reactive.
"For how long shall we continue to bear with the spate of crime and other vices springing across the length and breadth of Nigeria and yet we have a government who claim to have our interest at heart. Until we see governance as been accountable to the people, we will remain where we are. Those saddled with the responsibility of ensuring that our people are safe and secure must be held accountable." He said.
The elated Nnachi expressed gratitude to the TBU management for the honour and most especially the founder, Professor Adeleke Durojaiye, who he said is a worthy Nigerian, based in United States and has made his impact in the educational sector.
Nnachi whose conferment is deserving received the honorary award in Security Management alongside other prominent Nigerians for his contribution to the nation's security sector. He is an experienced security professional with demonstrated work history with the Nigeria Police and Chief Security Officer in various sectors of the economy that includes; Financial, Aviation and Energy.
He is also skilled in Human and Material Assets Protection and Management with hands-on in Physical and Electronic Security Systems strategy design and implementation. He is also experienced in security policy formulation and enforcement, Civil/Armed Guard Force Management, third Party Vendor Management and Government Law Enforcement Relations. He is currently the president of Ebonyi State development association, Lagos.