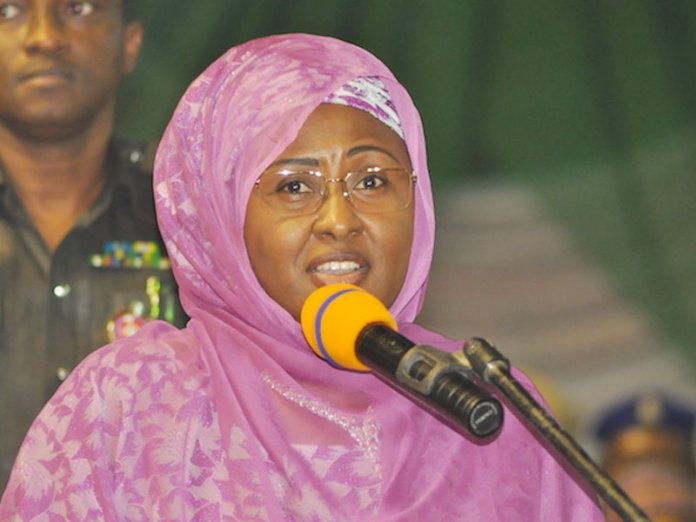 By Omololu Ogunmade in Abuja
The First Lady, Mrs. Aisha Buhari, Tuesday, for the first time since the first election of President Muhammadu Buhari in 2015, prefixed her husband's name with the title of 'General' almost one week after The Punch newspaper said it would no longer address Buhari as President Muhammadu Buhari but Major-General MUhammadu Buhari (rtd.).
The newspaper had in his December 11, 2019 editorial, said Buhari who ruled the country as a military Head of State and retired with the rank of Major-General had not purged himself of his dictatorial attributes and hence, would henceforth address him by his last military rank and also describe his administration as a regime.
The declaration of Punch which the newspaper has upheld since then was however, accompanied by kudos and knocks by individuals and groups which either commended or condemned it.
The presidency also criticised Punch, describing the newspaper as a partisan opposition group which exhibited personal hatred for the president.
However, the president's wife, Aisha, who had hitherto addressed her husband as PMB, meaning President Muhammadu Buhari, in a congratulatory message to the president on the occasion of his 77th birthday Tuesday, on her Twitter handle, addressed Buhari as GMB, that is, General Muhammadu Buhari.
"Happy birthday to MY GMB. I wish you Allah's Guidance, Protection and Good Heath to continue steering the affairs of our dear nation. Long Live GMB. Long Live Federal Republic of Nigeria!," she tweeted.
Her tweet which immediately began to trend online, was interpreted to imply that the president's wife was toeing the path of Punch to describe her husband by his military title as against his civilian title, an insinuation which cannot be proven since the first lady never formally threw her weight behind the newspaper.