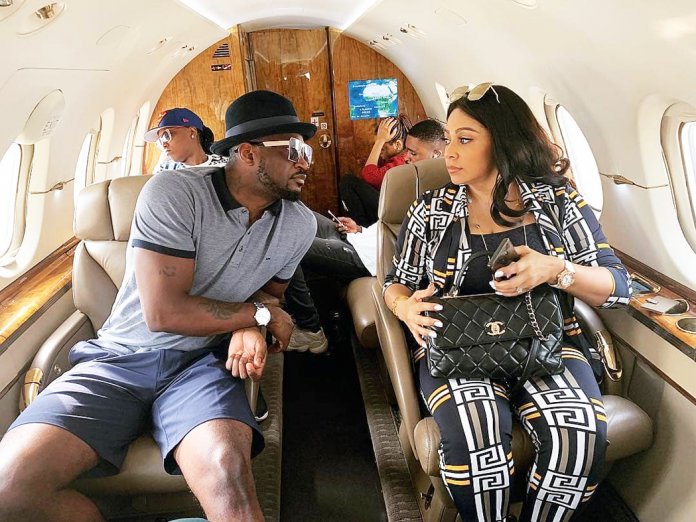 Ferdinand Ekechukwu
It was celebration galore for Peter Okoye and his wife, Lola, last Sunday as they celebrated their wedding anniversary. After six years of marriage and two children, the couple still has sweet words for each other as they took to their social media page to celebrate. For Lola, her husband is a pillar of strength, nothing that they have remained strong through the challenges that came their way. Peter, on his part, shared throwback photos of him and his wife, noting that they had come a long way and they were still going strong today. The couple got married in 2013.
Lola took to her Instagram page to pray for their marriage. She wrote: "Happy Anniversary to my pillar of strength. Through thick and thin we still continue to wax on strong. May God continue to guide and protect us and may love and laughter continue to reside here. I love you! @peterpsquare no long story!"
The singer, who turns 38 on Monday, announced their sixth wedding anniversary in a brief post on Instagram on Sunday. "What was still is and forever will be Happy Anniversary!!!" he wrote.
Recall the singing twins split sometime in 2017 and since then have stopped performing together. Peter, who said in an interview that he separated from his brother Paul because he insulted his wife, Lola and his two kids, has chosen to stick to his wife despite perceived hatred shown her by Paul and Jude Okoye.
The conflict within the Okoye household looks far from being over after Peter Okoye recently revealed that he was not in talking terms with his elder brother, Jude Okoye.
The music star and former member of the defunct group, Psquare, made this known during an interview. According to him, they aren't in talking terms and he isn't going to be beating around the bush about it.
"I'm always going to wish him the best of his life…like me I don't have any problem with anybody but if they really have any problem with me, its fine, I'm living my life," he said.
The Okoye brothers' war has been one of the biggest celebrity fights recorded in the Nigerian music industry. From shading to actually insulting each other on social media, it has been one messy scandal that has rocked the entertainment industry. While the brothers are at loggerhead, their wives Lola and Anita don't seem to be.
 As a matter of fact, Lola was among the guests that visited the opening of Anita's kidstore in Lekki some months back.
Peter's grouse has been that his twin brother Paul insults him and his family at will in public and expects a performance with him without even an apology: "I don't disrespect my brother's wife neither, his family but he does that to me all the time. He'll insult me and my family in public, on Instagram, and the next minute he'll wait for me backstage for us to perform together," Peter said. Continuing, Peter said he won't go back on his vows to protect and love his wife and family.
As it is for Peter, so it is for Paul.
 The latter had professed in a recent interview that reunion with his twin brother Peter was out of the way. In his words, "the way it is for me now, no way."