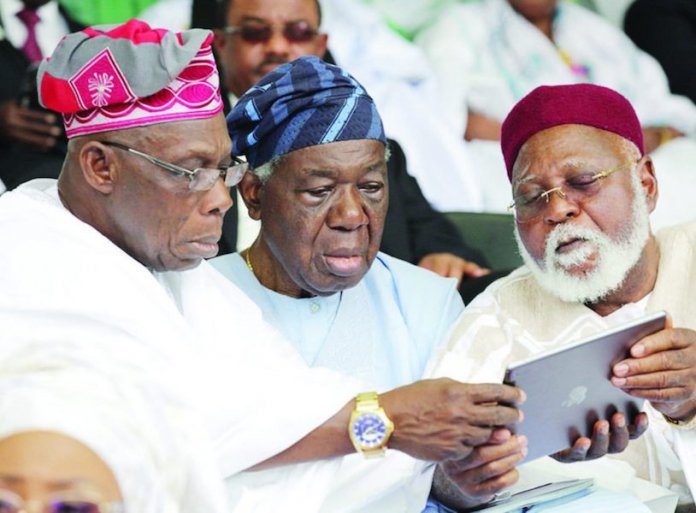 By Chuks Okocha in Abuja
As Nigeria marks the maiden edition of the Democracy Day celebration, most former presidents and heads of state are absent at the Eagle Square, venue of the event, despite the fact that they were invited.
According to the programme of event, they were billed to arrive the venue at 9.35am but as at press time, none of the former presidents and ex-heads of state were sighted.
Former Presidents Olusegun Obasanjo, Goodluck Jonathan, former military president Ibrahim Babangida, who annulled the June 12, 1993, and General Yakubu Gowon are not at the venue of the event.
Former head of the Interim government, Chief Ernest Shonekan, who took over from President Babangida, was also absent.
No reason was given for their absence.
Present at the celebration were the newly elected President of the Senate, Ahmed Lawan, Speaker of the House of Representatives,  Femi Gbajabiamila, and some members of the 9th National Assembly.
Several state governors, chieftains of All Progressives Congress, politicians from opposition political parties and all service chiefs attended the event.
The event kicked off with the arrival of President Buhari at exactly 10.02am. He was received by Vice President Yemi Osinbajo.
This was followed by the national anthem and national salute. Thereafter,  the President inspected a guard of honour and also acknowledged cheers from guests.
At about 10.30am,  there was a military parade. The parade was commanded by Lt. Commander M. S. Dawuda. The military band treated the invited guests to songs like "I remember when I was a soldier and Conquerors."
There were also cultural displays from all the six zones of the federation,  to show the rich cultural heritage and agriculture  in the Nigeria.
This was followed by Democracy Day Speech  by President Buhari.
The military and dance troupes gave the President three happy cheers, followed by the national anthem to signal the end of the maiden democracy day celebration on June 12.
The highpoint of the event was the renaming of the Abuja Stadium after Chief Moshoof Abiola, acclaimed winner of the annulled June 12 presidential election.