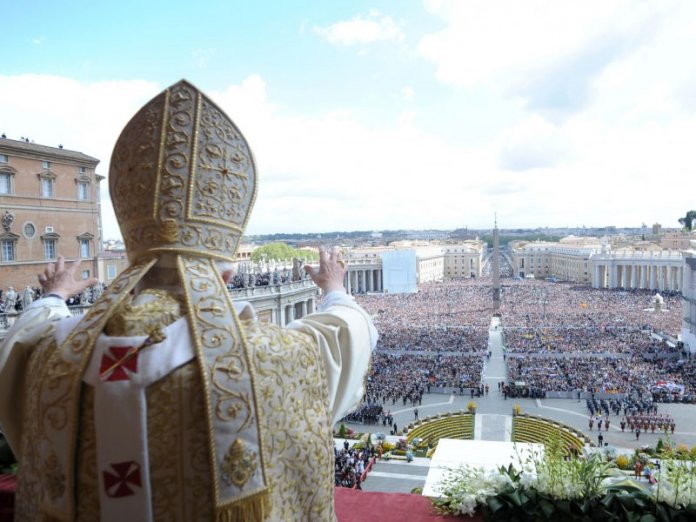 Buhari: Bloodshed, particularly this season, unacceptable
Obi: Nigeria in prolonged period of misfortune
Ekweremadu advocates justice, security as Mark sues for unity
Ambode preaches love, sacrifice
Ugwuanyi urges commitment to Christian values
CAN calls for tolerance
Our Correspondents
Sharing the same platform to offer felicitations to Nigerian Christians as they join the faithful the world over to mark Easter today, politicians from across party lines have called for peaceful coexistence among Nigerians of all political and religious persuasions. They also bemoaned the state of the nation, but expressed hope that things will improve.
Easter is a Christian festival marking the resurrection of Jesus Christ.
President Muhammadu Buhari, in his Easter message, condemned the outbreak of violence in parts of the country, particularly, in this festive season. Buhari said violence and wanton destruction of life and property were offensive to the lessons of love and peace that Easter brings to humanity.
He said he was saddened by "the latest needless violent clashes between Jukuns and Tivs in Taraba State, and Fulani, Genjon and Bachama in Adamawa State resulting in arson, injuries and deaths."
In a statement yesterday, presidential spokesman, Malam Garba Shehu, quoted the president as saying, "Violence and bloodshed for whatever reason is unacceptable and condemnable, especially when it is coming as the nation celebrates Easter, with all the lessons of love and peace for humanity.
"Violence has not and cannot be the solution to the resolution of misunderstandings among the people.
"Once we abandon reason and good judgment, we are giving violence the chance to take over and make a bad situation more complicated and difficult to resolve.
"The primary initiative for ending violence once and for all must originate from the local actors involved in these clashes."
The statement said the president had mandated a religious group, which had led successful efforts to mend broken relationships among communities in Plateau State, to work with security agencies and take up the challenge of reconciling the communities in Kaduna, Taraba and Adamawa states.
It also said the president had directed the National Emergency Management Agency (NEMA) and the National Commission for Refugees and Internally Displaced Persons to scale up their efforts in bringing succour to displaced people in the affected areas.
Furthermore, it said Buhari assured that intervention by the military had doused the situation in the affected communities, adding, "The government will not rest on its oars to provide security for all Nigerians, and will at the same time engage in dialogue with local stakeholders in order to get to the root of the crises."
In his own message, the vice presidential candidate of the Peoples Democratic Party (PDP) in the just concluded election, Mr. Peter Obi, lamented that the country was undergoing a prolonged period of misfortune. Obi called on Nigerians to use the period of Easter to reflect on the situation in the country and pray specially for the survival of Nigeria's democracy.
He stated, "This country has been undergoing a prolonged period of misfortune that this period of Easter provides huge opportunity for Christians to return to God in supplications for lasting solutions to our myriads of challenges.
"At this critical stage in our nation's journey to development only standing on the side of truth on the state of the nation and nothing else can set us free from the economic bondage
"Indicators are apparent that the country is under siege and Nigerians should use this solemn period of Easter to pray for God to intervene and raise good leaders for the country."
Deputy Senate President Ike Ekweremadu and former Senate President David Mark urged Nigerians to remain steadfast and hopeful of a better nation. In separate Easter messages on Saturday, Ekweremadu and Mark urged Nigerians to use the occasion of Easter to pray for the security of the country and return to the path of reconciliation, peace, and justice.
Ekweremadu added that prayers should also come with the necessary steps to rethink the country's security architecture, especially the policing arrangement.
"We must also muster the political will to take on these security challenges head-on, beginning with the decentralisation of policing such that constituent parts of the nation are constitutionally empowered to take responsibility for the security of lives and property of the citizens, like other federal states and as was the case in this nation before 1966," Ekweremadu stated.
He stressed, "Importantly, we need to move away from the path of disunity, mutual suspicion, discrimination, and injustice to make any progress. At Easter, therefore, we must rededicate ourselves to the virtues of love, unity, peace, justice, forgiveness, reconciliation, and sacrifice, which the ministry, death and resurrection of Christ represent."
Mark canvassed the need to strengthen the bond of unity among the diverse ethnic and religious groups in Nigeria, insisting that there is hope for the country if it remains together. He said in spite of the challenges of insecurity, ethno- religious conflicts, and declining economy, "We should not be discouraged because the challenges are surmountable."
The former senate president urged the citizens to reflect on the sacrifices and resurrection of Jesus Christ, which symbolise peace, tolerance and forgiveness, in order to coexist harmoniously with one another.
He said the authorities must work to restore the people's trust and confidence in the system.
Lagos State Governor Akinwunmi Ambode called on Nigerians to imbibe the virtues of tolerance, peaceful co-existence, and sacrifice, which Jesus Christ lived and died for. In his Easter message, Ambode said, "We must therefore see this period as a time that presents us the viable opportunity to think about how we can help to steer our nation back on the road to peace, stability and prosperity, by working in the spirit of togetherness because no nation can make any meaningful progress in an atmosphere riddled with pockets of violence and killings."
Reflecting on the recent general election, the governor stated, "The elections have come and gone, we must not allow our political leanings determine our actions. The Nigeria we desire will only be a reality if all hands are on deck towards achieving a peaceful, united, strong, progressive and prosperous country. This is the time for us to avoid all divisive, parochial, ethnic and religious sentiments and rivalries, and begin to live more harmoniously with one another, as Jesus Christ enjoined us to."
Enugu State Governor, Rt. Hon. Ifeanyi Ugwuanyi, advised Christians and Nigerians, generally, to use the occasion of Christ's resurrection, which Easter symbolises, to reinvent their abiding faith in God and promote peace, love, and unity. Ugwuanyi said observation of 40 days of Lent through fasting, abstinence, prayer and charity in memory of Christ's suffering, death and resurrection, "reinvigorates the spiritual strength of Christians and God's amazing grace for salvation of mankind". He added, "God's extraordinary act of love for mankind should be cherished, celebrated and sustained."
In his message at Easter, Edo State Governor Godwin Obaseki urged Christians to imbibe the virtues of selfless service and love. Obaseki stated, "I join Christian faithful in Edo State and across the world in celebration of the resurrection of Jesus Christ, whose sacrifice to redeem mankind is an enduring example to all.
"As we mark Easter Sunday, it is important to reflect on the lessons of selflessness, the virtue of love and redemption. I encourage everyone not just to uphold the love shared this period but also to ensure that it becomes a part of our lives every day."
He added, "With selfless service and passion for the downtrodden as key teachings on Easter, I enjoin everyone to be their brother's keeper, work to foster peace and togetherness, and uphold the collective good of all in our dealings."
In the spirit of Easter, Akwa Ibom State Governor Udom Emmanuel made a reconciliatory offer to his political opponents, saying they should join in building a state whose economy will be the envy of all.
Emmanuel said in a broadcast weekend, "We have just concluded an election cycle where the chords of our brotherhood and amity were severely tested. Even though some of our political gladiators had likened the contest to going to war and had unfortunately invoked certain metaphors of war and violence, the battle has been fought and won to the glory of the ONLY GOD we worship and serve.
"The time, therefore, has come for us to close ranks and show love to one another. We went to the polls as sons and daughters of Akwa Abasi Ibom State joined together by shared hopes and aspirations for our state and our people.
"My opponent and I were both motivated by the need to serve our people and advance the cause of our development, but the people have spoken and made their choice. We must respect the will they expressed in my capacity to lead our people for the next four years.
"In the spirit of Easter, I am again inviting my brothers and sisters on the opposite side of the political divide to join hands with me to build a prosperous, safe and secure state where our people will continue to rise and claim the faith of their greatness."
Governor Ibikunle Amosun of Ogun State enjoined Nigerians to eschew hatred and bigotry, which Christ preached against before paying the ultimate price on the Cross. In his Easter message, signed by his Special Adviser on Information and Strategy, Mr. Rotimi Durojaiye, Amosun stated, "As we celebrate Easter, let us reflect on the significance of the season, which is love and sacrifice, to unite as a people.
"Easter gives us the spiritual power to appreciate the truth that His dying moment on the Cross offers us the greatest illustration of forgiveness, faith and belief necessary to strive as one indivisible nation."
President of the Christian Association of Nigeria (CAN), Rev. Samson 'Supo Ayokunle, in his Easter message, enjoined Christians in the country, as well as Muslims and people of other religions to pursue peace, tolerance and love for one another.
"This is one of the greatest needs today in our dear country and it requires genuine sacrifice to achieve it," Ayokunle stated. "This is because it is in the atmosphere of peace that we would have progress as a nation."
He added, "In this season and beyond, I advise Nigerians to love one another as Christ loved us and gave His life for us! Lack of love today is the breeding ground for religious intolerance, killings and destructions, which in turn lead to insurgency and other forms of violence with their attendant humanitarian crises, such as mass human displacements, hunger, outbreak of sicknesses and diseases, etc., in many parts of the country today."
Ayokunle appealed to President Muhammadu Buhari to tackle the spate of kidnapping and armed banditry in the country.
The ruling All Progressives Congress (APC) charged Nigerians to remember the essence of Easter, which is love, sacrifice and suffering. In a statement by its National Publicity Secretary, Mallam Lanre Issa-Onilu, APC urged all citizens, irrespective of religious affiliation, to imbibe the selfless attributes displayed by Jesus Christ.
"In our collective efforts to progress as a nation, we must all rise above our perceived differences which pit brothers and sisters against themselves. Love and tolerance will take us above internecine violence, killings, agitations, and other divisive tendencies," the statement said.
It also urged Nigerians to use the occasion of Easter to pray for the safety and wellbeing of members of the Armed Forces and other security personnel deployed to flashpoints around the country.
The main opposition Peoples Democratic Party (PDP) called on Nigerians to use the occasion of Easter to pray for national rebirth and fulfillment of their aspirations for a safe and prosperous nation where love, truth and justice will prevail. The party, in a statement by its National Publicity Secretary, Mr. Kola Ologbondiyan, said Nigerians must remain optimistic.
The statement said, "The Easter festival, which marks the celebration of the resurrection of the Jesus Christ from the dead, offers great lessons on the inevitable victory of life over death; truth over falsehood; light over darkness and freedom over captivity.
"Nigerians must, therefore, use this occasion to rekindle their bonds of love, unity and oneness of purpose while standing firm against oppressive forces that are using intimidation, lies, institutional manipulations, propaganda and deprivation in their desperation to divide, subjugate and ultimately subvert our will as a people."
Minister of the Federal Capital Territory, Malam Muhammad Musa Bello, called on the Christian faithful to pray for peace and unity in the country, particularly, the FCT, which is the centre and symbol of Nigeria's unity.
Bello reminded residents of the upcoming inauguration of Mr. President on May 29. He urged residents to pray for a smooth transition to the next political dispensation, saying as residents of the host city, they have a significant role to play in the success of the international event.