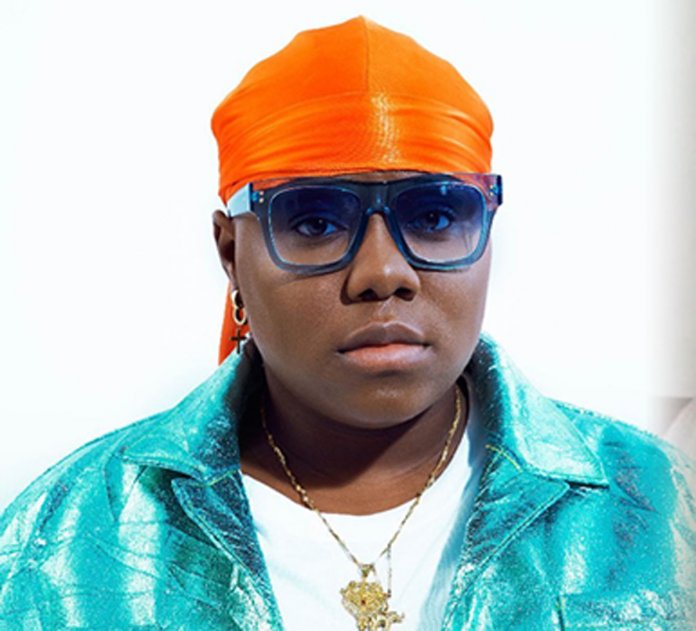 Supersaturday
With much acclaim to her emergence and acceptance in the Nigerian music scene, Teniola Apata aka Teni Makanaki, has proved her mettle and worth as an artiste and entertainer, writes Ferdinand Ekechukwu
Her boyish visage complements her unique style and fashion sense that stands her out with dungarees, baggy Tees and large shirts, sneakers and bandana. This for her makes her comfortable but eccentric. She has never looked like the person next door. Teniola Apata tells you her love for sports and that retro vibe has also played a major role in her fashion sense. Confident in her skin and looks, Teni the entertainer or Teni Makanaki as she is widely known, at the moment has within a very short period, become one of Nigeria's biggest female artistes, breaking new grounds in the music scene.
A younger sister to popular singer Niniola Apata, the talented singer who before now had become an internet sensation based on her numerous Instagram freestyle videos was hungry for success, and she employed the instrumentality of music as the only way out. According to the music sensation, "It was just a young girl passion. I was just really hungry for success and I knew music was my only way out, I decided to follow it. Because of music I didn't graduate when I was supposed to have graduated."
After her secondary school education, Teni proceeded to the US to study Pharmacy. Subsequently, she pulled out of Pharmacy school. Teni hated every bit of that moment as music kept creeping into her soul. Eventually, she graduated from the American Intercontinental University, Atlanta Georgia with a degree in Business administration and a minor in Information Technology and began recording her songs upon her return to Nigeria, plus her stage craft which has always got people talking.
Her sudden emergence and acceptance within and outside Nigeria has proved her mettle and worth as an artiste and entertainer. A number of awards and recognition would follow soon as Teni won Rookie of the Year at the 2018 Headies Awards, as well as Most Promising Act to Watch at the 2018 Nigeria Entertainment Awards. She won Best New Artist 2018 Soundcity MVP Awards Festival, just as NotJustOk ranked her eighth on their list of the 10 Hottest Artistes in Nigeria. She was listed among the 'Six Nigerian breakout stars, viral sensations of 2018 by Premium Times. On 20 February 2019, Teni was featured on YouTube Music's Trending Artiste on the Rise.
Her immense growth since she stormed the industry within a short space has taken observers by stun. Needless to say without any hype, her musical diversity is very infectious. You could feel it in her songs that she's lyrically strong and adventurous. Like she metaphorically crooned in that her popular single, Case, which tells a story of a young woman obsessed with a man, whom she had to risk everything to protect but got away with another woman. 'I go go Oshodi for your case… I go slap agbero for you case… I go call MC Oluomo… I go report all of them…'  
Last year, all her passion paid off, Teni made it clear she was taking over with the release of several hit songs, Fake Jersey, Askamaya, Case, Uyo Meyo, catapulting her into the mainstream sound of Nigeria. While 2018 was a revelatory year for Teni, music industry analysts expect her to become more of a force in 2019. In 2016, a star yet to be known then dropped a track 'Amen' which was recognised as her debut single. Then signed to Shizzi's Magic Fingers Records (a relationship that didn't last long), the song didn't fly that much.
Her first hit single 'Fargin' (a Yoruba accent for virgin), which preaches sexual abstinence released in 2017 under a new record label Dr. Dolor Entertainment, gave her prominence and the beginning of her journey as one of the new acts in Nigeria's reenergised music scene. Defying narratives, the same year she defined her songwriting skills by crafting Davido's hit song 'Like Dat'.
Her music is neither Afropop nor alternative music; she calls it good music. "Music allows me to tell stories that resonate with a lot of young people. I do good music. I don't box myself because I can do almost all kinds of music. I feel like God has given me the talent so it will be unfair for me and to the world to box myself when I can do more.''
Though in her early twenties, she draws influences from folk, juju, fuji and apala music. Growing up, Teni listened to legends like King Wasiu Ayinde, Ebenezer Obey, King Sunny Ade and their versatility and art of making music out of anything was a major inspiration to her. And she simply found herself drawing inspiration from everything and making a song out of it no matter how silly it might have sounded.
She showed interest in music at an early age with the establishment of a music band in her school. Teni's history with music began with her singing at age two. In high school, she played drums for former governors of Lagos State including Mohammed Buba Marwa, Bola Ahmed Tinubu and Babatunde Fashola, when they were in office.
Further childhood memory holds fond and interesting moments for Teni. "Interesting, I think that's why I turn out the way I am because I grew up in very loving environment. I grew up with so much love; I will say I had the best childhood. My mother always makes me feel very special; in fact she will tell you are the best. So that built my self-confidence. Growing up with my elder sister, Niniola, she was very protective of me.
"I'm proud of her and how she has accomplished by setting good examples and laying a good path. Her work doesn't affect me; it encourages and inspires me to be a better musician."
Her sister, Niniola, is one of Nigeria's biggest Afropop stars. In both sisters' act and style of entertainment lies a contrast. Their late dad late Brigadier-General S.O. Apata, the founder of the elite private school, Apata Memorial School was a music enthusiast who often funded music projects. According to Teni, her late dad was fond of saying, "my children would be superstars".
Although his time was cut short by assassins, his words have come true. As someone rightly noted, there's a world of possibilities awaiting Teni The Entertainer, an artiste with no album, EP or mixtape ever released, just an arsenal of tested hits and a contemporary style to die for.