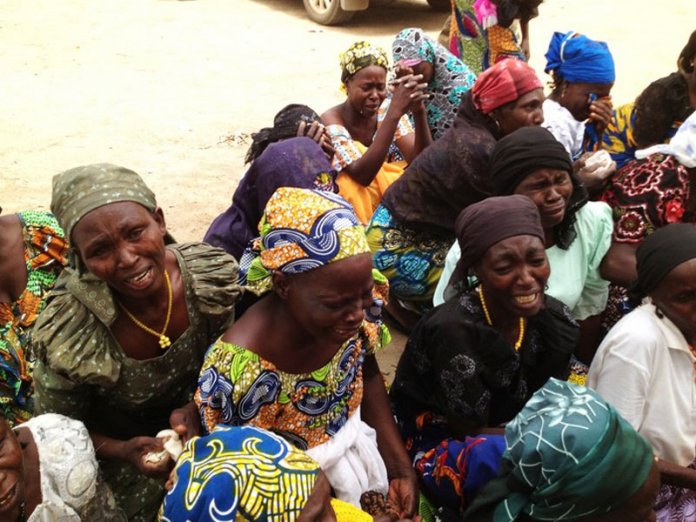 Vanessa Obioha writes that for the second time, documentary filmmaker Joel Benson focuses his virtual reality camera lens on the plight of the victims of the Boko Haram terrorist group in the North-east
The lens of documentary filmmaker Joel Benson, has recently captured the plight of the victims of the Boko Haram terrorist group in the North-east. The notorious insurgents have been terrorising the region for almost a decade, riving families and leaving a pool of undried tears.
His first 'In Bakassi' which was produced last year revolved around a young orphan Mustapha and his struggles to provide for his family in the populated Internally Displaced Persons (IDP) camp, Bakassi.
His latest effort, 'Daughters of Chibok' however centers on Yana Galang, the woman leader of the Bring Back Our Girls' (BBOG) movement. The over 11-minute long film opens with Galang, inviting the viewer into her modest home which was once filled with laughter. Galang has lovely memories of Chibok as the camera pans over the sahelian landscape.
She recalled that the remote town in Borno state was once peaceful, where Christians and Muslims coexist happily. The main vocation in the village is farming, but that comes with numerous challenges according to the filmmaker.
"They can't afford fertilisers, tractors and pesticides, so how do they survive in poverty? In a year, they can only produce seven bags of their farm produce."
Galang noted in the film that one of the conundrums that had often befallen Chibok was water. She however stated that the issue has been resolved through the intervention of some non-governmental organisations. A farmer too, Galang and her family depend on their produce for subsistence.
Galang's family is her pride. She has eight children: three girls and five boys. Each of her daughters she ensured had access to quality education. Her home was once filled with laughter and joy, until Boko Haram reared their ugly head.
On April 14, 2014 the insurgents stormed the Government Secondary School in Chibok and kidnapped 276 school girls. The political blame game played at the moment slowed the release of the girls. The administration of Goodluck Jonathan believed that the kidnap was a ploy by his detractors to dent his political ambition, thus delaying relevant action to rescue the girls.
Out of the 276 girls abducted, the government so far was only able to release 107 girls. 57 escaped while 112 are still missing. Galang's daughter is among those missing. Her name is Rifkatu.
"When they told me that my daughter Rifkatu was kidnapped from the school, I didn't believe it. What did I do? Who did I offend?" she said in an emotional laden voice, wiping her tears with the tail of her wrapper. She held a picture of Rifkatu on one hand as she tried to gain composure. "We were all confused," she continued, "before this time, nobody knew we existed."
For five years, Galang waited patiently for the return of her daughter. In the documentary, Galang is seen folding her daughter's clothes, as if she is expecting her to walk through the door at any moment.
At first, it felt like a nightmare that would soon be over. But then, days turned to months, months to years, yet no sign of Rifkatu. "It seems as if the world has moved on. Nobody remembers our daughters."
The pain became almost unbearable each time news of freed schoolgirls reached her ears. More often, Galang hoped that her daughter was among them. This doesn't mean that she is not delighted over the return of the girls. Rather, she urged the girls to pray for their sisters to come back safely.
Though statistics from the documentary revealed that 33 parents died waiting for their children to be rescued, Galang and her fellow women are still clinging to hope.
"Rifkatu my daughter," she pleaded, "for five years, we wept and waited, praying for you to return. I will not stop praying for you Rifkatu. I will never stop and I know that one day, my prayers will be answered," she said confidently as the camera captured her in different settings.
Sometimes, she is sitting under a tree, other times, she is seen with a young girl, of her daughter's age, braiding her hair. Beyond the woman's tale, viewers are further immersed in the aftermath of Chibok. The roads are deserted, so also is the GSS school.
Watching the docu-film elicited a gamut of emotions from the viewers at Muri Okunola Park in Victoria Island, Falomo Garden in Ikoyi, and Johnson Jakande and Tinubu Park in Alausa where the film was publicly screened. The screening which coincides with the fifth anniversary of the Chibok abductions was in collaboration with Imisi 3D and Lagos State Park and Garden Agency (LASPARK).
The reactions were particularly tense at Falomo Garden, which is like a memorial park for the abducted girls. Their pictures are painted on the pillars of the Falomo Bridge. One of the viewers, Victoria Daniel couldn't hide her rage.
"To think that some of these girls have been without their parents for five years, it's very heart-breaking."
'Daughters of Chibok', marked the first ever VR film on Chibok abductions. For the filmmaker, bringing this story to life goes beyond the travails of the waiting parents.
"The Chibok story is a global story, a story that a lot of people have heard about, but there is still no closure. It was an interesting subject to explore. I was making another documentary in the north-east and that documentary took me to Chibok. While I was there, I spoke to the people and engaged them. After speaking with a particular woman, I realised that I needed to bring people here to see what is happening."
Using virtual reality to tell the story for the filmmaker was to bring the story closer to home.
"There is so much that we take for granted here (Lagos), Chibok is like another country. It doesn't feel like a part of Nigeria."
Through this docu-film, Benson is hoping that he can generate a cause and support for the women. He is quite keen on helping the impoverished state of most of the families.
"It is one thing to lose your child and waiting for her return, and it is another to still be living in abject poverty. Remember some of them have more than one child, so they have to take care of others. When you don't have a means of taking care of them, that is extra pain. At least, if we can't bring back their girls now, we should be able to lift them out of poverty," he said.
The filmmaker also hinted at plans to take the film round the country.