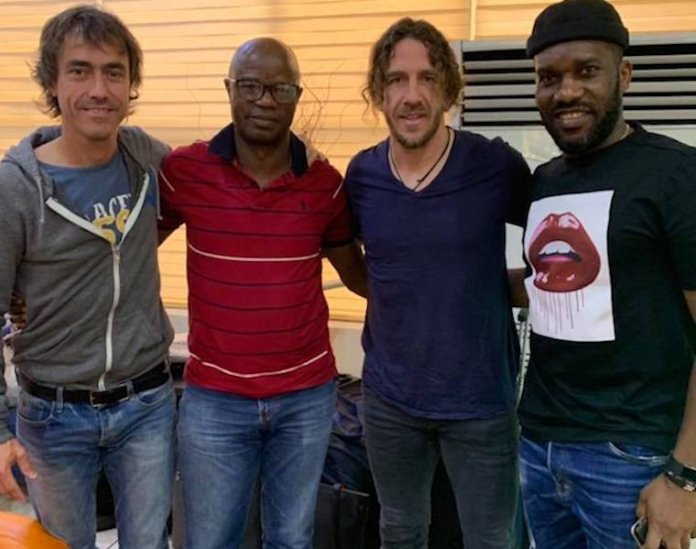 The quiet city of Uyo, the capital of Akwa Ibom State, erupted with ecstasy moments the long awaited UEFA Champions League Tour got underway yesterday morning when former Barcelona defender Carles Puyol brought the famous Big Ears, the UEFA Champions League trophy sponsored by Heineken to the public glare.
The symbolic entry first at the Emerald Event Centre where the world press conference took place was backed by an ensemble of former Nigeria internationals; Austin Jay Jay Okocha, Mutiu Adepoju Austin Eguavoen and 'Gentle Giant' Uche Okechukwu, Puyol held aloft the UCL trophy on stage for the first public view of the iconic UEFA Champions League trophy.
The three-time winner of the Champions League with FC Barcelona, Puyol addressed the gathering that also had in attendance, indigenes of the state.
He explained that his excitement at coming to Uyo and being able to see the Super Eagles legends who he played against as the Star Shine Shine Bobo Team during the 'Unmissable Game' at the Uyo International Stadium later in the day.
"I am very happy to be here in Nigeria for the UEFA Champions League Tour and I am very excited for the match tonight," Puyol remarked.
He also stated that the Champions League always holds great memories for him and he is happy to continuously be associated with the competition.
"The title in 2006 was significant for me because Barcelona had not won the Champions League for a long time. It also has extra significance because my father actually came to the stadium to see me play before he died," he explained as the audience all applauded the emotion family moment shared.
Nigeria Breweries MD, Jordi Borrut-Bel expressed the delight of the company at bringing the 'Unmissable Match' to Uyo in partnership with the state government.
Marketing Director Emmanuel Oriakhi stated that Uyo is the perfect place to be for football in Nigeria and remains excited that the city's residents turned out en-masse for the event.
Later in the afternoon before the 'Unmissable' match, the officials of Nigerian Breweries with the Ambassador paid a courtesy visit to the State Governor, Udom Emmanuel and thereafter it was the turn of the general public to have a fair share of the excitement powered by Heineken when the iconic Big Ear went on road show which afforded the passionate fans to have a view of the trophy before the final destination to the stadium for the football match.