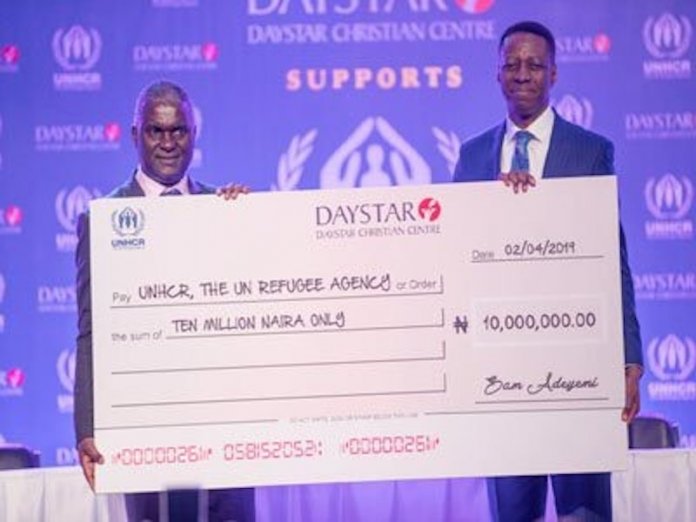 Sunday Ehigiator reports that Daystar Christian Centre recently donated N10million to the office of the United Nations High Commissioner for Refugees for the restoration of those forced to flee their homes across the African continent
According to the 1951 United Nations Convention Relating to the Status of Refugees, "a refugee is any person who, owing to a well-founded fear of being persecuted for reason of race, religion, nationality, membership of a particular social group or political opinion, is outside the country of his or her nationality and is unable or, owing to such fear, is unwilling to avail himself of the protection of the country. "
The 1951 UN Convention definition is normally taken as the standard for 'genuine' refugee status. Before refugees acquire such status in the country they have fled to, they are normally called asylum seekers. After their request has been considered genuine, they are registered and given refugee status. This is when they are officially handed over to the Office of the United Nations High Commissioner for Refugees (UNHCR) as mandate refugees.
The magnitude of refugee influx in recent years has generated urgent concern throughout the world. Widely perceived as an unprecedented crisis, these flows have produced a mixture of humanitarian concern for the millions of people forced into exile and fear because of the potential threat to the social, economic and political stability of host states caused by streams of unwanted newcomers.
In Africa, the number of refugees and internally displaced people continues to rise. Between January 2015 and January 2016, some 2.5 million people were newly displaced, fleeing to safety within their country or across borders. There are currently around 20 million people of concern to UNHCR in sub-Saharan Africa, including an estimated 4.4 million refugees and 11 million internally displaced. Conflicts in countries such as Burundi, the Central African Republic, South Sudan and Nigeria continue to produce outflows of people, despite peace talks and agreements.
However, it takes more than the UNHCR to address the needs of refugees. The needs varies from cash donations to materials and health servicies. According to the UNHCR head of Private Sector Partnership, Mrs. Needa Jehu-Mazou, during the official hand over ceremony at the Daystar Christian Center Church, 90 per cent of UN budget is sponsored by countries, while nine per cent is sponsored by the private sectors all over the world , which also include individuals.
In line with Matthew 25 vs 34 to 35, which says, "then shall the King say unto them on his right hand, Come, ye blessed of my Father, inherit the kingdom prepared for you from the foundation of the world: For I was an hungered, and ye gave me meat: I was thirsty, and ye gave me drink: I was a stranger, and ye took me in" Daystar recently gave a N10million donation to humanitarian works of the UNHCR; making them the first faith-based organisation in Africa to donate to the United Nations (UN).
Addressing journalists, the Senior Pastor, DCC, Pastor Sam Adeyemi said: Hunger affects the most vulnerable people in our world, people who cannot help themselves, hence all hands must wade in, including the religious community; as it is the true way to show love as Jesus showed before and with his death on the cross of calvary."
According to him, "the fact is, for us in our church it is a culture to address people's problem in practical ways. While we preach, the bible tells us that if we really love our brother, it won't be enough for us to preach to them and pray for them, you need to do something; like Jesus Christ did. He provided food for the hungry, he touched sick people physically, healed their sicknesses and so on.
"Our church has been involved in practical interventions for the community. Building schools for the children, providing school bags for children from families that cannot afford it, paying hospital bills and so on. Then we became aware of UNHCR. They said it was at a meeting in Geneva that someone that was aware of what we do mentioned that 'there is a community you are not looking at in Africa; The church. And there is a specific church that we know that intervenes in things like this.' So we had a meeting.
"They were surprised to see the things that they do; we were amazed to hear how bad the issue of displaced people is. We were so moved and touched; we placed commitment right away to be a part of it in everyway. Not just only in giving money, but visiting the camps around the world."
He however advised other faith-based organisation to reflect love in same gesture, noting that, "people's problems are actually our own opportunities to bring the power if God and the resources at our disposal to meet those practical needs. That is why the church exist. So we want to say to the church community; this is another dimension to the problems Jesus called us to solve.
"In our own country, there are 2.2 million people that have lost their homes, lost their means of living, they need help. They need food, they need blankets, they need health care, the needs are there. Apart from that, they have experienced trauma. They need therapy. I want to ask the church community; let's step in. This is Africa, our own blood. And beyond that, all over the world, let's intervene as much as we can".
Also speaking with newsmen Jehu-Mazou said, "I think as one of your own 2baba had said, 'if Africans don't do for each other, then who will?' I think the needs are there; it's clear. We have nearly 25million people in Africa who have been forced to flee their homes. You saw the story of this one person that we shared with you; it is multiplied in 25 million times. And the needs are endless. And nobody else is going to do it for us if we don't do it for ourselves.
"The thing is that, Africans are incredibly hospitable. Nigeria is a very hospitable country. I have hosted and find solutions to refugee problems over the years, and what Daystar had done here today is just phenomenal. It is really ground breaking. It is the first faith-based organisation in Africa to throw it's weight and align publicly with the U.N. and commit funds to it. Nine per cent of all of our income comes from the private sector globally. And 9 per cent is a lot. It was $423,000,000 last year, and I am very proud to count Nigerians; Daystar Church in particular among these donors. We also have incredible other donors in Nigeria like 2Baba; who support immensely, financially, and in other ways. People have stepped out to the place to really do it for our brothers and sisters who have been forced to flee.
"We hope that other religious body would rally round what pastor Sam Adeyemi has demonstrated with the Daystar Christian Center, and rally behind the refugee cause. Because, the are orphans and it's women and children. We have about 76 per cent of all those forced to flee as women and children, yet they aren't the cause of the war. So we hope that other organisations will follow suit and support it."
Meanwhile, the UNHCR Country Representative to Nigeria and ECOWAS, Antonio Jose Canhandula said the IDP situation in the country right now is a very difficult situation. According to him, "of the so many internally displaced people, we only have access to 1.8million. What I know is that, there are some LGA's in Bornu State for instance, that we do not have access to. I was talking about the refugees that went into Chad; they come from Bagakawa. In Bagakawa we are not present, what is happening there?
"We have two or three other LGA's where we are not present and that is not limited to just Bornu State. In Adamawa state, I have been able to go to maybe South, maybe North, Madagali and in Mitchiga; but I was told actually that I was the first UN officer who went all the way to Mitchiga. But there are peoole there. They don't have a school, they don't have a roof over their heads. The women are there; they are trying to find something to take home for their children who can't. That is the real situation we are facing.
"The challenges we are facing first of all, is essentially security. Because for you to be about to help, you must be able to survive. And the first thing for you to do is to ensure that my staff are secure when they go and assist. People need food, health and education. And let me just stress this issue of education. If a child who was five years when the crises in the North started 10 years ago, today that child is 15 years. What does it mean? It means that you have a 15 years old boy or girl who haven't been to school. What future are you actually looking at when you look at that child? So, protection of children and women; these are the challenges that we really have.
"We actually have been working with the Nigerian government. And all these challenges we have been facing them together. We have the National Emergency Management Agency (NEMA), providing us with as much food as possible.
"The partnership with Daystar Christian Center is just one step of the wider step that we would wish to have with the public, private enterprises, and religious institutions to reach out to population and show to people in other parts of Nigeria that you have populations in these same Nigeria that are suffering. Secondly; of course Nigeria is an important country in Africa. We are looking at Nigeria as a beacon for the rest of Africa. And therefore, if it is a beacon, solidarity of Nigeria is not just about Nigeria, it's about Africa, it's about solidarity with those people suffering all over the world."