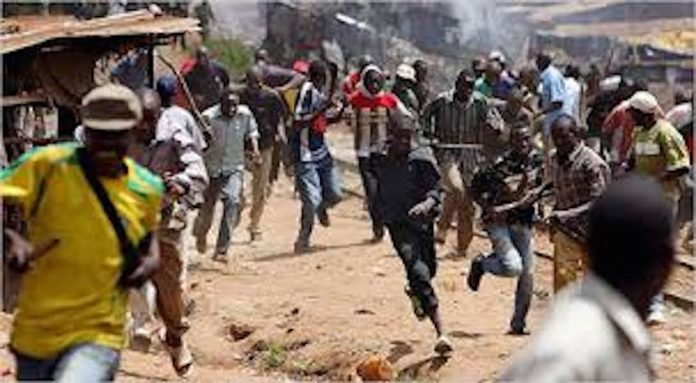 By Francis Sardauna in Katsina
No fewer than 36 persons were killed in a clash between vigilantes and bandits in Tsaminyar-Jino community in Kankara Local Government Area of Katsina State.
The development, according to the residents, started on Sunday when the vigilantes killed one Baban Kusa, a suspected bandit terrorising the community.
The vigilantes were said to have stormed the community market at about 1:39.p.m and killed Kusa, which led to a reprisal by the bandits.
The police, however, said 14 people were killed during the clash.
Confirming the clash to newsmen Tuesday, the Village Head of Tsamiyar Jino, Alhaji Ja'afaru Bello, said 36 persons were killed and many sustained varying degrees of injuries.
He said: "The reports I received indicates that 36 persons were killed during the unfortunate incident. As I speak to you corpses have littered our farmlands.
"We called the security personnel, but when they came and saw what was going on they just left without any information. So, we were scared of retrieving the corpses yesterday.
"But since the security personnel could not retrieve them. I directed my subjects this morning to retrieve the corpses for mass burial today."
A victim of the clash, Malam Shu'ibu Tsamiya, said: "They killed my two brothers and my son at Ungwar Sarkin-Aiki and denied us access to their corpses. The number of people killed in this community is more than 40."
Another resident, who pleaded anonymity, said 27 persons were killed at Unguwar Rabo, while eight were also massacred at Unguwar Sarkin Aiki and one at Centar Na Ade.
The source lamented that despite the repeated attacks on Tsamiya and other local governments in Katsina, the bandits still moved freely during the act without being challenged by security operatives.
According to him, "It is just like there is no constituted authority or security agencies in Katsina State. Nobody cares about our lives. We have become easy prey for bandits in the state."
When contacted, the Katsina State Police spokesman, SP Gambo Isah, said: "Only 14 people died. Security personnel have been mobilised to the area.
"Out of this figure, seven are bandits while the remaining seven are members of the civilian JTF also known here as Yan Sakai. The civilian JTF went into the forest to fight the bandits having refused to heed police advice."
THISDAY reports that the attacks on communities in Katsina have continued in the past few months despite the deployment of thousands of military and police personnel in the state.
Besides killing residents of the communities in the state, the bandits also kidnap people for ransom.