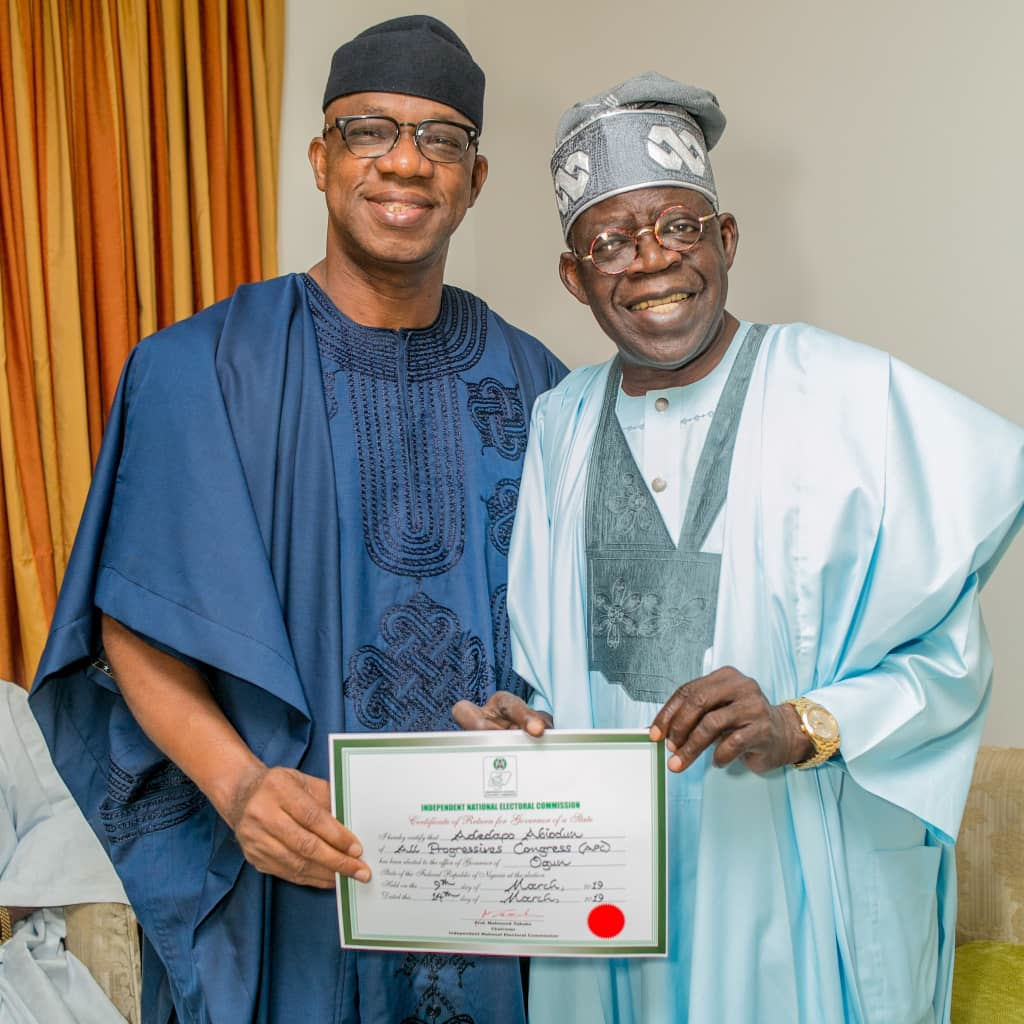 As more people continue to storm the Iperu residence of Prince Dapo Abiodun to felicitate with him on his emergence as Ogun State governor, Femi Ogbonnikan examines the petition filed before the Election Petition Tribunal against his victory, in an election that was widely adjudged fair, peaceful and credible, by both local and foreign observers
The March 9 governorship election in Ogun State was a clear testimony that the people of the state yearned for a total change of baton. They were certainly against subtle moves to perfect a third term agenda through proxy. Thus, Ogun people willingly gave their mandate to the candidate of the All Progressives Congress (APC), Prince Dapo Abiodun, as governor-elect.
Like a vision foretold, the Iperu residence of the governor-elect has turned to a holy land of sort. The Ogun State Peoples Democratic Party (PDP) governorship candidate, Senator Buruji Kashamu, led the pack of other major co-contestants, who have conceded defeat and congratulated the Governor-elect.
Soon after came the candidates of the African Democratic Congress (ADC), Prince Gboyega Isiaka; Action Democratic Party (ADP), Dimeji Bankole; Social Democratic Party (SDP), Otunba Rotimi Paseda; Alliance for Democracy (AD), Engr Olusesi Olufade-Olowookere;  Accord Party (AP), Pastor Tope Tokoya.
Not left out are political heavy weights, even from other political leanings; local hunters; ASUP, MAPOLY branch; league of Alfas and Imams; various ethnic nationalities and captains of industries.
Other big wigs that registered their presence were former governor of the state, Otunba Gbenga Daniel; Kwara State Governor-Elect, Alhaji Abdulraman Abdulrazaq; Senator Lanre Tejuosho; former chairman, SUBEB, Ogun State, Chief Mufutau Ajibola; Ogun West Senator-elect, Chief Tolu Odebiyi; Senator Adegbenga Kaka, Lagos West Senator, Olamilekan Adeola (aka Yayi); former Speaker of the state, Rt Hon Titi Oseni-Gomez; Chief Kayode Amusan; Dr Femi Majekodunmi; Chief Bode Mustapha; Dr. Fred Omojole; Otunba Adewale Osinubi (aka Wesco); former Commissioner for Commerce and Industry in the state, Otunba Bimbo Ashiru; Senator Gbenga Obadara; Senator Gbolahan Dada; Hon Kayode Oladele; Senator Biyi Durojaiye; Senator Dipo Odujinrin; Dr Wale Babalakin (SAN), and a host of others. The list is endless.
In his congratulatory message to the Governor-elect, Bankole enjoined the people of the state to join hands with Abiodun in his quest to serve the state.
He said: "No one can be King, except God crowns him King. As human beings, we can aspire and make moves towards the actualisation of our dreams. However, as a Muslim, I know that in the end, the final decision is entirely that of God. In this case, it pleased the Almighty Allah to make my dear Egbon, Prince Adedapo Abiodun, MFR, the 5th elected Governor of Ogun State.
"As I wish him a successful tenure of office, may I remind all and sundry that Ogun State belongs to all of us, irrespective of who is at the helms.
"In accordance with the campaign mantra of the governor-elect, 'Igbega Ipinle Ogun, Ajose gbogbo wa ni' (The progress of Ogun State is the collective responsibility of all and sundry), I wish to appeal to all well-meaning individuals and groups to join hands with him in his quest to serve because in my view, in this instance, the success of one, will ultimately be for the good of all."
In reciprocation of the magnanimity of the people of the state culminating in his electoral victory, Abiodun undertook 'a thank you' visit to monarchs, religious fathers, prominent Nigerians who had contributed in one way or another to make possible his electoral victory.
Clearly, the Awujale and Paramount ruler of Ijebuland, Oba Sikiru Adetona, didn't conceal his disdain for the political godson of the outgoing governor whom he refused to welcome when the godson paid him a courtesy call during his consultation/campaign tour of the state. Instead, the monarch openly stretched his warm hands to welcome Abiodun whom he anointed, when he was led to the palace by a former Commissioner for Commerce and Industry, Otunba Bimbo Ashiru, and a host of other Ijebuland indigenes.
Prominent among other monarchs, spiritual and community leaders, who have saluted Abiodun are the Alake of Egbaland, Oba Adedotun Gbadebo, Awujale and Paramount ruler of Ijebuland, Oba Sikiru Adetona, Olu of Ilaro and Paramount ruler of Yewaland, Oba Kehinde Olugbenle, Akarigbo of Remoland, Oba Adewale Ajayi, the Osile of Oke-Ona, Egba, Oba Adedapo Tejuoso, founder and chairman, First City Monument Bank (FCMB) Plc, Otunba Subomi Balogun, General Overseer (GO), The Redeemed Christian Church of God (RCCG), Pastor Enoch Adeboye, Founder and General Overseer (GO), Mountain of Fire and Miracles Ministry (MFM), Pastor Kolawole Olukoya, Honourable Minister of State for Petroleum Resources, Dr Ibe Kachikwu, national leader of the APC, Chief Bisi Akande, outgoing Oyo state governor, Senator Abiola Ajimobi, national chairman of the party, Comrade Adams Oshiomhole, national leader of the APC and former Lagos State governor, Asiwaju Bola Tinubu, Aremo Olusegun Osoba, Vice-President Yemi Osinbajo (SAN), former Osun state governor, Ogbeni Rauf Aregbesola, Enugu State Governor, Mr Ifeanyi Ugwuanyi, an industrialist, Prince Arthur Eze, Lagos State Governor-Elect, Mr. Babajide Sanwo-Olu, and President Muhammadu Buhari.
Also lately, an industrial mogul, Sir Kesington Adebutu (aka Baba Ijebu), reconciled his son, Ladi, a factional PDP governorship candidate, who had earlier teamed up, signed a Memorandum of Understanding (MOU) and worked for, the APM candidate, Akinlade, in the election, with the governor-elect, who is his Iperu-Remo kinsman.
However, the APM governorship candidate and his party have headed to the Ogun State Governorship Election Petition Tribunal, but some believed this move is an exercise in futility. The APM, through its Campaign Director-General (DG), Chief Sarafa Isola, kicked against the results announced by INEC.
Their press statement said that the APM agents who had copies of the collated results complained of infractions. But an APC Chieftain likened the concerns raised by the petitioners (Akinlade and his party, APM) to a situation of a pot calling a kettle black.
The politician who craved anonymity said the APM leaders, who were the real culprits, soiled their fingers when they were deeply involved in rigging spree, but that situation was saved by the timely intervention of armed security operatives who defied all alleged inducements to rig the election.
He cited an instance where a serving commissioner was apprehended by the security agents in Ota because he was allegedly carrying a card reader machine and scores of thumb-printed ballot papers. Likewise, there we tales alleging several attempts by other senior serving government officials to rig in Ifo, Ewekoro, Abeokuta South Local Governments and others.
"The APM, which is the adopted party of the outgoing governor, wields the political power in the state, because it has the funds and other resources at its disposal. Why hasn't it come out to mention or point at any of the APC chieftains or members found on the Saturday, March 9 elections? They are liars and they don't have any evidence, except their attempts to raise an unnecessary dust in order to befuddle the horizon of the gullible ones. Whereas the good people of Ogun State know the truth and they aren't being taken in by their antics. They have said they have had enough of deceits, pretense and lies through the mandate given to Dapo Abiodun, as the governor-elect, on March 9", said the APC leader.
Regardless of whose ox is gored, the APM Governorship Candidate, who once pledged to accept the election result in good faith if he lost, noted that he didn't lose, but was rigged out.
Akinlade and his party have filed a petition and hired three Senior Advocates of Nigeria (SANs), led by Dr. Onyechi Ikeazu, and 12 others as counsel.
To the APM candidate and his party, it is obvious that the governorship poll met all the criteria for an inconclusive election, but the INEC acted otherwise.
Meanwhile, the House of Representatives has resolved to set up an adhoc committee to amend the Electoral Act.
The members of the House of Representatives have also debated on the legality and otherwise of re-run elections in Nigeria, following a Motion brought to that effect by Hon. Sunday Karimi (PDP) Kogi State.
Speaking on this issue, Hon. Kayode Oladele, an APC member representing Yewa North/ Imeko-Afon Federal Constituency in Ogun state, who is also a lawyer and the Chairman of the House Committee on Financial Crimes, stated that while there was no doubt that INEC has the power within the context of its enabling Act to order a re-rerun, politicians should not see that power as giving them another "opportunity to have a second bite at the cake or second chance to run afresh in an election in which they have already been defeated and a clear winner has emerged."  According to him, once politicians lose elections, they run to the Tribunals, create an atmosphere of mucky water, paint a picture of inconclusiveness of elections and urge the Tribunals to order a rerun in the hope that they can wipe the slate and start over. Unfortunately, that is not the position of the law," he said.
Explaining the circumstances that can compel INEC to order a rerun election, Hon. Oladele stated that "the issue of rerun elections and circumstances that can warrant INEC to order a rerun have been settled by the Supreme Court of Nigeria in the case of Hon. James Faleke, a member of House of Representatives and the running mate to late Prince Abubakar Audu, who won the 2015 Kogi governorship election and died before INEC announced the results. In that case, the Supreme Court held that the INEC guidelines provide for a rerun where voting did not take place and the margin was more than the margin of victory; that there should be a rerun in those places so as to enable disenfranchised voters there to participate in the process."
According to Oladele, the Supreme court's decision is very clear and anything to the contrary  will violate Section 179 of the Constitution which states that "A candidate for an election to the office of governor of a state shall be deemed to have been duly elected where, there being two or more candidates – (a) he has the highest number of votes cast at the election; and (b) he has not less than one-quarter of all the votes cast in each of at least two-thirds of all the local government areas in the state."  
In his own reaction, Hon Femi Gbajabiamila, APC, Lagos State and majority Leader, House of Representatives stated that inconclusiveness of elections should be something of the past but how do we get there? In his words, "the Supreme Court already ruled on this and held that INEC has such powers, so the only way to change the Supreme Court's ruling is to amend our law."
Therefore, the law is that INEC has the power to order a rerun in the instances enumerated and upheld by the Supreme Court in Faleke's case," said Oladele.
But the question on the lips of many political pundits is what becomes of the outgoing governor, if at the end of the day, he loses out in his legal redress? Would he still remain in APC and count himself relevant before his estranged benefactors and chieftains?