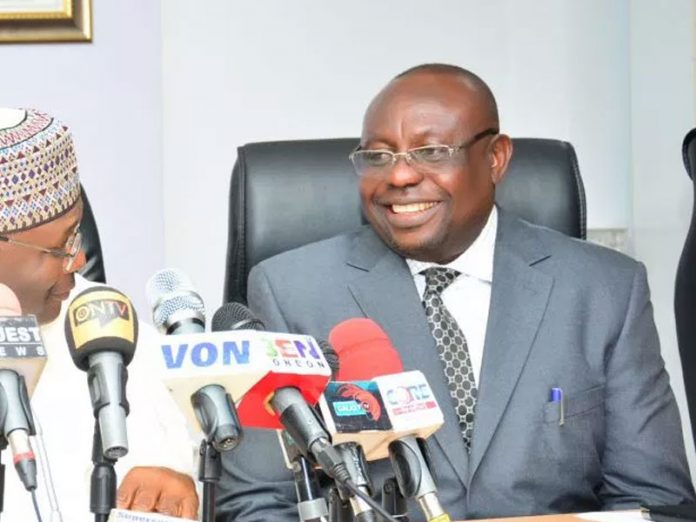 David -Chyddy Eleke in Awka
The Independent National Electoral Commission (INEC) has called for the speedy passage of the Electoral Offences Commission bill to stem impunity in Nigeria electoral process.
National Commissioner and Chairman, Information and Voter Education of the commission, Festus Okoye, made the call at the presentation of certificates to newly elected members of Anambra State assembly in Awka thursday.
He said the bill would help to ensure that those who deliberately and maliciously corrupt the electoral process are prosecuted in accordance with the law.
He said: "The absence of robust and clearly defined institution that will be responsible for arrest, investigation and prosecution of electoral offenders has led to heightened electoral malfeasance resulting in the storm of collation centres and forcing collation and returning officers to make returns at gun point.
"It has led to the maiming and killing of ad-hoc staff without sanctions. This situation must be stemmed for the future of the electoral process and the health of our democracy."
Okoye said the commission was deeply concerned about illegal and illicit approaches being made by some political parties and their candidates to compromise collation officers, presiding officers, supervisory presiding officers and other categories of ad-hoc staff recruited by the commission for the purposes of conducting elections.
According to him, some of these officers are recruited in strict confidentiality yet desperate politicians go to a great length to find them and entice them with bribe.
"To this extent, the commission will carry out internal assessment and audit of its recruitment processes and procedures with a view to better protect its recruitment processes and procedures," Okoye said.
He congratulated the newly elected assembly members in the state, adding that the certificate issued to them confirmed that they won the election to the state assembly.
He, however, added that "the certificate can be withdrawn and reissued if an Election Petitions Tribunal in appropriate cases rules otherwise."
Page 50