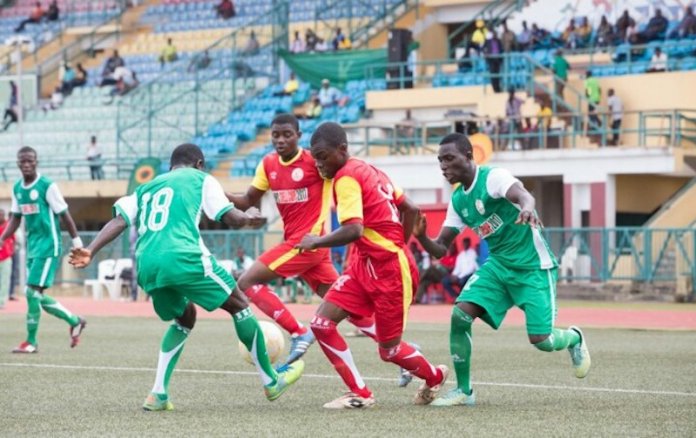 Olawale Ajimotokan in Abuja
Sunday J. Odegha eased into a three-shot lead as the professional competition of the NNPC GMD's Cup teed off yesterday at the IBB International Golf and Country Club, Abuja.
Odegha arrived as the club-house leader, hours after the GGM Frontier Exploration Service Division, NNPC, Abdulahi Bomai, performed the ceremonial tee off.
The Minna-based player shot four under par 68 to lead a pack of contenders led by Andrew Oche Odoh, Vincent Ikemefuna of Ikoyi Club 1938 and Martin Odoh, also from Minna Golf Club. Each of the three players carded 71- 72 and 73 respectively to be in the top rung of the leaderboard.
It was the first official tournament on the 2019 schedule of the Professional Golfers Association of Nigeria (PGAN), and Odegha, who ranked sixth on the Order of Merit for last year, appeared comfortable on the first day of the competition over the lush IBB course.
His form was reinforced by the ease at which his irons ripped through the middle of the greens. He hit 14 of the 18 greens in comparison to only nine fairways he found from the tee box.
Odegha, who played in company with A.U. Baba and Emeka Obi, also harvested five birdies, 12 pars and one bogey to finish as the only player on the 60 side.
He birdied the par 5 Hole 3 and par 3 Hole 8 before gaining more grounds on the back-nine at holes 11, 12 and 17 respectively.
"I got a good start and drained those birdies in between the holes. The first one on Hole three actually defined my entire day," Odegha, whose only dropped shot was a bogey at the par 4 15th.
Bomai, who was joined at the tee off event by Mike Balami, NNPC GGM Accounts, who also doubles as tournament coordinator, and the PGAN Director, Samson Lawal and a member IBB Lady Golf Section Committee, Mrs Mary-Rose Richard- Obioha, declared that NNPC is sponsoring the tournament to reinforce its commitment to development of Nigeria's talent in all areas of human endeavour.