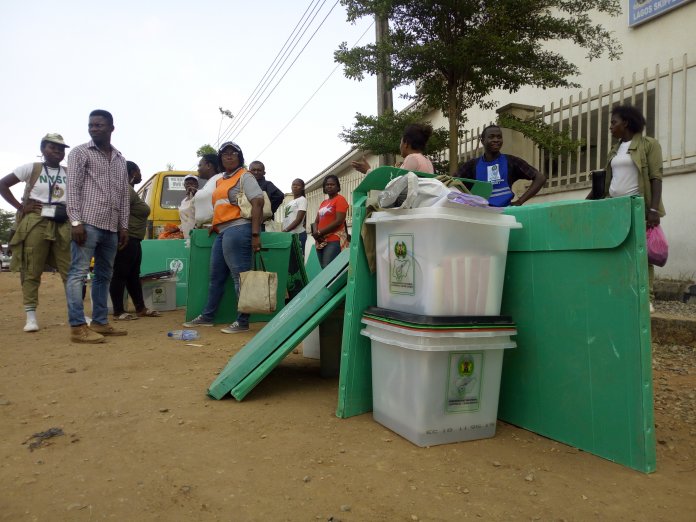 By Shola Oyeyipo in Abuja
The House of Representatives has adopted a motion to probe the involvement of military personnel during the just concluded general election.
The House of Representatives member representing Nsukka/Igbo-Eze South federal constituency of Enugu State, Hon. Asadu Patrick, in his motion tagged: 'The Alleged Illegal Deployments, Uses, Misuses and Abuses of Soldiers of the Nigerian Army During the 2019 and Other Election Against the Express Provisions of the 1999 Constitution, the Armed Forces Act and Valid Subsisting Judgments of Various Courts of Competent Jurisdiction,' expressed disapproval for the involvement of military men in the elections.
Making inference from THISDAY Newspaper of January 20, 2019 where the Chief of Army Staff, Gen. Tukur Yusuf Buratai, was quoted to have said: "Army cannot disobey any order given by the president," when President Muhammadu Buhari gave the shoot to kill ballot box snatchers order, Hon. Asadu underscored the fact that the army chief directed commanders and soldiers on how to operate during elections without any recourse to the relevant laws or the National Assembly.
According to him, "Despite strident opposition to this position of the Chief of Army Staff on the deployment and possible role of the Army during elections, the Nigerian Army allegedly deployed its officers and men in large numbers during the 2019 general election in flagrant disobedience to the courts and our laws, without any communication to the National Assembly from Mr. President on the need to deploy soldiers or even to inform members that these soldiers were deployed on the order of Mr. President.
"Though some of these soldiers reportedly acted professionally and neutrally during these elections, others deployed soldiers are alleged to have descended into the arena of conflict, taken partisan sides and interfered with and in some cases, aborted the electoral process, as was reported in Rivers State, where the umpire, the INEC has officially in a statement signed by the Commissioner in charge of Information and Voter Educations, Mr. Festus Okoye, indicted soldiers of the Nigerian Army, accusing soldiers of invading the collation centres, interfering with the collation of results and illegally arresting some INEC officials, thereby disrupting the collation and completion of the elections, all in alleged attempt to thwart the will of the people as expressed through the ballot."
Describing the Nigerian Army as a nationally accepted, unifying and critical agency, Asadu said it should not be unnecessarily dragged into partisan politics on purely civilian contests that can damage its professionalism, national acceptability, ethical standards, discipline and rating both nationally or internationally.
Hence, the adoption of his motion that as a matter of urgency, the House of Representatives should set up a high powered ad hoc committee to carry out a holistic, detailed, comprehensive and far reaching investigation of the deployment, uses, misuses and abuses of the soldiers of the Nigerian Army in the 2019 elections and other elections and make adequate recommendations to the House within four weeks.