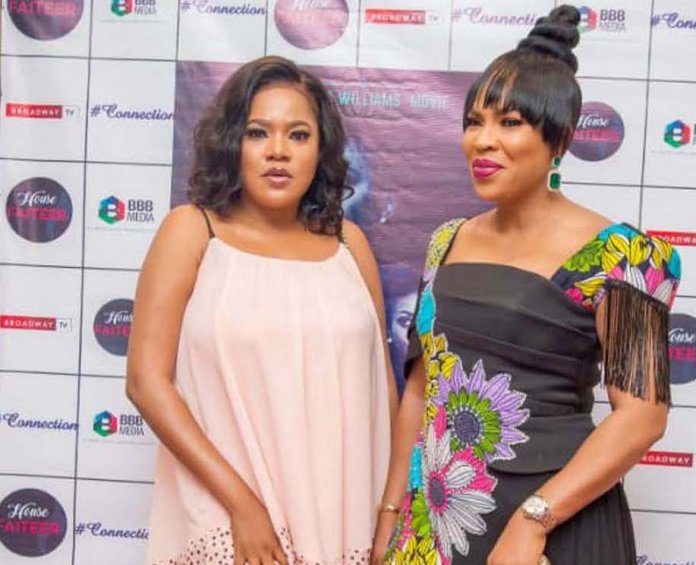 By Azuka Ogujiuba
Talented Nollywood actor and producer, Faithia Williams has released new pictures to the public just after premiering her new movie which also coincides with the launch of her new website.
Nollywood diva, Faithia Williams held the private screening of her short movie, 'Connection' recently at Radisson Hotel Ikeja in the presence of top entertainers who graced the occasion. Celebrities like Toyin Abraham, Etinosa Idemudia, Muyiwa Ademola, Kemi Afolabi, Dayo Amusa, Yomi Fash, Bimbo Thomas, ChinneyLove, Ayo Adesanya, Tayo Odueke, Bimbo Ogunnowo- Afolayan and more were present just to name a few.
The short movie was written by Faithia Williams and Directed by Desmond Elliot, 'Connection' stars award-winning actors such as Odunlade Adekola, Toyin Abraham, Kate Henshaw, Muyiwa Ademola, Iyabo Ojo, Priscillia Ojo and more.
The event also coincides with the launch of the actress's personal website, www.faithiawilliams.com where her fans can catch a full glimpse of her life, what she stands for, her works and how to reach her for more work. The talented actress plan to use the platform as a tool to reach thousands of her fans globally.
Faithia Williams also used the opportunity to reactivate her foundation and NGO for the girl child. The foundation will seek to address issues surrounding the girl child in Nigeria and in Africa. Some of these issues will be brought to bear through advocacy, strategic movies, giveaways and counseling to the girl child and their guardians.
Faithia Williams has been in the movie industry for over one decade and has made multiple movies. Despite her longevity in the industry, her influence still stands strong as shown in some of the cinema blockbusters of 2018 she starred in – Yoruba Demon, Seven and a Half Dates to name a few.
The actress revealed that she doesn't just want to be all about acting but all about making a lasting impact.
"Many people have been asking why I am making the kind of moves I have been making lately and this is why: I want to make a lasting impact in the world. I don't just want to be a fine face in front of the camera every day, I am interested in being a fine face that impacts people and acting is just one of the ways I can do that. The movie 'Connection' is about the girl child and so is my foundation as well. I will be telling more of these stories and doing more in this regard. It's also why I have my personal website set up. I want to be able to interact and share with my direct constituency regularly. More announcements are coming and as you hear them, please bear in mind that the new Faithia Williams is doing all these to make a lasting impact in the world," she said.